Trials rider Danny MacAskill takes his death-defying stunts to the Spanish rooftops (video)
Danny MacAskill heads to Gran Canaria for his latest video 'Cascadia', and it doesn't disappoint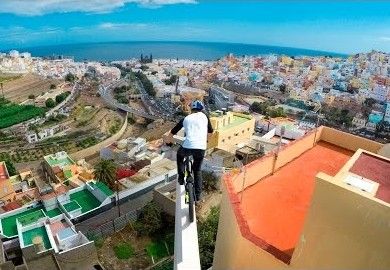 If you're scared of heights, it's probably best not to watch Danny MacAskill's latest video.
The trials rider is well known for his madcap cycling adventures, which includes a loop-the-loop on the River Thames and a ride along the Cuillan Ridge on the Isle of Skye, but his latest one certainly doesn't disappoint if you like seeing a cyclist flirting with death.
MacAskill heads to the Spanish island of Gran Canaria, more specifically the rooftops of the multicoloured houses, and pretty much just jumps off all of them.
Not content with simply jumping from house to house, MacAskill also hops his trials bike up onto thin ledges and wheels out right to the edge of the building before nonchalantly springing off the side of it.
Miraculously, the rider didn't knock over a single TV aerial or dislodge any roofing materials - not that we saw in the final cut anyway.
Thank you for reading 20 articles this month* Join now for unlimited access
Enjoy your first month for just £1 / $1 / €1
*Read 5 free articles per month without a subscription
Join now for unlimited access
Try first month for just £1 / $1 / €1