How to make an immune system boosting 'green machine' smoothie (video)
The ideal remedy for any cyclist looking to give their immune system a boost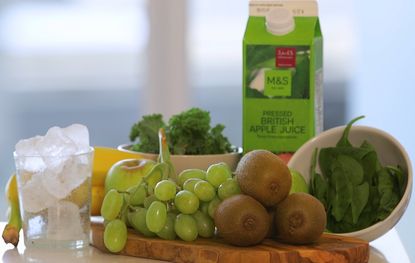 The ideal remedy for any cyclist looking to give their immune system a boost.
>>> How to lose weight cycling: Six essential tips
Smoothies are a great way of packing loads of healthy foods into an easy to consume drink and this green machine smoothie is no different.
Packed full of healthy fruit and vegetables such as kiwis, spinach and kale to name a few, performance chef Alan Murchison explains why incorporating these foods into your diet is crucial,
"This is a great recipe for anyone who's been missing out on veggies. Green vegetables should be eaten in abundance because they contain chlorophyll, which helps cleanse the blood, increases red blood cells and strengthens immunity."
This recipe can also be halved in size if you require smaller portions.
Ingredients
Serves 2
- 400ml apple juice
- 4 kiwi fruit (skin on)
- 40 white grapes
- 2 bananas
- 2 green apples
- Handful of fresh spinach
- Handful of fresh kale
- Handful of ice cubes
Put all of the ingredients into a blender and blast on full power for 30-45 seconds, according to how smooth you like the consistency of your smoothie.
Thank you for reading 5 articles this month* Join now for unlimited access
Enjoy your first month for just £1 / $1 / €1
*Read 5 free articles per month without a subscription
Join now for unlimited access
Try first month for just £1 / $1 / €1
Paul Knott is a fitness and features writer, who has also presented Cycling Weekly videos as well as contributing to the print magazine as well as online articles. In 2020 he published his first book, The Official Tour de France Road Cycling Training Guide (Welbeck), a guide designed to help readers improve their cycling performance via cherrypicking from the strategies adopted by the pros.