How to make a Mood-Boosting Breakfast Blast smoothie (video)
Start your day off on the front foot with this easy to make morning smoothie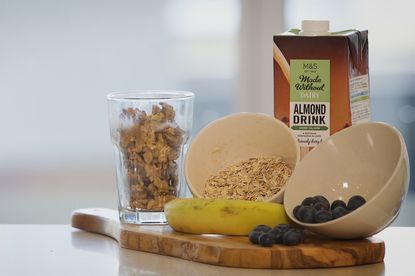 When it comes to breakfast, it is common for most people to put it off for when they get to work or even to skip it altogether due to our busy day-to-day lives.
However missing out on a morning meal – in smoothie or solid form. Usually leads to unnecessary snacking and over indulging in unhealthy foods throughout the day to make up for your morning hunger pang.
>>> How to make an immune system boosting 'green machine' smoothie (video)
Therefore this recipe is the perfect tonic to stop these cravings and can be easily made to have on the go during your morning commute or before you head out the front door.
Ingredients
• 1 ½ cups of unsweetened almond milk
• ¼ cups of blueberries
• 1 banana
• 5 walnuts
• ½ cup of oats
Blend for 30 seconds or until desired consistency is achieved. This recipe can also be doubled up if you require larger portion sizes.
Thank you for reading 10 articles this month* Join now for unlimited access
Enjoy your first month for just £1 / $1 / €1
*Read 5 free articles per month without a subscription
Join now for unlimited access
Try first month for just £1 / $1 / €1
Paul Knott is a fitness and features writer, who has also presented Cycling Weekly videos as well as contributing to the print magazine as well as online articles. In 2020 he published his first book, The Official Tour de France Road Cycling Training Guide (Welbeck), a guide designed to help readers improve their cycling performance via cherrypicking from the strategies adopted by the pros.