Watch: Amazing invention makes a 'guerilla cycle lane' as you ride (video)
After news that Oxford Street in London could become pedestrianised and be a no-go area for bicycles, one inventor has come up with a solution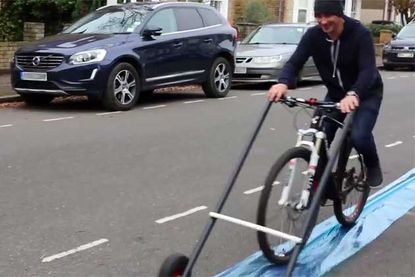 After the shock news that bicycles could be banned from the proposed pedestrianisation of Oxford Street in London, inventor Yannick Read has come up with a unique solution: a 'guerilla bike lane'.
Read has created a cycle that lays down a blue Cycle SuperHighway-style bike lane on the road as you ride along, ensuring that wherever you ride the cycling infrastructure is in place.
Read came up with the device for cycle insurance company ETA, which branded the Oxford Street bike ban as 'ridiculous'.
"So ridiculous does the ETA find the bike ban, that it decided to respond in an equally absurd way. Taking inspiration from the Japanese tradition chindogu (translates as 'weird tool'), which celebrates seemingly useless creations, the ETA cobbled together a bicycle accessory that allows riders to lay a cycle lane as they pedal along."
>>> Plans to ban bikes from Oxford Street criticised by former London cycling commissioner
The 'bike lane' uses a low-tack adhesive to keep it in place, and white bicycle symbols can be added after it is laid via the use of a sponge and paint.
Apparently the device can lay 25 metres of 'cycle lane' in 10 seconds.
"We're already working on a better version and if [Mayor of London] Sadiq Khan refuses to revise his plans in favour of cyclists, we'll be paying Oxford Street a visit to install our own guerilla cycle lane."
Of course, the invention isn't entirely serious but it does highlight concerns over Oxford Street being closed to cycles, which may set a precedent for other areas of London. Plans for the changes to Oxford Street are currently out for public consultation by Transport for London.
Serial inventor Read has also got another invention up his sleeve – or on it – called the Thingumy.
It's a device that can be strapped to a cyclist's arm, or ankle, or to the tip tube of a bike to hold lights, bananas or even a bottle of drink.
Readers may also remember the exploding Bike Mine cycle anti-theft deterrent, which was also the brainchild of Read.
Thank you for reading 5 articles this month* Join now for unlimited access
Enjoy your first month for just £1 / $1 / €1
*Read 5 free articles per month without a subscription
Join now for unlimited access
Try first month for just £1 / $1 / €1