Watch: Four top tips to reduce your aerodynamic drag
We show you how to get aero and go faster on your bike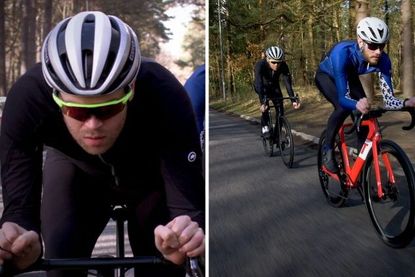 Getting more aerodynamic on your bike is the easiest way to increase your average speed while riding, and, as our tests have shown, will help you go faster on nearly all terrain.
In this video we give you our four top tips for improving your aerodynamics, helping you to get faster without needing to do any extra training. What's not to like about that?
The first thing you can do is buy yourself some speed, and the flashiest way of doing this is definitely to treat yourself to an aero road bike such as the Canyon Aeroad or the 3T Strada. These will typically save you 10-20 watts over standard road bikes, with the latest bikes also coming with disc brakes for better stopping too.
>>> Aero challenge: Why you should always choose an aero bike over a lightweight bike (video)
However if you're after a slightly cheaper and simpler way to improve your aerodynamics, then something as simple as bending your elbows can make a big difference. This lowers the top half of your body to create a more aero position, and although it might be hard to hold for long periods of time, is certainly worth practising.
That links in nicely with our next tip, which is to be as small as you can to reduce the frontal area of your body exposed to the wind. That means tucking in your knees and elbows, and even tucking your head in which can make a surprising difference.
Finally, think about the clothing that you're wearing. Look for jerseys which are tight-fighting, some of which feature aerodynamic fabrics that are more aero than skin. Of course the ultimate aero gain when it comes to clothing is a skinsuit, which will get rid of any unnecessary material and make as aero, and as fast, as possible.
Thank you for reading 20 articles this month* Join now for unlimited access
Enjoy your first month for just £1 / $1 / €1
*Read 5 free articles per month without a subscription
Join now for unlimited access
Try first month for just £1 / $1 / €1