Watch: 'Shocking' close pass of cyclist by speeding driver ends with prosecution
Jaguar driver filmed passing a cyclist in Birmingham by only around 10cm in October last year is fined and has points on licence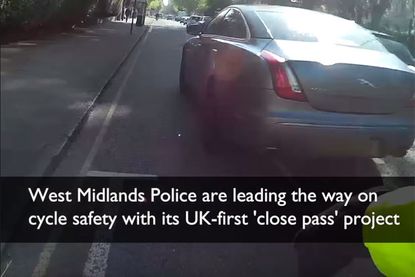 A Birmingham doctor was fined and given points on his driving licence after close-passing a cyclist while doing nearly 50mph in a 30mph zone.
The incident was captured by the cyclist's body-mounted camera, with the video submitted as evidence which led to a successful prosecution.
West Midlands Police described how close the driver was to the cyclist as 'shocking', estimating the distance between the rider and the Jaguar car to be only around 10 centimetres.
The incident took place on October 5 2017 at around 7.30am on the Harborne Road in Birmingham. At a hearing at Birmingham Magistrates Court on Monday, the driver was charged with driving without due care and attention and ordered to pay £265 in costs and fines, and also had three points taken off his driving licence.
"This was a shocking example of a hazardous close pass and in one manoeuvre the driver has committed offences that would fail a driving test: endangering the cyclist, speeding and undertaking other vehicles," said PC Mark Hodson of West Midlands Police's Force Traffic Unit.
"We assessed he came less than 10cms from the bike's handlebars. That alone could have caused the cyclist to fall off, and potentially been seriously hurt, but had he clipped the bike it could have had fatal consequences."
Despite the footage clearly showing the incident, West Midlands Police says that the driver originally refused to admit that he had done anything wrong.
>>> Cycling club veteran killed by van driver who 'failed to stop at give way line', court told
"He initially denied being at fault and opted for a court trial instead of accepting a fine or drive improvement course – but his excuses were rubbished by the video evidence and he later changed his plea to guilty," said PC Hodson.
"We've prosecuted hundreds of inconsiderate motorists thanks to video evidence provided by road users and I expect that figure to surpass 1,000 later this year.
"Drivers who endanger vulnerable road users need to understand that we run operations to catch them – and if they avoid our officers we can still prosecute them using footage provided by cyclists and other motorists."
>>> Operation Close Pass hailed a success as West Midlands Police see a reduction in cyclist casualties
West Midlands Police pioneered the the Operation Close Pass initiative 18 months ago, which actively encourages drivers to maintain a safe distance from cyclists when overtaking them. Those that pass cyclists too closely are given a roadside educational session, or taken to court if the offence is serious enough.
WMP says that the campaign has led to a drop of 20 per cent in the number of deaths and injuries to cyclists in its region. Many other police services across the UK have since adopted a similar close pass scheme.
Thank you for reading 20 articles this month* Join now for unlimited access
Enjoy your first month for just £1 / $1 / €1
*Read 5 free articles per month without a subscription
Join now for unlimited access
Try first month for just £1 / $1 / €1