Cycling's small business boom
The British frame-building resurgence is just the tip of the iceberg — beneath it there's a cottage industry dedicated to producing intriguing artisan products, as CW finds out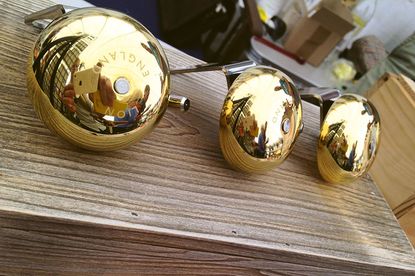 (Image credit: Richard Abraham)
Get The Leadout Newsletter
The latest race content, interviews, features, reviews and expert buying guides, direct to your inbox!
Thank you for signing up to The Pick. You will receive a verification email shortly.
There was a problem. Please refresh the page and try again.
Day Glow Doris
"I live in Edinburgh, which is fairly dark and gloomy and I got fed up of looking like a builder when I cycled," said Lorna McCulloch. And, no offence to builders intended, but she has a point; being clad head to toe in hi-vis cycling gear isn't always the most stylish get-up.
"The other thing is that most bike designers hire men to design women's clothes, so they tend to be pink versions of the guys' stuff," McCulloch added. "So you look at it going, hmmm, no, it's just pink, it's not designed for a woman's shape."
So McCulloch, an adult literacy worker by day, started stitching her own hi-vis outfit. Called Day Glow Doris, what initially started as McCulloch making herself a coat has now grown to a range of designs, including outfits for children.
"They're made by a little cooperative in Kettering, and everything is sourced in the UK," she adds. "The buttons are made by a company in Soho and they are reflective. If I had these made in China I could probably sell them for £20; it's definitely about the ethical side of things. But it is very hard to find manufacturers in the UK. They're there, but they're hard to find."
www.dayglowdoris.co.uk
Lion Bellworks
After hearing one of these wonderful brass bells chime, there is no way you'll settle for anything else. Not only do they warn passers by of your impending two-wheeled arrival, they'll carry on resonating long after you've zoomed past.
Lion is, it reckons, the only manufacturer of bike bells left in the UK. With the impressive 'LION ENGLAND' stamped on the polished brass dome (you can also get them custom engraved) these are a must-have for any retro bike build.
www.lionbellworks.co.uk
SplashMaps
The popularity of ride-sharing platforms like Strava continues to boost sales of bike-mounted GPS units. However, don't tell David Overton, managing director of SplashMaps, that it's all about computers. "I think there is actually a place for a map that is made in a much more convenient way," Overton said. "And we've designed everything about this around the user."
SplashMaps are maps made of fabric; you can scrunch them up, shove them in a pocket, wash them, or even wear them as a bandanna. Based on Ordnance Survey designs, set maps cost £18.99 or you can custom design your own map for £30.
"The user doesn't want to fold up a map, so we've made it out of fabric," Overton added. "They don't want to know all the tourist information that is on an OS map, so we've stripped that off the cycling maps. We've made the thing lightweight, and we've made it easy to use. Also they will never smash or crash!"
www.splash-maps.com
South London Saddles
"I started by doing my own saddle," said Emma Evans, of South London Saddles. "Then all of my mates saw it and said, 'You should make these.'"
Evans sculpts and designs custom saddle covers, allowing cyclists to add the personal touch to their favourite perch. They're works of art as much as products; one of her recent commissions was a flowery design for a florist who delivered her bouquets on two wheels, while another customer displayed their saddle up on their wall.
South London Saddles is a genuine cottage industry; Evans works on the saddles at home, around her full-time job with fashion house Mulberry.
"Moulding the saddle takes a couple of hours and I leave it to set for a day or two and in that time I'm designing the actual design," she said. "There is quite a lot of time involved, but it's all done with love."
www.southlondonsaddles.com
Beg Bicycles
The phrase 'shrink and pink' will be familiar to many women who have tried to buy a female-specific bike. However, making cycling appealing to women was a core concern for Catherine Turner when she started Beg Bikes in 2011.
With the name Beg coming from 'sit up and…' Turner, a former designer who worked in marketing for luxury fashion brands, deliberately launched her brand online to reach the female market.
"We positioned ourselves as a very female-friendly bike store, online," she said. "It's got quite a 'boutiquey' feel, we're big on social media and we blog a lot.
"Women are so seduced by the classic styling of our products that they just fall in love with them and they take up cycling. We sold a bike to an 86-year-old lady last month. She hadn't been on the bike in 30 or 40 years but she just had to have one."
Turner explained that Beg focuses on Continental-style bikes, with the inspiration coming from her time spent living in France "watching Parisians leap on and off their bikes with complete grace".
The frames are made in Belgium; however, Beg is very much a British brand. "Most of our products are sourced from Britain; our rugs are made in Wales or Ireland, our satchels are made in Manchester and our baskets are made in Somerset," Turner adds. "We've always tried to make things as home-grown as possible."
www.begbicycles.com
TinyTwin
We're used to seeing medals and goody bags handed out at the end of a sportive, but how about marking your achievement with an exact scale model of yourself in your moment of finish-line glory?
For just a few minutes in their full body scanner and around a fortnight for production and shipping, that's what the team at Sheffield based 3D printer TinyTwin offers.
"We thought to capture people in vintage gear with high-end technology would be a really attractive thing, and it seems so," said Ahsan Khan from TinyTwin, who debuted the technology at last month's Eroica Britannia event.
At £100-150 depending on the size, the models are not cheap. However, Khan believes the market for 3D printing goes well beyond quirky souvenirs; custom printing components could soon be big business.
"We get so many people who turn up and say, 'Could you do this for my bike?'" he continued. "If we can see something, we can scan it and we can print it. There's a fantastic opportunity there."
www.tinytwin3d.com
Thank you for reading 20 articles this month* Join now for unlimited access
Enjoy your first month for just £1 / $1 / €1
*Read 5 free articles per month without a subscription
Join now for unlimited access
Try first month for just £1 / $1 / €1
Get The Leadout Newsletter
The latest race content, interviews, features, reviews and expert buying guides, direct to your inbox!
Richard Abraham is an award-winning writer, based in New Zealand. He has reported from major sporting events including the Tour de France and Olympic Games, and is also a part-time travel guide who has delivered luxury cycle tours and events across Europe. In 2019 he was awarded Writer of the Year at the PPA Awards.