Limited edition RydBox Christmas gift box released
Promising to be bursting with the best nutrition, tools, gadgets and cycling kit, the one off RYDBOX Christmas gift box could be the ideal christmas gift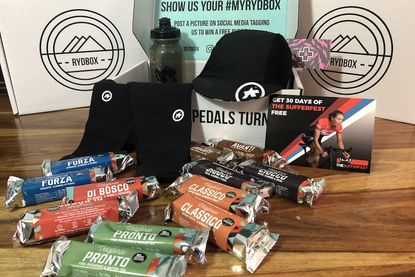 In a departure from it's usual subscription set-up, the RYDBOX Christmas gift box is a one-time, one-off purchase, and the brand promises it'll please nearly every rider out there with a collection of bike inspired goodies.
>>>Best Christmas gifts for cyclists 2018
RYDBOX say the £60 Christmas gift box, which is valued at £110+, is packed full of cycling goodness which any cycling enthusiast would be chuffed to receive on Christmas Day.
Products inside include high end, handmade and 100% natural nutrition from Veloforte, Assos arm warmers and accessories, as well as other cycling related tools and gadgets, exclusive discount vouchers, including a one month subscription to Sufferfest (or money off an annual membership).
In other words, you can give them the kit to keep them warm when they do it outside, the media to keep them interested when inside, and the nutrition to fuel them wherever they ride.
"We're really excited to launch the limited edition RYDBOX Christmas gift box" says Simon Foy, founder of RYDBOX.
"It's an ideal gift for someone to give a cyclist, especially if you don't know what to get them. It also allows people to try the box out without committing to a monthly subscription," he added.
The offering is limited edition. There are only 100 RYDBOX Christmas gift boxes available from rydbox.com, with the order window closing on the 13th December.
Although, if you do miss out, there is always the standard £40 Rydbox , containing between five to seven cycling related items, worth over £60, in each monthly box is available year round.
Thank you for reading 5 articles this month* Join now for unlimited access
Enjoy your first month for just £1 / $1 / €1
*Read 5 free articles per month without a subscription
Join now for unlimited access
Try first month for just £1 / $1 / €1