Is Fizik's Tempo R5 Powerstrap the best Amazon Prime Day cycling shoe deal? Now from $74.95 / £66.00
Huge savings are there to be grabbed: up to 38% in the US and up to 51% in the UK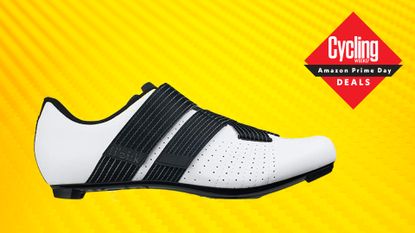 (Image credit: Fizik)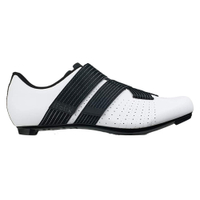 (opens in new tab)
Fizik Tempo R5 Powerstrap
$119.99 $74.95 at Amazon US (opens in new tab)
£135.00 £66.00 at Sigma Sports UK (opens in new tab)
The Fizik Tempo R5 Powerstrap is arguably the best value shoe in Fizik's range. A carbon reinforced sole balances stiffness with long-distance comfort – and price too. Opting for a Velcro closure is likewise a fast, reliable and cost-saving move. It makes for a high performance shoe at a budget price – even better with the current discounts!
I'm a big fan of Fizik's Tempo R5 Powerstrap road shoes – the balance of performance and price is really a pretty stellar mix.
Rather than a full carbon sole, Fizik has opted instead for a carbon reinforced nylon. Naturally it's not as stiff as the Specialized Ares sprint shoe, or the Sidi Shot 2 – but the Tempo 5 still offers a firm enough platform for putting in a hard effort.
I'd even argue it's a more optimal balance – super stiff soles can leave your feet feeling battered on a long distance ride. If you're looking for one set of shoes to do it all (what a lucky position to be in if you can have shoes for every particular type of ride), then I would recommend going for something with just a little bit of give.
Another feature that tends to bump up the price of cycling shoes is the inclusion of a Boa dial – particularly those that can be both tightened and loosened in millimetre increments. Going for Velcro is a much cheaper solution – and one that typically faster and more reliable too.
Personally, I do really like the micro adjustments you can easily make with a Boa dial – if money were no object, I'd go for them every time. But if the question was: "would I rather have Boa dials and a Garmin Edge 130 Plus head unit, or Velcro and a Garmin Edge 530?" I'd go for the latter and get the better head unit.
So, in all, the Fizik Tempo R5 Powerstrap shoes are on a great discount right now – and even at full price, their carbon reinforced nylon sole and Velcro closure makes them a great value option.
For more of the best deals on cycling kit this Amazon Prime Day, check out our main hub page.
Starting off riding mountain bikes on the South Downs way, he soon made the switch the road cycling. Now, he's come full circle and is back out on the trails, although the flat bars have been swapped for the curly ones of a gravel bike.
Always looking for the next challenge, he's Everested in under 12 hours (opens in new tab) and ridden the South Downs Double in sub 20 (opens in new tab). Although dabbling in racing off-road, on-road and virtually (opens in new tab), to date his only significant achievement has been winning the National Single-Speed Cross-Country Mountain Bike Championships in 2019.
Height: 177cm
Weight: 67–69kg