Vittoria Corsa Speed tyres review
Quick footed race tyres - best kept for the best days, but capable of sealing most holes before you even knew they happened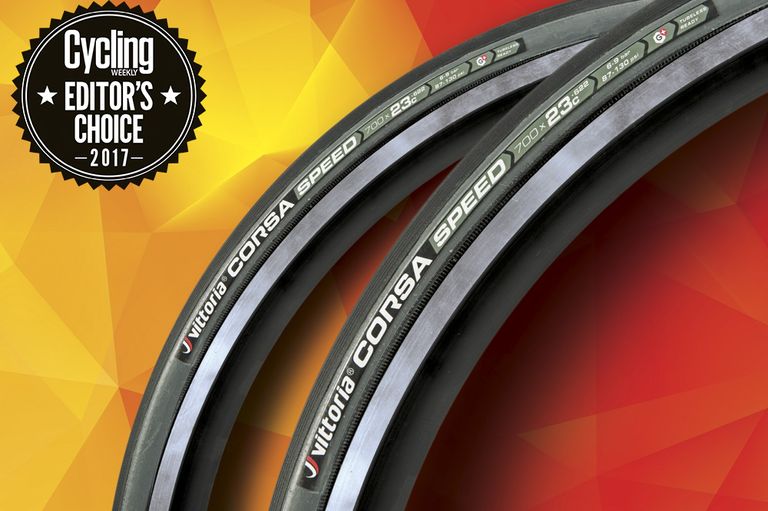 The Vittoria Corsa Speed tyres have been hailed the fastest tyre in the world and our own independent rolling resistance tests have found them to be the best rolling on the market.
The speeds holds up out on the road, rolling the tyres neatly into the Cycling Weekly Editor's Choice for 2017.
Tyres and marketing spiel go hand in hand, but out on the road, these Vittoria Corsa Speed tyres feel fast, even pinging like a lightweight tub on the track. This is in part thanks to its lack of anti-puncture belt and partly the thin layer of rubber used, which makes for relatively lightweight construction of 225g.
This isn't at the detriment of grip either: we used these in both summer and winter (yes, winter!) and found in both wet and dry conditions grip levels to be great.
You'll barely know you've punctured
Considering their lightweight carcass, you'd be forgiven for thinking the tyres would be particularly puncture prone, but in reality it's not that bad.
All but the largest holes are filled quickly by the sealant and you wouldn't know half the time that you actually punctured and if it does take a bit of time sealing, all you'll need to do is add some air.
These are racing tyres, so at best you'll get 700 to 800 kilometres out of the pair before you are down to the carcass, something even sealant won't be able to fix.
Made for the best days
However, it is clear that these tyres are made for the best days, race days or times where you need a little zip and not for everyday rides, and certainly not for commutes, for example.
If you are looking for some help saving some watts, these tyres for less than £60 each will certainly help along the way. They even come in 25c now, making them an even more appealing choice.