Busting the triathlon taboo: Is it time cyclists broadened their horizons?
Triathlon gets a bad rap among cycling's single-minded purists, but is it time to broaden our horizons? Paul Knott pulls on a tri-suit and heads for the sea to find out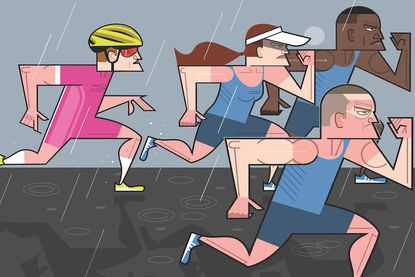 Get The Leadout Newsletter
The latest race content, interviews, features, reviews and expert buying guides, direct to your inbox!
Thank you for signing up to The Pick. You will receive a verification email shortly.
There was a problem. Please refresh the page and try again.
The 'T' word has long been considered blasphemous among 'serious' cyclists. Even within the walls of Cycling Weekly Towers, refusing to acknowledge the existence of the 'impure' multi-event sports has become something of an in-joke. But it's time for us to open up!
>>> Triathlon distances, training and equipment explained
Yes, I admit it — for ages I'd been tempted to give triathlon a crack. I knew my running ability was half-decent, especially over the shorter distances; my cycling was solid — and OK, my swimming needed work. Anyway, I wanted to test the possibility that mixing up training over three different activities could benefit all cyclists, not only specialist triathletes. My mind was made up: I was going to take down the haters and bust the taboo.
Back in the summer, I took the plunge (pun intended) and entered the Brighton and Hove Triathlon (see panel on p84). My main fear was the swim. Despite having been a pool lifeguard once upon a time, my 25-metre sprint certificate probably wasn't going to count for much in the open water off Hove beach. Nonetheless, I was looking forward to working on my swimming — it would be an enjoyable experience, and could become a welcome form of off-season training. Let's just hope those judgmental cycling gods aren't watching over me…
What is it with cyclists shunning other sports? I asked a man well versed in both triathlon and cycling.
"There has always been a great divide between triathletes and cyclists," acknowledges Matt Bottrill, former multiple national time trial champion and now full-time cycling and triathlon coach. "When I made the switch, at the peak of my powers having finished second in the National 10, I went into the swimming pool and couldn't even do two lengths. So that was initially a bit of a shock!"
After retiring from top-flight TT racing, Bottrill spent two years contesting triathlons. He enjoyed the training and wonders what could have been had he deployed similar methods during his cycling career.
"If I'd known two or three years ago all the stuff I know now, I could have been an even stronger cyclist. The sport is evolving, and you need to start thinking outside the box. Are you going to get fit just by riding your bike?"
According to Bottrill, cross-training is becoming more and more important for cyclists. "When you're getting close to your limit, you need to look at different things to get more speed, more power, more agility. That is going to come from strength and conditioning and agility work," he explains
Conventional strength-and-conditioning training is no doubt effective for cyclists, especially for pros who have S&C coaches on hand, but Bottrill believes that, for amateurs, swimming can be a useful weapon during the off-season.
"As cyclists we have this one focus, riding a bike, but swimming — especially if you learn to do it correctly — is quite technical," he says.
>>> How to burn fat cycling: simple tips for better fuel efficiency
Having thrived on stringently honing method and technique during his time trialling career, Bottrill approached swimming with the same attention to detail.
"It makes you focus mentally and learn the process. There is lots of stuff within swimming that is going to enhance your breathing, so it is complementary [to cycling]. I learnt a lot from 25-, 50-, 100-metre intervals, and it is a great way to build up cardiovascular fitness over the winter months."
Of course, swimming and cycling aren't 100 per cent complementary. The greater emphasis on upper body power in the water can have unwanted effects.
"You do start to build up bulk [from swimming], especially if you do it wrong — you'll start building up muscles around the neck rather than around the lats [back]."
Does thickening up your neck and shoulders really matter?
"If you're a time triallist, yes, because frontal area is an important factor. But if you want to improve your sprinting, then putting on some bulk from swimming is not a bad thing."
Adding Variety
When calculating the benefits of doing other activities besides cycling, the fitness gains may be quantifiable but the psychological and overall wellbeing plus-points are more difficult to measure. For Bottrill, adding variety to his training was enormously beneficial, given that he had been focused on time trialling for many years.
"Mentally, I needed that challenge," he explains. "The thing I enjoyed more than anything was that I could always do something else other than ride — go for a run or a swim, and it enabled me to switch off, which was great."
Mere mortals may never reach Bottrill's level of commitment, but the prospect of gritting it out on the bike in the cold and wet (or sweating it out on the turbo trainer) may make cross-training seem a little bit more appealing. The biggest question for most cyclists is: will running and swimming harm my cycling performance? Alan Chorley from Powerlab Coaching thinks the effects vary depending on the individual cyclist's mindset.
>>> How to set a 10-mile time trial PB - experts reveal their top tips
"You don't particularly need to take a break from cycling in the off-season," says Chorley, "but there are definitely health benefits from running and swimming as a means of maintaining cardiovascular fitness, which is a lot harder to earn than muscular fitness. Getting a mental break from the bike can be a big benefit."
Mixing up your training now can reap rewards come spring, believes Chorley.
"Having a break from the bike while maintaining fitness gives a certain freshness upon returning to cycling," he explains. "Time it right and you'll feel keen to get back on the bike — no longer dreading it."
Economy effects
A study published earlier this year in the European Journal of Applied Physiology (Swinnen, Kipp and Kram) investigated the 'Comparison of running and cycling economy in runners, cyclists, and triathletes'. The method consisted of comparing the participant's efficiency while running at eight-minute-mile pace and while cycling at 200 watts. The results showed that running economy was significantly better among runners, whereas cycling economy showed no particular difference between cyclists, triathletes or runners — implying that running economy improves with practice, whereas cycling economy does not.
From this bombshell discovery, it's not unreasonable to hypothesise that off-bike training won't harm — and may even improve — your cycling performance.
As the study notes: "Cyclists who typically spend many hours riding their bike could seemingly replace some time-consuming cycling training with shorter sessions of running training without experiencing negative effects on their [cycling efficiency]."
Of course, this is a stand-alone study that focused on easy-paced running and cycling — its findings may not apply at faster speeds — but it does give some reassurance that a dose of endurance training off the bike probably won't diminish your cycling economy.
>>> Do fasted rides really work?
Taking a quick glance across the Strava activity logs of professional riders over the off-season reveals many taking part in swimming, running and cross-country skiing. BMC's Richie Porte, for example, has long used swimming as part of his rehabilitation and off-bike tuning-up, owing in part due to his triathlon background.
Unfortunately there is no guarantee that dabbling in the three disciplines will improve your cycling. Bottrill admitted that his threshold power dropped by 50 watts once he'd begun training hard for triathlon. And no one wants to be a 'jack of all trades, master of none'.
"The high impact from running really battered my cycling power. I was running 20 to 30 miles a week, and it definitely didn't complement my cycling," Bottrill says. "If people are restricted in time and want to do a quick jog, then fair enough — but is your cycling is going to benefit from running lots of five- and 10-kilometre races? I'd say no. You'd be better putting more time into strength-and-conditioning and mobility work."
Ian Leitch, who has performed at the sharp end in running, mountain biking and Xterra triathlon, holds a similar view but places the emphasis differently. He found that cycling seemed to support his running performance very effectively.
"When I was racing triathlon, I ran my fastest 10k while running only about two or three hours a week but cycling 10 to 12 hours a week." But it didn't work for Leitch the other way round. "If I'm asked to cycle fast off large amounts of running, I find that much more challenging," says the 43-year-old, who still runs 10km in under 31 minutes. "I think cycling can work really well for running, whereas running just doesn't build the power in the quads you need for cycling."
There's an important caveat here: Leitch had a running background (not to mention heaps of natural ability) — you can't leap off your bike and expect to be a fast runner. Even so, you shouldn't discount the time-efficiency of running; Leitch believes an hour's run gives as much endurance benefit as a two- to three-hour ride — while acknowledging that duration isn't everything.
"If you ask your average Joe if they want to go for a run, they'll be like, 'No way, I'm not doing that!' — it's easier to feel good while cycling… I know so many cyclists who labour through a run and find it very tough. Cycling has a more universal kind
of appeal."
>>> How to warm-up for a time trial (video)
It's also important to remember that running, for the uninitiated, carries injury risks — it takes months, even years to condition your legs for running resilience. With pre-existing cardio fitness, some cyclists leap into running with a little too much confidence, and pay the price with impact-related injuries.
In conclusion: the off-season is all about seeking feel-good sensations, whether that comes from toughing it out on the bike or flitting between bike, pool and running trails. Combining the three activities can certainly have benefits, physically and mentally; it's about finding the right mix for you. In the Cycling Weekly office at least, the word 'triathlon' is no longer taboo!
Tri-ing it out- Paul Knott
To keep my competitive juices flowing through the off-season, I decided to cross the divide and have a go at the Brighton and Hove Triathlon. As much as knowledge, experience and preparation can help you in the lead-up to a race, spanners tend to get chucked into the works — such as poor conditions on the day. The top bugbear of cyclists is the wind, and in open-water swimming, Mother Nature can have an even more brutal impact.
With the sea crashing onto the shore, I and 200 other sprint distance competitors shuffled into the sea, making very slow progress against the choppy waters. Having switched into survival mode to get through the swim, I clambered back up the pebble beach to transition, which looked like a scene from Saving Private Ryan — bodies slumped everywhere.
Out on the bike, I was soon passing riders who had burnt matches in the English Channel and began to feel I had paced my effort to perfection. In and out of the second transition in super quick time, the dreaded pull of my right calf greeted me 100 metres into my run. Feeling pretty helpless, I plodded up and down Hove promenade, aiming only to finish without further injuring my ever-tightening calf.
Nothing really prepares you for the indignity of hobbling along knowing you physically can't go any faster. As I stumbled under the finish banner in 92nd place, the relief of having finished completely overrode any thought of how much I'd enjoyed the varied training. Perhaps the cycling gods were, after all, looking down on me and cursing my betrayal of the two-wheeled faith. I'll be sure to give them more warning next time.
Entry for next year's Brighton and Hove triathlon is now open at www.brightonandhovetriathlon.com
Tri it yourself – cross sessions with cycling benefits
Three-minute running intervals
Purpose: Boosts VO2max
Coach says: "Runners benefit from greater bone mineral density than non-runners, particularly in the hip and spine after the age of 40. The aim of this session is to maintain the fastest possible average pace through the three-minute efforts. This is a hard workout that will elicit near VO2max on the efforts, helping to maintain that hard-earned cardio fitness."
CW says: Build up to this one; make sure you have at least two months of easy running under your belt first.
The session
Warm up 10min jogging
The effort 6x 3min @ threshold
(Z4-Z5) — with 3min jog recovery between efforts
Warm down 10min jogging
Hill reps for muscular power
Coach says: "Muscles adapt much more quickly to training than does the cardio-respiratory system. But that works both ways, in terms of de-training too. Short, sharp hill reps on a steep hill will work the quadriceps, gluteal muscles and hip flexors, to help maintain the adaptations earned on the bike. The hard 30-second efforts will emphasise the work done on those muscle groups."
CW says: Again, this is a tough session — make sure you have a decent level of running fitness before attempting."
The session
Warm up 10min jogging
The effort 10x 30sec uphill sprints (recover by jogging back down)
Warm down 10min jogging
Flexibility and mobility swimming session
Coach says: "The focus for this session should be on maintaining good form rather than pace. Similarly, recoveries between each set should be sufficient to maintain good form during the main bulk of the session."
The session
Warm up 10min easy
The effort 2x (200m of each: breast stroke, back stroke, front crawl)
Cool down 10min easy
Thank you for reading 20 articles this month* Join now for unlimited access
Enjoy your first month for just £1 / $1 / €1
*Read 5 free articles per month without a subscription
Join now for unlimited access
Try first month for just £1 / $1 / €1
Get The Leadout Newsletter
The latest race content, interviews, features, reviews and expert buying guides, direct to your inbox!
Paul Knott is a fitness and features writer, who has also presented Cycling Weekly videos as well as contributing to the print magazine as well as online articles. In 2020 he published his first book, The Official Tour de France Road Cycling Training Guide (Welbeck), a guide designed to help readers improve their cycling performance via cherrypicking from the strategies adopted by the pros.