Cycling UK gives you the chance to loan an e-bike for a month for free
If you live in Manchester, Sheffield, Leicester or Luton & Dunstable, now's your chance to test the waters of going electric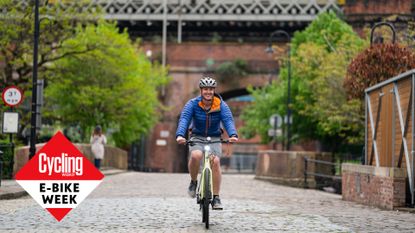 (Image credit: JoeCotterill/CyclingUK)
It's E-Bike week here at Cycling Weekly, and we're sharing all of our electric bike tips and advice with a whole host guides and explainers to help electric bike owners to get the most from their e-bike. As well as helping those considering an e-bike make the jump…
Electric bikes may have piqued your interest, but as with anything new, it's hard to take the plunge without knowing fully what you're getting yourself into - especially as the best electric bikes are more expensive than their equivalent 'acoustic' counterparts.
This is where the charity Cycling UK has stepped in, and is offering you the chance to test-ride an e-bike with its free e-cycle scheme in England.
'Making cycling e-asier' provides the opportunity to loan an e-bike for one month - or trial one through a 'skills and confidence' session, which will also provide you with hands-on advice.
The charity hopes that by giving people the opportunity to use an e-bike for short journeys, they'll discover the benefits of e-bikes, such as improving fitness and wellbeing, as well as decreasing the number of unnecessary short car journeys they take.
Cycling UK has a range of e-bikes available from a variety of bike manufacturers including Specialized, Brompton, Raleigh and Islabikes. A battery charger, lights and a lock will also be provided with the loan.
Cycling UK's 'skills and confidence' free sessions last one-hour and guide users through, in-person, how e-bikes work and how to operate one, basic e-bike maintenance checks, and best practice when preparing an e-bike for your ride.
This scheme is funded by the Department for Transport and is currently available in four regions: Manchester, Sheffield, Leicester and Luton & Dunstable.
You can find out more about Cycling UK's Making cycling e-asier scheme over here and find the closest loan centre to you.
Thank you for reading 20 articles this month* Join now for unlimited access
Enjoy your first month for just £1 / $1 / €1
*Read 5 free articles per month without a subscription
Join now for unlimited access
Try first month for just £1 / $1 / €1