How to avoid training mistakes
Focusing on your own ability and goals is the key to keeping your progress on track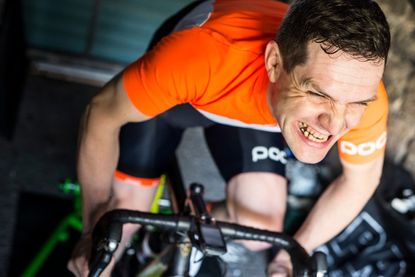 (Image credit: Andrew McCandlish)
Making a training mistake or two during your cycling life is inevitable.
Making too many, however, can cause you to miss goals, recover poorly, perform below par, get injured or burnt-out.
>>> How to successfully bounce back after a crash
Key to staying on track is realising that mistakes are often of our own making — through a lack of mental control.
One way this lack of mental control manifests is in compulsively comparing oneself to others, especially when striving to emulate faster riders.
Not only is the other person's training history, available time, current fitness, race strategy and schedule likely to be different but, as coach Richard Simmonds of Personal Cycling Coaching reminds us:
"The physiological demands of different events differ considerably, and you need enough honesty to say, 'That's not going to help me, so I should do my own thing'."
Even after creating your own training plan, it is easy to panic and think you should train harder or differently.
>>> Alex Dowsett's five training tips to make you fitter and faster
Every time you spot a new session in a magazine, or hear about a technique or skill a friend has been learning, it is tempting to try it. Quite simply, don't. Instead, set it aside for a future training block.
>>> 20 of the best British sportives to ride in 2017
As you get close to your big event, panic can set in and you may feel impelled to train extra-hard rather than resting and recovering. Simmonds advises:
"Last-minute training rarely adds to, but often subtracts from, race performance."
Another important element, one that's often missed, is that the more stresses you have in your life, the higher your risk of making training errors.
Not only major events such as moving house or divorce, but the small burdens such as a long commute, work deadlines, or social obligations, all add up and can impact your physiological response to training.
To combat these training errors, think deeply about how much you want to train effectively and your driving motivations.
Check-in with yourself regularly to make sure you are not being swayed by others.
>>> 'I wanted to ride for the joy of riding… something different than races, training, numbers, Strava, tactics'
Finally, when you've decided on your training, stick to it.
Essential points
Too often comparing oneself to others is potentially harmful to one's own training.
We are all prone to panicking about fitness but patience is your best training partner.
Getting swayed by new ideas or radical sessions can derail your progress.
The mini stresses of daily life can have a big impact on training and racing performance.
Do:
Sit down and identify all the little things in your life that have the potential to cause you stress and think about how you can manage them better. Even if you can't fix them, this process will make you more aware of what is affecting on you, making you less likely to get knocked off course.
Find ways to build your confidence. The more confident you are in yourself and your training, the less likely you are to be swayed by others.
Be honest with yourself as to whether you have any self-sabotaging habits negatively impacting on your training. Procrastinating and putting off training is the most common flaw.
>>> Nine ways to prepare for your best ever sportive or racing season
Don't:
Get excited by each new shiny idea or session you see and try to squeeze them into your plan. If you feel your sessions are too easy, ask your coach to explain. Simmonds says: "Knowing the objectives can make it much easier to do your sessions as prescribed."
Compare yourself to other cyclists. It can make you question your own training or abilities, and thereby distract you from focusing on the training that you know works for you.
Copy or compare your training plan to anyone else's. Their own specific goals, current fitness, race schedule, physiology, obligations, etc. — are likely to differ from yours.
Watch: 6 ways to sleep better and ride faster
You Say
"Working nights is a killer. When I finish night shifts, I'm fighting my body clock, not just the hills. My weakness is beer and friends." - Alan Bancroft
"Red wine! I'm unable to have just one glass, and it ruins the next day. And once I've missed one training day, it's a slippery slope." - Helen Jamieson
"Having unpredictable working conditions, when I do get time to ride, I give every single ounce of energy I possess." - Ivan van der Merwe
"The wife and kids. Getting a turbo trainer backfired because now they know exactly where I am." - Michael Johnston
"General tiredness? Suck it up. Socialising? I'm on the spectrum, so that's not an issue. Work? Commute the long way home." - Chris Birch
Thank you for reading 10 articles this month* Join now for unlimited access
Enjoy your first month for just £1 / $1 / €1
*Read 5 free articles per month without a subscription
Join now for unlimited access
Try first month for just £1 / $1 / €1
Dr Josephine Perry is a Chartered Sport and Exercise Psychologist whose purpose is to help people discover the metrics which matter most to them so they are able to accomplish more than they had previously believed possible. She integrates expertise in sport psychology and communications to support athletes, stage performers and business leaders to develop the approaches, mental skills and strategies which will help them achieve their ambitions. Josephine has written five books including Performing Under Pressure, The 10 Pillars of Success and I Can: The Teenage Athlete's Guide to Mental Fitness. For Cycling Weekly she tends to write about the psychological side of training and racing and how to manage mental health issues which may prevent brilliant performance. At last count she owned eight bikes and so is a passionate advocate of the idea that the ideal number of bikes to own is N+1.