'I wanted to ride for the joy of riding… something different than races, training, numbers, Strava, tactics'
BMC's Daniel Oss sits down with CW to discuss why he put away the training schedule after the Giro d'Italia and just grabbed his bike and rode wherever he felt for seven days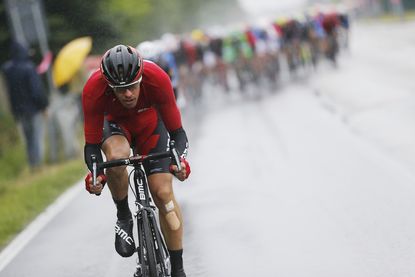 (Image credit: Yuzuru SUNADA)
Daniel Oss is beginning his 2017 march to the Classics with BMC Racing's captain Greg Van Avermaet. He is doing so with a love for cycling that was only made stronger during a bike tour last summer in Italy.
The Mister Rock of cycling – with his long curly hair, big smile and fixating blue eyes – finished the 3500 kilometres of the Giro d'Italia and needed to unplug. Instead of a beach vacation, he reached for his black carbon fibre BMC bicycle, strapped on some bags and began a journey.
>>> Rolling with the puncheur: How Greg Van Avermaet stopped being racing's 'nearly man'
Oss rode seven days and around 850 kilometres. He departed from his home in Torbole, on the shores of Lake Garda in northern Italy. He rolled south through the flat Po Valley, climbed the Apennine mountains, and passed Tuscany's famous vineyards. They gave way to the west coast and Rosignano's sandy beaches south of Livorno.
"I love cycling, but I wanted to do something different than what I've always done: races, training, numbers, Strava, tactics... JustRide, the hashtag I gave it, is the opposite. It's to ride just for the joy of riding, to have a different outlook," Oss tells Cycling Weekly.
"I wanted to be a different cyclist. I discovered many beautiful things along the way. Just taking time to ride a climb, to stop, to snap photos or to sit at the beach with a sandwich. We never have time to do so as professionals, we see many beautiful places, but we can't appreciate them."
The six-foot-three 30-year-old sat in the side room at the Hormuz Grand hotel, where the BMC team stayed for the Tour of Oman. He leaned over the table to turn off his smartphone that began to buzz. He needed silence to recall what had perhaps been one of the best moments of his professional cycling career that began with Liquigas in 2009.
"I'd get to a fork in the road, and just decide my direction on the spot. It was more less that, improvised."
"This was the first time that I've done something like this," he explains with his eyes locked and focused. "When I was a boy, it was about riding around and having fun. The competition started early, trying to beat your friend and trying to win races.
"Just ride: The concept was to wake up, go and find some food, figure out the route and prepare the bags. Then ride. Finding a hotel and dinner afterwards.
"I had some ideas, I wanted to arrive to some points where my friends were. Other times, I'd get to a fork in the road, and just decide my direction on the spot. It was more less that, improvised."
Given this is the age of social media, Oss was unable to depart without some kind of hashtag. "Man, let the others appreciate the ride," his friend said to him in early June. "It could be interesting and show cycling in a new light."
https://vimeo.com/189194677
The friend convinced Oss to let him follow in a car and bring a photographer, which led to some entertaining videos of a tiger-masked Oss chasing the real-life cyclist Oss.
Oss says that he still carried his own gear and that he forgot about the follow car alongside in his journey. He was in his "own world."
The journey came off the heels working for Van Avermaet in the Classics, until he crashed and fractured his shoulder in the Tour of Flanders, and helping Darwin Atapuma race the classification over the three weeks of the Giro.
"I wanted to get out and have fun. To change my way of riding," Oss continues. "We are always training and dieting. After the Giro, I was a little tired with it all. I needed to ease the load.
"I'm a pro, 100%, but sometimes you're tired after a Giro or at the end of the season. This was something different, just riding, stopping where you want and taking photos is fun. You're free to think. In a car, you don't see these things, you pass by too quickly. Walking you don't cover such distances to see everything.
"I selected the locations based on how much time I had. The first day was completely flat, around 200 kilometres. One day, instead, the rain came down heavily and I took it easy. I'd already finished the Giro, I didn't want to kill myself for nothing."
Oss paid respect to the late Marco Pantani in Cesenatico. After climbing the passes of the Apennines, the spine-like mountain range that runs the length of Italy, he found himself spinning down the same Tuscan roads he trained on as an amateur with the famous S.S. Aquila team. Emotional, he called his former Aquila sports director.
"I arrived in Florence, my old cycling club friends arranged a dinner for me at the last minute," Oss says. "I told my story to the new group of young cyclists. Some of older men there, 70-year-olds, would ask me, 'Why are you doing this? You're crazy.' But they'd add, 'How beautiful!'"
'The gods of cycling'
Oss's adventure kept a powerful motor running. Since he was an amateur, he had the ability to deliver short- to medium-range surges. He raced the individual and team pursuit on the track. He travelled with team Italy to the 2007 Worlds in Mallorca, to race both the team pursuit and points race.
It transferred well to the road. In the lime-green Liquigas team, his curly hair trimmed short and no visible tattoos, he began sprinting and debuted in the Classics working for Peter Sagan. BMC Racing took note when he helped Sagan to his best results yet in 2012, a fourth in Milan-San Remo and fifth in the Tour of Flanders. Oss's motor carried him well. In that same finish in San Remo, he finished ninth.
"The first years of a professional career are different. You try to discover yourself and what type of cyclist you can be. After Liquigas, I matured a lot with BMC," says Oss.
BMC Racing brought him to another level. Trainers Marco Pinotti and Dario Broccardo developed him into an integral part of the team time trial. Together, they won two world titles, the 2015 Tour stage, a Critérium du Dauphiné stage, a Tirreno-Adriatico stage and much more.
"The first one we lost after many years was last year in the Doha Worlds," he continues.
"The team time trial is perfect for me. I have the ability to do them and to win them. I like the preparation beforehand, the race itself, the time afterwards.
"It's stressful, you have to divide your performance with the others. You have to be united and understand your companions, to understand who needs to be ahead and behind. It's very technical and tiring. It's a matter of seconds. You have to put up with yourself to pull through for the others, and the others for you if you're suffering."
Since 2013, the tattoos spread down his arms as fast as his hair grew. BMC's confidence in him, and Van Avermaet's, increased, as well. He is an integral part of its Classics team with Manuel Quinziato, Michael Schär, Jean-Pierre Drucker and Stefan Küng.
"We are working to win and that's motivating. Greg's already accomplished some targets: the yellow jersey, the Olympic gold medal. He has confidence – him first and also us around him – that he can win a big race like Flanders. That's gives us a lot of strength, and gives me faith. I trust his ability and he trusts what I can give him.
"Usually, I'm there in the last phases. If you are talking Flanders, then I should be up front the last time up the Taaienberg through until the finish. That's where I need to be near Greg and take advantage of the others' attacks or the situations to make sure he wins."
For a man who must live a monk-like lifestyle – focused on watts, calories and kilometres – the Classics campaign is like attending a rock festival.
"It's all a blast of adrenalin, emotion, fatigue, force. It's all there in one group, a peloton. It's a rock festival. If it was a song, it'd be one from AC/DC or Queens of the Stone Age. Strong bass and drums," he explains.
"It's amazing how the fans gather and watch. They'd give anything to be in your shoes. They are there pedalling with you. They are drunk on the Kwaremont and want to push you home. You can smell the beer, it's disgusting.
"The strongest riders in the worlds are there. These are the 'hard men of the north'. I don't want to say that Liège-Bastogne-Liège isn't a race for true men, but the top-20 cyclists of Flanders are big, huge men with motors of 9000 horsepower. The gods of cycling. Cancellara, Sagan, Greg... I'm impressed so much with their abilities and builds."
For the love of riding
Oss's Classics descriptions shined a light as bright as the one he used to reveal details about the Tour of Flanders or Paris-Roubaix. It appears that his ride woke up the little boy that first began racing around Veneto and the neighbouring Friuli-Venezia Giulia region.
"I love riding my bike," he adds. "Others need it. Fabio Aru has that same need to unplug. I'd suggest this to him and to everyone else. It'd be welcomed warmly in Italy to see someone like Aru riding the back roads on a bike tour.
"During my ride, many people got behind me. Many people wrote me in Twitter, both kids and adults. The kids see a pro doing something like this and it gets them thinking. Otherwise, they might only see the racing. This gives them another dimension."
Oss looked out over the lobby where the other riders in the Tour of Oman were walking towards the dinner hall. He too was hungry for dinner and the season ahead. He picked up his telephone, stood up and continued his journey.
Thank you for reading 20 articles this month* Join now for unlimited access
Enjoy your first month for just £1 / $1 / €1
*Read 5 free articles per month without a subscription
Join now for unlimited access
Try first month for just £1 / $1 / €1