How to cycle on your period: My search for helpful advice on managing bleeding while riding
I spoke to Australian cycling star - and qualified doctor - Alana Forster for her tips, tricks and insights on riding at that time of the month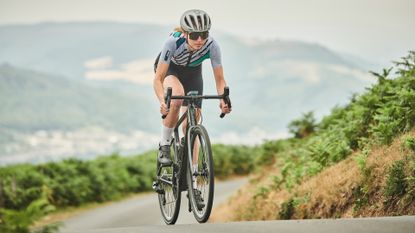 (Image credit: Future)
There has been an increasing awareness over recent years of the different phases of the menstrual cycle - and how these different phases impact the body both physically and psychologically. With this understanding, we now have a much better idea of how to optimize our training around our cycles, ensuring we're working with our bodies - rather than against them.
However, despite this wealth of information, there has been a paucity of useful, practical advice on actually dealing with the monthly bleed, as well as the symptoms associated with it. Knowing how to manage life when this phase occurs - and how to work that around racing and training - is just as important as knowing what training sessions you should be focusing on.
Of course, some people who have periods may find that contraceptives are a great option for controlling when and if they bleed. But for others who choose to have a natural cycle, it's important that they are taken into consideration and given solid advice on how to actually thrive while bleeding - just as the sanitary product adverts would have us believe…
If, like myself, you've had race days ruined by your period and heavy bleeding then this is for you. The symptoms can honestly be debilitating, especially on the first day. But I feel we really shouldn't have to deal with this. Over the years I've done what I can to ensure I'm always prepared. Even taking spare tampons in my handlebar bag just in case - as well as pain relief and a hot water bottle or heat patches for pre or post race relief. Some of the time it helps, but not always.
I spoke with Australian cycling star Alana Forster to find about her own insights into managing the symptoms and issues which can arise with training and racing. Because of her background (both a doctor and successful cyclist), I spoke to her about both her medical and personal perspective as an athlete.
Alana Forster is an Australian Paralympic cyclist and a medical doctor. She is the current C5 Scratch Race World Champion on the track following her win at the 2023 UCI World Championships in Glasgow.
From the medical perspective
CW: How does the menstrual cycle affect the body in general and what symptoms can be expected?
AF: Let's get the basics covered. The majority of the symptoms relate to fluctuations in the four female sex hormones: Oestrogen, Progesterone, Luteinzing hormone (LH) and Follicle Stimulating Hormone (FSH).
The most commonly reported of those symptoms are: abdominal pain, cramps, generalised weakness, insomnia or poor sleep, physical fatigue, poor focus and difficulty carrying out task-oriented activities due to brain "fog".
Many athletes also report emotional lability, irritability and a lack of motivation during menses. Subtle changes in cognition, including alertness, emotional response and motor control (including reaction time) can also be correlated with hormonal changes in MC (Menstrual Cycle) phases.
CW: How can the symptoms be managed during the menstrual cycle?
AF: Identifying your individual symptoms and associated problems is probably the key to optimising your menstrual health. There is a variety of medication and natural remedies which can help with symptoms: these are best managed in consultation with your doctor (either a General Practitioner or doctor with an interest in Women's Health) depending on your activity levels, sporting ambitions and severity of symptoms.
Individualized treatment options vary: medications are available both over-the-counter and on prescription - but are not without their associated risks! There are many non-pharmaceutical options such as heat or cold packs for cramps and abdominal pain, stretching and remedial massage for muscle aches, and cognitive behavioural therapy to manage emotional dysregulation and identify detrimental behavioural patterns. You should consult a medical professional to discuss what options are best suited to your symptoms, your activity and individual goals.
CW: During menstruation, what are athletes most likely to struggle with?
AF: Deciding how best to manage your symptoms during your period is highly individualised and depends on your personal preferences - but no single option should stop you from training or competing! The Oral Contraceptive Pill (OCP) may be a suitable option (obviously only do this in consultation with your doctor!) Despite some misconception, the OCP (or progesterone "mini-pill") does not require a Therapeutic Use Exemption and is not banned in or out of competition by the World Anti-Doping Authority (WADA).
Tampons and menstrual cups are viable options allowing females to train and race whilst wearing bib shorts or knicks - but may need to be changed frequently depending on flow rates. For training rides, taking spare period products with you (and planning toilet-friendly ride routes) does require a degree of organisation, but is easy enough to do with some pre-planning.
This is less easy to do for racing. Changing your preferred period product immediately before a race and ensuring your flow rate matches the length of competition can sometimes be tricky - and may be something you need to experiment with to find an optimal outcome.
CW: Are there any common psychological issues experienced during the menstrual cycle?
AF: We know from multiple studies that poor 'period confidence' is a significant barrier to sporting participation. This includes management of physical symptoms, access to appropriate hygiene products, psychological distress and social and emotional isolation.
There are many global initiatives that promote positive menstrual health - this helps to reduce barriers to participation and allows us to both inspire and celebrate women. No female should feel uncomfortable, awkward or judged about having their period or participating in sport. Healthy periods can actually have a very positive impact on sporting performances!
Certain medical conditions, however, can certainly negatively impact sporting performance, whether directly or indirectly. That said, there is a breadth of literature which demonstrates the positive effect of exercise and physical activity on managing the physical symptoms of many medical conditions, including female-specific conditions such as endometriosis and PCOS. Not to mention the endorphin-mediated benefits of physical exercise and positive culture associated with communal sports: cycling is a team sport after all!
CW: Where is the future trending for monitoring training and performance for females in sport?
AF: Wearable technology [such as the best smartwatches for cycling] and associated commercial smartphone apps are increasingly being utilized in elite sport to monitor and track athletic performance across the menstrual phases. We know that female physiology is unique and highly individualised, but now we are realising also that an individual female can experience much variability between each menstrual cycle.
Data obtained from wearable devices such as Whoop and Oura demonstrate recovery scores trend higher in the follicular phase, while declining in the luteal phase. This indicates that females are more resilient to stress during menstruation and in the first half of their MC, whilst after ovulation the female body becomes less resilient to stress with less adequate recovery, requiring more recovery time or modification in training during this phase.
CW: How do we optimise performance for the female athlete?
AF: There is no definitive consensus on how the menstrual cycle affects athletic performance; a sophisticated understanding of female endocrinology is required and good quality, female-specific studies are lacking to truly understand the impact of physiology and hormonal contributions to sporting performance.
Menstrual irregularities and dysfunction can contribute to unexpected or unique hormonal profiles. For example, females who have a relative "luteal-phase deficiency" produce far less progesterone than would be expected, which can alter muscle activation and metabolism. Anovulation is another well described occurrence, which changes the neuro-inhibitory feedback during the luteal phase.
Smart devices and wearable technology are able to provide feedback on training stress and recovery, however these currently fail to accurately correlate hormonal fluctuations with MC phases. Blood samples provide accurate measurement of hormone concentration, but frequent sampling is required to identify an individual hormonal profile. Saliva and urine collection are sub-standard and inaccurate alternatives to the 'gold-standard' blood collection.
In the athlete space, tracking symptoms can be useful to optimise training and performance. Once a general idea of MC length is identified, symptoms such as fatigue can be localised, and exercise modification and training adjustments made. Dietary intervention with nutritional optimisation can also help with many symptoms, particularly if iron availability is decreased due to losses from heavy flow or increased uptake during periods of heavy training.
From the athlete's perspective
CW: How do you personally feel the menstrual cycle impacts you during training and racing?
AF: I like to align my training with my cycle. I find it helpful to recognise and monitor my symptoms - a period diary is useful to help know my body and identify trends. This really helps maximise my training! In consultation with my coach I like to "periodize" my training in terms of load and volume (good pun I know!). Less when I'm not feeling great, more when I'm feeling good.
I actually like some targeted hard work when I'm struggling, as I feel this helps me concentrate to get the work done! While the gym is a regular part of my cycling training plan, I do prioritise follicular phase resistance-based training to enhance muscle strength and mass.
There is emerging evidence regarding a relative decrease in carbohydrate availability and increase in fat oxidation during the mid to late luteal phase of the MC, but in general I just make sure to fuel appropriately for all training sessions.
CW: What steps do you take to ensure you work with your period and not exacerbate symptoms?
AF: Preparation is key! I always have plenty of period product supplies on me at all times so I'm never caught out when out riding (I always keep something spare in my saddle bag in case I forget!)
I also find it helpful to acknowledge the emotional component of my menstrual cycle. When I find myself lacking motivation, feeling irritable or emotionally fragile I can rationalise what I am doing and how I am feeling!
Whilst over-the-counter anti-inflammatory medications can be helpful for managing my symptoms, I rarely use them due to tolerance issues and side effect risk profile - but obviously this comes down to preference and is highly individualised. I would stress that any elite athlete should check their medications against the WADA List of Prohibited Substances and Methods: we are all individually responsible for our actions in sport! A Therapeutic use Exemption may be required for certain medications: it is up to the individual to ensure they comply with regulations to keep our sport fair and transparent.
CW: What are your best tips for dealing with your period when racing?
AF: Ensure you have good fitting and comfortable bibs to train and race in - this should be a priority for any female cyclist whether you race or not - [you may find CW's guide to the best women's bib shorts useful]. Period health (including appropriate period products) and saddle issues (including saddle sores and chaffing) are real barriers to cycling participation and competition.
Find a period product that suits you (there are many companies that make differing tampon applicators, for example) and find something that fits you for your comfort, activity level and flow rate. I suggest altering ride duration or training route if you find heavy flow precludes you from getting out the door! Don't be afraid to ride easy if you need to, there's always another time for hard work. And prioritise your mental health first – you won't have a good ride if you don't enjoy it!
Therefore it's clear to see that the take away from this is ensuring you find strategies that are tailored to you and your needs. It is important to use trial and error: as is done with most things in sport including other strategies such as fuelling. Talking to your own GP or a specialist in the area will be best for ensuring you can find medication or a contraceptive to help manage your symptoms.
However, it's paramount to check your medications with WADA to ensure they aren't prohibited and if you need to obtain a TUE for use if you are a competing athlete. If anything is unclear, the best course of action will be to contact your national doping agency to clarify any uncertainties.
Additionally, it's important to state that any of the advice included in this article is solely a medical opinion and general medical advice only: it does not constitute individual treatments. New and emerging information from current research continually changes advice for athletes as well as best practice. Novel therapies treatment modalities do also change over time.
You can find more out about how hormones affect cycling performance here, as well as the ways 'traditional' cycle training approaches don't work for women, and what you can do instead over here.
Thank you for reading 20 articles this month* Join now for unlimited access
Enjoy your first month for just £1 / $1 / €1
*Read 5 free articles per month without a subscription
Join now for unlimited access
Try first month for just £1 / $1 / €1