Real-time Strava stats go straight to your cycling glasses from Apple Watch with recent update
The ActiveLook app brings advanced real-time performance data to compatible eyewear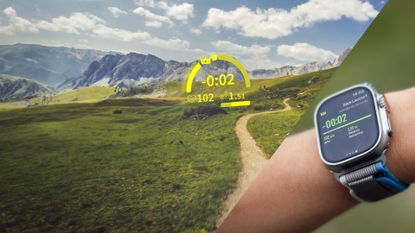 (Image credit: MICROOLED)
Real-time performance data - including Strava's Live Segments - can now be streamed from the Apple Watch to connected compatible sunglasses, thanks to a recent update to MICROOLED's ActiveLook app.
The best smartwatches for cycling are useful tools for monitoring and tracking all aspects of your health and fitness data, both on and off the bike. However, with these devices sitting on your wrist, keeping an eye on your data in real time is not the easiest thing to do. This is the issue that MICROOLED's ActiveLook tech aims to solve.
ActiveLook compatible cycling sunglasses (such as ENGO Eyewear and Julbo) connect directly to the Apple Watch via Bluetooth and display fitness data such as heart rate, pace, distance, laps, and other data fields - allowing you to instantly view performance metrics while exercising.
What's interesting about ActiveLook's app in particular is that it's the first "Augmented Reality" connected eyewear solution which connects directly to Apple's watches such as the Apple Watch Ultra. It's also the first Apple Watch app to display Strava Live Segments.
"With performance metrics instantly viewable in compatible eyewear, athletes remain focused on their performance - without breaking stride, looking down or changing body mechanics, to attempt to read a watch or a small cycling computer on the handlebars," MICROOLED pitches.
"The integration of Strava's Live Segment functionalities into the ActiveLook application adds a unique dimension to endurance sports activities by making data significantly more readable and therefore actionable."
Battery life is claimed to be up to 12 hours of use, and so that'll easily cover what most of us consider to be an endurance ride.
If you also use your smartwatch for recording your runs as part of your winter cross-training, then you'll be pleased to know that ActiveLook also displays advanced Apple Watch metrics such as Running Dynamics (e.g., vertical oscillation and stride length), "to enable athletes to see and feel changes in body mechanics in real-time".
Thank you for reading 20 articles this month* Join now for unlimited access
Enjoy your first month for just £1 / $1 / €1
*Read 5 free articles per month without a subscription
Join now for unlimited access
Try first month for just £1 / $1 / €1