Apple Watch Ultra review - a great smartwatch and a good sports-watch
The watch-phone integration is seamless and unparalleled, although some features a lacking - such as battery life. Overall, it's still a strong contender (provided you're an iPhone user)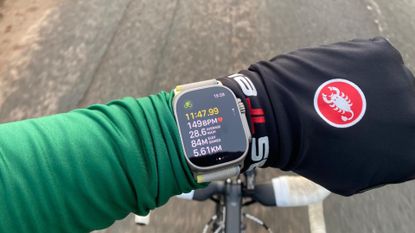 (Image credit: Future)
The Apple Watch Ultra's battery life does lag behind that of other GPS watches at a similar price point, but the activity and health tracking performance is on a par with - and in some ways better - than its competition. Cheaper options of the Apple Watch Ultra are available, but these do not have the same premium materials to improve longevity. The health tracking features are great and, when using an iPhone, the functionality and ease of use is unmatched. For iPhone users, the Apple Watch Ultra is expensive but it does everything so well - it's also more rugged and has a far better battery life than cheaper Apple Watche models. But for non-iPhone users, I would look elsewhere.
Reasons to buy
+

Accurate HR tracking

+

Tough and durable

+

Can make phone calls without phone needed

+

Great GPS tracking

+

Easy to use

+

Screen very receptive

+

Better battery life than other Apple Watches

+

Comfortable to wear all day and night
Reasons to avoid
-

Battery life not as good as competitors

-

Can't really use the device with just buttons, need screen too

-

Can't lock the screen during activities

-

Functionality very limited if not using a iPhone
The Apple Watch Ultra is more rugged, tougher and boasts a longer battery life than Apple's other smartwatch models. These qualities make the Ultra Apple's strongest contender against the latest and greatest GPS watches from Garmin, Wahoo and the rest of the current cohort.
That said, even the increased battery life still doesn't rival some of the best smartwatches for cycling and there are no fancy extra features such as solar charging, and certain features are quite limited when not paired with an iPhone device. On the other hand, with an iPhone, the Apple Watch Ultra's integration between watch and phone is unparalleled. Let's see how it stacks up.
Apple Watch Ultra: construction
The Apple Watch Ultra is - on paper - a much larger watch than the Series 8. With a 49mm screen size compared to the 45mm Series 8, I was concerned it would look massive on my wrist. But when it showed up, everything looked in good proportion. Plus, thanks to its titanium body, the Apple Watch Ultra is only marginally heavier than the Series 8.
The side of the watch body extends up to the screen in order to reduce the chance of knocking the screen on any objects. That said, the screen is pretty tough itself, constructed from sapphire glass - which apparently is second only to diamonds in terms of its 'hardness'.
A bold claim - but one substantiated through my experience. During the testing period I did scuff the watch against a brick wall, but when I looked down at the screen - expecting the worst - I found there wasn't a scratch on the watch. But there was on the brick wall.
The watch has the same side buttons and digital crown as other Apple watches, but they are larger than before and promise to be useable with gloves on. Personally, I found the buttons work well with even quite thick gloves, but the crown was hard to turn when wearing more bulky pairs. There is also the new action button which is programmable to do whatever function you assign to it. It's a nice addition, but the watch still isn't useable solely through its buttons, unlike some other sports watches.
My test unit came with the Trail Loop, which can fit the 44, 45 and 49mm sized watches and is available in two sizes to fit wrist sizes of 130-180mm, and 145-220mm. It's made of non-stretch nylon and was very comfortable both during day-to-day use and also during exercise. Adjustability is endless which makes fitting very comfortable. It is, however, prone to collecting dirt in the yellow/beige colour that mine came in.
The watch is dust-proof to IP6X rating (good, apparently) and is also waterproof to 40m and can be used for recreational scuba diving - so it should be fine with whatever you're likely to ride through!
The 2000nit always-on display is twice the brightness of any other apple watch and it really does show. It dims down when not being looked at so as to save battery life. Battery life is claimed to be 36 hours of normal use, going up to 60 hours when using the power saving function. However, the latter setting does reduce the functionality of the watch significantly when using it for exercise and GPS tracking.
The watch also comes with cellular connectivity so you can use data for routes, mapping, messaging or phone calls without the need for your phone. However, that requires its own separate sim card, so would be an added expense.
The ride
Charging the Apple Watch was very quick and easy. It was then also very quick and easy to setup.
Fortunately, I use an iPhone and have an Apple watch from several years ago, so I could transfer most of the settings directly over from that. The Apple Watch Ultra will work with other smartphone brands, but the functionality is severely decreased - so for the sake of this review, I'll be assuming access to an iPhone.
The Wayfinder watch face was the one I decided to use, as you can customise what options/shortcuts are on the screen. I went for battery life, start activity, music, move rings, date, heart rate, temperature, and sleep tracking.
This face also turns into a compass if you tap it and there is the option for night mode. This turns the face red so it doesn't impact as significantly on your night vision - helping you see better when it's dark. It also had a secondary benefit in that the watch didn't wake me up in the night when I was wearing it for sleep tracking.
Using the watch for different activities was very easy. To compare heart rate (HR) data, I did a mixed interval session on the indoor trainer, just to track how HR tracked compared to a Wahoo Tickr chest strap. My BPM was always within a couple of beats from each other and it recorded rises or falls in HR very quickly - which is much better than my previous experience with certain exercise watches.
You can also still connect a third party heart rate monitor, if you wish, and your heart rate training zones can also easily be set in the Watch App - otherwise it'll just work it out for you, based on previous activities. The strap and the watch remain comfortable during turbo sessions, even though they're warm and the strap does get sweaty.
Riding outdoors, the Apple Watch Ultra's GPS data proved to be near enough perfectly in sync with my Wahoo Elemnt Bolt V2 - and would even auto-pause the activities at the same time when stopped at traffic lights. I wasn't able to track power with the Apple Watch Ultra, but the wrist-based heart rate data proved to be similarly in-line with the chest strap when riding outdoors.
You can't do on the fly route changes on the watch itself, but you can use the Maps app on your phone and directions will be shown on your watch along with haptic feedback when a prompt is incoming.
I also found the buttons on the side of the watch easy to use when wearing gloves although, with thicker pairs, it was difficult to use the digital crown. I also occasionally hit the buttons due to my wrist angle when on the hoods or drops - that that might be an issue particular to me, but it's not one I have with most GPS watches.
I also found it quite useful that notifications showed up on my watch and I could actually respond to them quickly. Either by using the quick response option, typing quickly, or using Siri to dictate a message. Music control is another useful option.
You can also use the watch without your phone. There is room in the storage to download quite a few songs and you can connect Bluetooth headphones directly to the watch. The Apple Watch Ultra also comes with cellular data as an option, which is useful if your phone runs out of battery and you need to make phone calls - or if you've forgotten your phone, or even just prefer not having a large and heavy phone in your pocket when riding.
The Apple Watch Ultra is also very good for several of the health tracking features. HR is tracked regularly throughout the day to give a resting and walking HR reading. It does also take a heart rate variability (HRV) reading on occasions, although not constantly. To get a HRV score, you need to do a minute of focussed breathing for a data point to be made. I did still find it correlated well with when I had been feeling less rested and fatigued, my HRV was lower. When I wasn't fatigued and had slept well, it was reading higher.
There is also the ECG option which tracks how your heart is beating and checks for arrhythmia. This can only be done when using the app though rather than checking constantly throughout the day, though. But if you have ever experienced palpitations as I did after Covid, you can set a high HR alert. I would get a reading of 230 BPM during those episodes - even though my max HR when exercising is ~185 - so this is another useful feature for me personally. There is also the blood oxygen tracking option and the new temperature tracking which can be useful for cycle tracking for women.
The sleep tracking actually proved to be rather good compared to what I've used before. It accurately tracked when I'd actually fallen asleep and woken up - even when intentionally being still and not moving whilst awake in bed to try and trick it into thinking I was asleep. The breakdown of awake, light sleep, deep sleep and rapid eye movement also seemed to stack up well. Personally, I know I sleep deeper in the first few hours - and I also knew when I'd had brief periods of being awake. The Apple Watch Ultra tracked everything exactly as I perceived it.
I think with many of these health tracking features, you can get a good perception of them yourself without the need to invest in an additional tracker. That said, these trackers can be useful for putting the pieces of information together.
Say you performed well in an event (or performed badly in another). You can see how your HRV, sleep quality, and resting heart rate (RHR) all were around the time of the event. I know personally that I'm more productive at work when my sleep quality is better and the duration is at least 8 hours. I also feel fitter and healthier when my RHR is closer to 40 than 50. It's just useful little things that can put quantitative data to go with the qualitative date of our personal perceptions - which for some people can be very valuable.
I will admit that when it comes to the buttons on the watch, I hardly used them and relied on the touch screen. The screen is fantastically bright in all weather conditions and also very very responsive. It doesn't lock during activities except for swimming, so you could find yourself unintentionally tapping around the screen, but in practice I never found this happened.
The touchscreen was also responsive to quite a few supposedly touch-compatible gloves, which was very useful. The buttons proved useful during activities, while the digital crown can be used to scroll through pages and to check your HR zones and the time spent in them. It can also take you to the app screen if you want to check something else.
The action button I had set up as a 'start activity' button, but in reality with the watch face I chose this functionality wasn't needed. A lap button function would have been useful, but I tended to just use a bike computer for that. Instead, I used it as a torch which honestly was very useful when trying to find items in my bar bag when it was dark.
The strap proved to be very comfortable for all of my testing, but one issue was that due to the light colour of it, it was a bit of a dirt magnet. There are darker coloured strap options that I think would be better if you want your watch to stay looking cleaner for longer. The resilience of the screen and body was very impressive though. I didn't intentionally try and test the strength and scratch resistance, but did accidentally do so on a brick wall. The brick wall was left scratched and the watch without a mark on it!
For those who do swimming, all the same functionality is available for that and with very good waterproofing. For runners, it does offer running power as another option for tracking. It takes into account your weight as well as your ground impact time of your steps to determine a running power.
Value
On the face of it, $799 / £849 for an Apple Watch is expensive, especially with the Series 8 starting at $399 / £419. However that doesn't get you the cellular option, titanium case, larger 49mm screen, or sapphire glass and extended battery life.
When looking at competitors such as the Garmin Fenix 7S ($799 / £779) and the Tissot T-Touch Connect ($1,050 / £1,025!), both have a better claimed battery life but neither have quite the same integration or functionality directly with a phone. The Amazfit Falcon is significantly cheaper at $499 / £499 and with superb battery life, however it does not work as well with a phone and I didn't find it as user friendly.
For those with an iPhone and wanting to use their smart watch for activity tracking, the Apple Watch Ultra is significantly better than the rest of Apple's range due to its ruggedness and battery life.
I would say for a single day of cycling and charging every night, the Series 8 is more suitable. But for sleep tracking, the extended battery life really is essential. It really comes down to what you want out of your activity tracking watch. If you want great integration and usability with your phone, an Apple Watch is the best option for Apple users.
Conclusion
The Apple Watch Ultra is an exceptionally great smart watch and it is also a pretty good sports watch. Although not so much of a dedicated sports watch as some competitors, the Ultra has a huge range of functionality for activities as well as health tracking.
The battery life is not superb compared to several competitors, but it makes up for this with overall ease of use and functionality (when used with an iPhone). I find it far easier to live with than other smart watches I've used.
Value-wise the Ultra is expensive for an Apple Watch, but has far better battery life and tougher more premium materials than cheaper options. It is also fairly priced compared to several other similarly specced sport watches.
If you have an iPhone and are wanting to track activities and several health metrics, while having something that is easy to use in day to day life as well, then the Apple Watch Ultra may be a very good option for you.
Thank you for reading 10 articles this month* Join now for unlimited access
Enjoy your first month for just £1 / $1 / €1
*Read 5 free articles per month without a subscription
Join now for unlimited access
Try first month for just £1 / $1 / €1
Andy is a Sport & Exercise Scientist, fully qualified and experienced cycling coach, personal trainer and gym instructor. He spent 3 years on the road riding for a UCI cycling team and 7 years as a BC Elite rider.
After graduating in 2020 with first-class honours in his Sport & Exercise Sciences BSc, he continued to pursue his interest in research in the field of sport science alongside setting up his coaching business, ATP Performance, and working for USA-based firm, Wahoo Sports Science. He balanced this with racing at international level, competing in prestigious events such as the Tour of Britain and the Volta a Portugal.