How Romain Bardet improved his climbing: team reveals vast altitude training gains
Ag2r team study shows gains in Romain Bardet's power profile after post-altitude training camp testing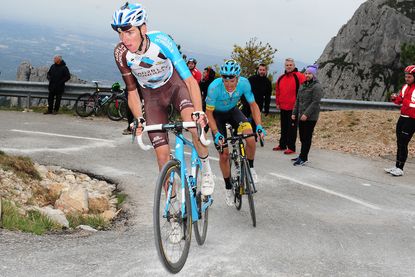 (Image credit: Yuzuru Sunada)
Romain Bardet has established himself at the top table of cycling's climbers, further proved with the gruelling stage 12 summit finish victory up to Peyragudes.
However, the reason for Bardet's progression to the pinnacle of the sport may have been revealed by his coach.
Speaking at the Science & Cycling conference (opens in new tab) prior to the start of this year's Tour de France in Düsseldorf, Ag2r La Mondiale's coach Samuel Bellenoue revealed that he and the team had carried out testing on Bardet over the past three years.
The study
Bellenoue and his team looked at investigating the effects that the training situation to hypobaric hypoxia in a 'live high, train low' situation, recording any performance changes through the use of record power profile.
The method was to measure the percentage changes in record power profile for five training camps that varied between 15 to 21 days in length at an altitude of 2,150 to 2,450m over a period of three years.
For each camp, three testing periods were defined. three weeks prior to the camp, two weeks during the camp and four weeks post camp.
In order to apply the data to a racing situation, Bellenoue also tested Bardet over racing conditions during races when the Frenchman was classified as the team leader for at least two days of the race.
Training breakdown
Duration: 3:02 +/- 00:12 h/day
Distance: 89 +/- 5 km/day
Slope: 1,754 +/- 211 m/day
Percentage of time spent at low, medium and high intensity during the five training camps
Swipe to scroll horizontally
Camp 1
Camp 2
Camp 3
Camp 4
Camp 5
Mean
Date
May 2014
April 2015
May 2015
April 2016
May 2016
Low

87.2
76.9
79.9
74.1
75.4
78.7
Medium

10.3
15.0
13.5
17.1
15.4
14.3
High

2.5
8.1
6.6
8.8
9.2
7.0
Percentage changes from pre- to post-altitude training camp
Swipe to scroll horizontally
Camp 1
Camp 2
Camp 3
Camp 4
Camp 5
Mean
Date
May 2014
April 2015
May 2015
April 2016
May 2016
19 days
17 days
18 days
15 days
21 days
5 sec
1.4
-1.2
8.7
-0.4
6.2
2.9
30 sec
14.6
-1.2
9.8
9.7
16.0
9.8
1 min
1.0
-2.0
-0.5
2.7
2.6
0.7
5 min
6.7
8.9
-2.2
5.4
-6.4
2.5
10 min
7.4
6.0
-0.7
-1.4
3.2
2.9
20 min
12.5
1.0
-2.8
4.5
1.0
3.2
30 min
17.6
5.8
-3.1
9.7
2.6
6.5
As shown in the table above, the gains in Bardet's 30-minute and 30-second power are a stand-out feature. With respective 9.8 and 6.5 per cent increases in power output from his pre- to post-training camp measurements.
It should be of no fluke that Bardet's biggest wins over this three-year time period correlate with his improvements in power output.
The 2016 stage 18 win into Saint-Jean-de-Maurienne was characterised from a late attack from the a breakaway, followed by a summit finish victory the following year up to Saint-Gervais Mont Blanc on his way to second place overall finish.
However, the figures that measured Bardet's performance changes don't translate directly to his impressive performances in a race situation.
Year-to-year performance changes from post-altitude training camp
Swipe to scroll horizontally
Gain per year: 2014 -> 2015
Gain per year: 2015 -> 2016
Mean
5 sec
1.4
-2.5
-0.6
30 sec
-1.2
1.4
0.1
1 min
-5.6
1.4
-2.2
5 min
3.3
0.4
1.9
10 min
4.7
0.2
2.5
20 min
2.4
3.6
3.0
30 min
4.1
3.4
3.8
Other factors at work
Bardet's improvements aren't anything out of the ordinary, as previous studies using similar conditions have shown that endurance athletes who train at altitude see significant increases in power output. With up to three to four per cent gains seen aerobically and four to five per cent anaerobically.
There may have been the suspicion that the gains made by Bardet came from the benefits that being in a training camp situation with team mates, rather than training alone without the resources of a team camp provides. As power output was the only measuring factor it is difficult to decipher if this was the reason.
Despite the obvious gains that Bardet has made, these observations only take in maximal power output efforts rather than repeated efforts usually required at altitude.
Thank you for reading 10 articles this month* Join now for unlimited access
Enjoy your first month for just £1 / $1 / €1
*Read 5 free articles per month without a subscription
Join now for unlimited access
Try first month for just £1 / $1 / €1
Paul Knott is a fitness and features writer, who has also presented Cycling Weekly videos as well as contributing to the print magazine as well as online articles. In 2020 he published his first book, The Official Tour de France Road Cycling Training Guide (Welbeck), a guide designed to help readers improve their cycling performance via cherrypicking from the strategies adopted by the pros.