Mark Beaumont's ultimate endurance masterclass
Mark Beaumont rode around in world in just 78 days, covering 240 miles a day. What did he discover about himself, and about the limits of human endurance, along the way? - Photos by Daniel Gould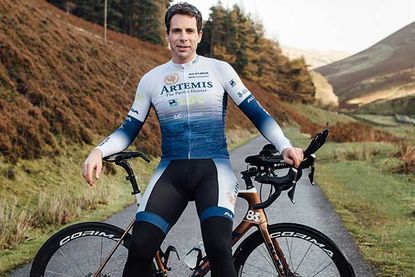 (Image credit: Daniel Gould)
On day nine of his attempt to ride around the world in 80 days, Mark Beaumont found himself on the floor. A face-off between his front wheel and a pothole — one of Russia's liberal stippling — had rendered him a battered heap on the deck.
Nursing a cracked tooth and a sharp pain in his left elbow — later diagnosed as a fracture — Beaumont dusted himself off, clambered back aboard his custom-built Koga, and continued on his unremitting tack across the globe.
If you have ever ridden over 200 miles in a single day, you probably recall a period of great suffering and woe. Perhaps you wept for a while as your entire being simultaneously throbbed, ached and spasmed with excruciating twinges. Now imagine eking out 240 miles for 78 days on the bounce.
The thought alone would have most people reaching for the TV remote and a mug of Horlicks. Yet it's exactly this feat that Beaumont achieved, rewriting the record books, beating the previous mark by an incredible 45 days. It's a record that will surely last for many years. But how did he do it?
>>> Mark Beaumont's amazing around-the-world cycling record on Strava
How was Beaumont able to weather such unceasing physical stress coupled with the mental fatigue accrued from having just five hours of sleep per night, and spending an average of 15 hours in the saddle each day?
We sat down with the record-smashing Scot on home turf in Edinburgh and asked: what did he learn about himself and his ability to withstand such an extreme workload?
1 Beat the heat
Midsummer in Europe and Beaumont's first external adversary came by way of the weather. Although temperatures on the Continent rarely make it much past 30°C, heat was nonetheless a big risk. Every hour spent cranking out the minimum pace while losing around two litres of sweat would end up taking its toll.
But Beaumont's team had planned for '80 days' with pinpoint precision. "We went into the lab three times [prior to the event] to get markers on where I was, and spent time in the climate chamber, which was really useful for adapting to hot weather and moderating fluids properly," says 34-year-old Beaumont, whose first endurance ride was from John o' Groats to Land's End at the age of 15.
2 Roll with the punches... if it's safe to do so
Any concerns with the temperature were surpassed when Beaumont suffered his ninth-day pothole mishap, just shy of the Urals in Russia. "The immediate concern was around my face and my [broken] tooth.
We thought the elbow was just bruised to begin with, but as the days and weeks went on we realised it was something more serious. We could have got it X-rayed, but I could pinch and could control the bike quite safely; it just hurt like hell."
Despite the team's seemingly isolated location at this stage, two days after the accident, they found themselves in the company of a British diplomat who pulled alongside the support van bearing a bag full of dental equipment to rebuild the cracked canine.
>>> '18,000 miles without fault': Mark Beaumont selling around-the-world bike on eBay for charity
Impromptu surgery took place by the side of the road in Russia, with Beaumont's performance manager Laura Penhaul assuming the role of chief practitioner, calling on the help of bike mechanic Mike Griffiths as chairside assistant.
The combination of the accident and "lots of industry, pollution and diesel-belching traffic all the way to the Mongolian border" had combined to make this a far from ideal start. Once into Mongolia, though, the going became smooth all the way to the transition point in Beijing, and for a while all Beaumont had to focus on was turning the pedals.
3 Pain is mind over matter
After a flight from Beijing to Perth, Beaumont hit the ground rolling. From the wheels touching down at the airport to riding out took just 35 minutes. To stay on course for the 80-day target, there would be no time for duty-free shopping. It was winter in the Antipodes, and now that the sting from his elbow fracture had begun to subside, there were a few other niggles to contend with.
"It's interesting how pain manifests itself," says Beaumont, who crossed Australia solo over a decade ago, during his first record-breaking ride. "It's never your muscles, it's the conditioning, the pressure points: pressure from your cleats — like riding on hot coals, bloody painful — to your backside. I can't remember being saddle-sore in Russia or China, when my arm had been the overriding focus and concern."
4 Adapt and overcome
Spending much of each day hunkered into the aerobars also began to tell. Beaumont was as good as living on his 60cm Koga, and the sheer volume of saddle time was an unavoidable problem.
"The worst [discomfort] issue I had was with my neck. Pretty unforgiving. Using a visor and sunglasses helped because I could drop my head even lower. My neck hurt like hell for the first three or four weeks and the only way to release it was through acupuncture.
"By the time you get into the second month, it's amazing what the body adapts and gets used to."
New Zealand's South Island dawned bleak and brisk: "It was bloody cold," remembers Beaumont. "The graveyard shift from 4am to 6am, when it was always below freezing and dark with icy roads; even my jacket had ice on it."
This could go some way to explaining the hasty fashion in which he dispatched this leg of the journey, covering both islands in six days.
5 Power naps really work
A textbook pedal through Oceania left the team with a day in hand as they entered stage three, which began in Anchorage, Alaska, and concluded in the Nova Scotian city of Halifax.
With the back of the trip officially broken, it looked to be a downhill swoop into Paris to meet the good people at Guinness for Champagne and certificates. But it was far from a sealed deal, and stage three proved to be the toughest leg of the journey, both mentally and physically. The 80-day target still hung very much in the balance.
"We lost half a day in North America: the first part was tough on hills, and through the flatlands of North Dakota and Saskatchewan, I did the slowest miles of the whole trip because of a cracking headwind and I struggled to clear 200 miles a day."
For the first time since the start of the journey — partly due to the slower pace — psychological cracks began to appear.
"Laura [Penhaul] was monitoring me psychologically and was quite happy until about halfway across the US, and then there were about 10 days when she was pretty worried about me. I was going deeper and deeper into myself."
Beaumont explains how fatigue and sleep deprivation finally began to catch up with him. "For most of the trip I would have a normal emotional reaction — I'd laugh, I'd cry, I'd react according to what was happening — whereas for the second half of the US, I'd finish an entire day but then couldn't tell you a single thing about it. I could ride 250 miles on autopilot. I'd genuinely struggle to have a normal conversation."
To rectify this and wrestle him back from the never-never, Penhaul prescribed a new sleep strategy. "I'd make him have another sleep at lunch break [eight to 10-minute power naps]," she explains. "If that didn't help, I'd get him off the bike again within two hours."
6 Come to your senses
On occasion, as he began to flag, Beaumont would sidle up to the support vehicle complaining of a slow blink. Penhaul describes how she decided whether or not his fatigue at the time merited a nap or just a quick pick-me-up:
"I'd think, OK, what stimulants can I use; is it a case of let's give him a caffeine hit, a sugar hit, is it an ice-cold towel to the face, does he need to brush his teeth to get a stimulant from that, or give him a lemon drink. All different things you use your senses for, whatever creates stimulation, you draw on."
Thus the team punched the clock at Halifax International with time to spare — and suddenly the world Beaumont had been quietly crossing, began to sit up and take notice...
Back in Europe, Beaumont and the team began fielding calls from zealous journalists demanding to know how it felt to ride around the planet in 80 days. This was not the time for explanation; it was day 74.
Despite their now comparatively close proximity to the finish line in Paris, there was still a huge amount of riding to be done.
This was by no means over, as Penhaul underlines while recalling the run in to the French capital: "It was maybe about three or four days out from the finish and he'd been sick that morning, which wasn't great because we were going through quite a busy environment, so he needed to be very cognitively switched on. But he wasn't properly fuelled. He'd chucked stuff up and was struggling to keep fluid down, and I was really concerned there was going to be a stupid mistake at the end."
>>> Tips for effective rest and recovery after cycling
7 Keep your eyes on the prize
Internal problems were just the start. "That day there was a horrendous headwind," says Penhaul. "Plus it was the hilliest day out of the whole 80 days, so he got absolutely hammered.
"As we were descending a hill a few miles from where we were staying that night, he took his hand off the bar to swipe his Garmin and hit something in the road, spun across the road, almost straight into a barrier and into the path of oncoming traffic" — which thankfully was far enough away to see the crash unfurl.
The endurance gods were beaming on Beaumont, though, and a trip that had been three years in the making, painstakingly planned — all 18,000 miles broken down into four-hour sections — came to its breathtaking conclusion. It was September 18, 2017, and Beaumont had just ridden around the world in 78 days, 14 hours and 40 minutes.
What an achievement, but for someone so prone to always going one better, can he ever top it? "I'm waiting for the idea to occur, but the 80 days was my Everest," Beaumont shakes his head. "I'm not going around the world for a third time."
Thank you for reading 10 articles this month* Join now for unlimited access
Enjoy your first month for just £1 / $1 / €1
*Read 5 free articles per month without a subscription
Join now for unlimited access
Try first month for just £1 / $1 / €1