'18,000 miles without fault': Mark Beaumont selling around-the-world bike on eBay for charity
Your chance to own a piece of cycling history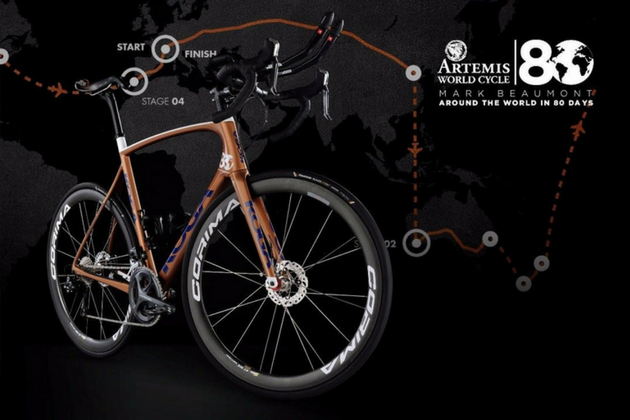 If you've got a fair few thousand quid to spare then you could get your hands on a piece of cycling history, with Mark Beaumont selling his around-the-world bike for charity on eBay.
The "used" bike, which Beaumont's listing says has covered "18,000 miles without fault", is a Koga Kimera Premium that was one of three bikes that Beaumont took on his record breaking ride, equipped with Shimano Ultegra Di2 and Corima disc brake wheels.
The online auction started early on Tuesday morning, with the highest bid already taking the price up to £10,000 from the starting price of £4,000, with all proceeds going towards the charity Orkidstudio which "works to benefit communities through innovative architecture and construction."
>>> Mark Beaumont's amazing around-the-world record on Strava
Beaumont completed his ride on September 18, having circumnavigated the globe in 78 days, 14 hours and 40 minutes, riding for 16 hours and covering an average of 240 miles each day.
That was more than quick enough to break the previous world record of 123 days, as well as to break the record for the most miles cycled in one month which he broke in the opening month of his trip from Paris to Perth.
The eBay auction ends on October 19, with any potential bidders needing to take a look at the frame size: a pretty large 60cm for the 6'3"/193cm Beaumont.