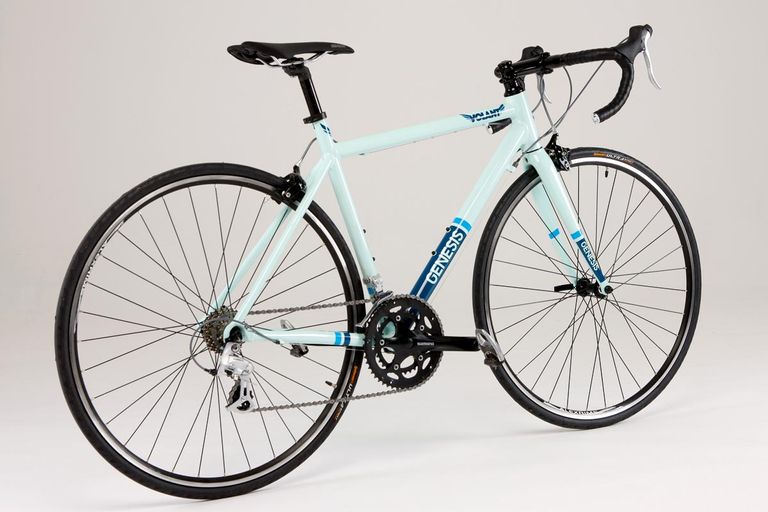 Summary
Two equally priced entry-level road bikes from opposite sides of the Atlantic go head to head: Genesis Volant 00 and GT GTR 5
Products
Genesis Volant 00, £600 bike test
Two equally priced entry-level road bikes from opposite sides of the Atlantic go head to head: Genesis Volant 00 and
£599.99
Score
GT GTR 5, £600 bike test
Two equally priced entry-level road bikes from opposite sides of the Atlantic go head to head: Genesis Volant 00 and
£599.99
Score
Verdict
The happiest outcome of this test must be that any concerns we had that the magic £600 price point would lead to a load of near-identical bikes from the various manufacturers have proven groundless. Testing the Genesis Volant 00 and the GT GTR 5 has introduced us to two very different machines that have nothing more in common than two wheels, a price tag and a Shimano 2300 groupset.
As for that 2300 groupset, with just 16 gears over a limited range and somewhat less robust componentry than higher up Shimano?s groupset ladder, it?s always going to be a limiting factor for these bikes. Nevertheless, it?s good to observe that these more sparsely furnished, costco bikes are essentially pared-down versions of their more expensive brethren, so you get the benefit of a well-researched, quality frameset in both cases.
The GT GTR 5 is definitely more the kind of bike we would expect to find in this budget category. It has the relatively relaxed geometry of an endurance bike and its robust frame exudes strength and durability as well as style. The alternative shifters are a massive selling point for many, us included, and really helps the GTR 5 establish an identity of its own in this crowded category.
But when it comes to a distinct identity, the Genesis Volant 00 surely wins hands down. It looks entirely different from the GT and indeed from most other modern aluminium road bikes. The real key to its unique personality is in its ride though ? it has a real race bike feel to it and as not every prospective racer has deep pockets, it offers a tantalising alternative to a sportive-friendly machine as is more commonly found at the £600 end of the market.
It?s rather impressive that Genesis has got things so very right straight from the off with this new frameset.
The Volant can?t win this test on uniqueness alone, however ? it?s the fact it manages to simply feel so fun and fast to back up its quirky looks which means it gallops over the finish line in first place.
This test originally appeared in Cycling Active magazine