Fulcrum Wheels: A buyers guide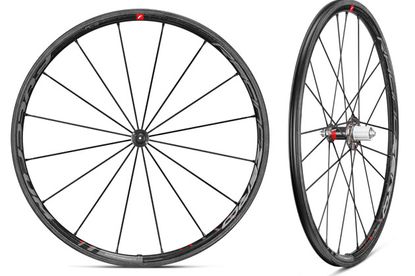 Depending on your source of information and, more than likely, your time served within the cycling world, your background knowledge of Fulcrum wheels will differ.
Left to Fulcrum, it would have you believe thatFulcrum Wheels s.r.l. was established in July 2004, based on the idea of three aerospace engineers who are passionate about bicycles.
While the date isn't at question, it's the birth story that's slightly elaborate, as anyone who's been around bikes for the past couple of decades will tell you that Fulcrum is really the sister company of Campagnolo (Campag), initially solely created for the purposes of selling Campag wheels to members of the dark side who dabbled in Shimano or SRAM, without diluting the brand. So while we could get the benefits of Campag with Campag, opting for Fulcrum seems somehow neater and doesn't give mixedallegiance messages.
Since then, Fulcrum has established itself as a wheel manufacturer in it's own right and currently offers a range of nine road wheels.
With each wheelset group you'll find 'Buy Now' links. If you click on this then we may receive a small amount of money from the retailer when you purchase the item. This doesn't affect the amount you pay.
Fulcrum Speed Wheels
You can trust Cycling Weekly. Our team of experts put in hard miles testing cycling tech and will always share honest, unbiased advice to help you choose. Find out more about how we test.
At the top of the Fulcrum range is the full carbon Speed collection. As the name alludes to the Speed range is designed to be Fulcrum's fastest aero wheel, as well as versatile and lightweight enough to provide a comfortable, low rolling resistant and easily to handle ride.
>>> How much faster are aero wheels?
There are technically seven wheels under the Speed banner, which, excluding the tubular disc wheel, range from 40mm to 55mm in depth, tubular or clincher as well as one disc brake option.
All the Fulcrum Speed wheels come with full carbon rims and hubs, ceramic bearings and use the same aero straight pull spoke patterns, with 18 spokes at the front (9+9) and 21 spokes at the rear in a 2:1 ratio (7 left and 14 right). The majority of the collection come with a claimed external rim width of 24.2mm, and recommend tyre sizes from 25mm to 28mm.
The Disc Brake 55T DB has a larger 26.5mm rim width, but still recommends the same 25mm to 28mm tyres, while the full carbon disc of the Speed 360T uses a much narrower 20mm external rim width and recommends a tyre size from 23mm. The 12mm (100mm front and 142mm rear) thru bolt wheels are available with either 6-bolt or Fulcrums own centerlock AFS system.
>>> Disc brakes: Everything you need to know
For the UK market, there is an eighth wheel, as there's still chance to purchase the Fulcrum Speed XLR H80 wheels. As you can guess the 80mm tumbler only wheels were rather niche, and I suspect that's why they haven't been carried over in to the 2018 listing, but as us Brits have a love of time trials, or dare I say Triathlons - there's probably more of a requirement from uber deep rims.
Swipe to scroll horizontally
Version
Rim material and depth
Rim type
Braking system
Weight* (pair)
Price
Speed XLR H80
Carbon 80mm
Tubular
Calliper
1540g
£2,750.00
Speed 55T
Carbon 55mm
Tubular
Calliper
1280g
£2,299.99
Speed 55T DB
Carbon 55mm
Tubular
Disc Brake
1395g
TBC
Speed 55C
Carbon
55mm
Clincher
Calliper
1470g
£2,199.99
Speed 40T
Carbon 40mm
Tubular
Calliper
1213g
£2,299.99
Speed 40C
Carbon
40mm
Clincher
Calliper
1420g
Row 6 - Cell 5
Speed 40-55C Combo
Carbon 40mm Front
55mm Rear
Clincher
Calliper
1450g
£2,250.00
360T
Carbon
N/A
Tubular
Calliper
865g (rear only)
£2,999.99
*Claimed weight
Fulcrum Racing Zero Wheels
Having been in the Fulcrum line up for just over 10 years, the Racing Zero was always about providing a high end alloy clincher race wheel.
Badged by Fulcrum as reactive and great on power transfer, many people refer to them as the Fulcrum version of the Campagnolo Shamal Mille rim, in terms of looks, weight and performance.
Over the years the Racing Zero has become a, no pun intended, well rounded range of wheels that has something to offer all styles of riders and this year the Racing Zero range got a new squad leader in the form of the Racing Zero Carbon. A wheelset that claims to take the same characteristics as the Racing Zero range, but now comes with a full carbon clincher rim.
In terms of build, the Zero Carbon shares many of the same qualities as the Speed range, with it's pair of carbon hubs (the rest of the range uses carbon front and alloy rear), oversized flange, rim width and rear wheel spoke pattern, but at just 30mm (27mm front and 30mm rear) and weighing just a claimed 1340g for the clincher and caliper brake, the Zero Carbon is more of a climber than a flat out, full gas aero one.
Combetizione is next in the Racing Zero line up, it uses the samecarbon hubs and rim depths as the Zero Carbon, but has a the slightly narrower rim with at 22.5mm like the rest of the Racing Zero range.
Being fully aluminium, the rim also takes the weight up by a couple of hundred grams, however, it does have the benefit of gaining Fulcrum's 2-Way Fit™ system, which means it can run either clinchers or tubeless. If selecting the later, the overall weight could work out less.
If you're after the Carbon all black looks, with an alloy rim, then the Racing Zero Nite could be the one for you. It's been giving aPlasma Electrolytic Oxidation treatment that makes it fully black, even on the braking track. Fulcrum say thisPlasma Electrolytic Oxidation process makes the braking surface incredibly hardwearing and improves the braking standard, although special brake blocks do have to be used in conjunction with the wheels.
The original Racing Zero may have been around for a while, but having gained updates over the years, are still very much the foundation of the whole Racing Zero range. The full aluminum rim and carbon front and alloy rear hubs remain, as do the 27mm front and 30mm rim depth, but is now available for either caliper or disc brakes.
The Racing Zero DB (Disc Brake) borrows a few features from throughout the Racing Zero range as while it still carries the 30mm alloy rim, a front carbon hub, it also gains Fulcrums 2-Way Fit system to allow it to run clinchers or tubeless tyres, as well as, understandably a few more aero spokes at the front, 21 as apposed to 16.
Racing Zero DB weighs marginally more than the standard Racing Zero, and it's probably down the marginally wider rim width at 23.8mm over 22.5mm. This enables the disc brake version to become pretty versatile, allowing for tyre sizes from 28mm all the way up to a whopping 62mm, making them a cyclocross option too.
Other important measurements include the QR thru bolts at a standard 100mm front and 142mm rear, with the nice touch of either 12mm front and rear or 15mm front and 12mm rear if you know your braking is pretty loaded, as well as a 6-bolt or 6-bolt or Fulcrums own centerlock AFS system choice. <
Swipe to scroll horizontally
Version
Rim material and depth
Rim type
Braking system
Weight* (Pair)
Price
Racing Zero Carbon
Carbon 27mm Front
30mm Rear

Clincher
Calliper
1340g
£1799.99
Racing Zero Combetizione
Alloy
27mm Front
30mm Rear

2-Way clincher / tubeless
Calliper
1510g
£1199.99
Racing Zero Nite
Alloy
27mm Front
30mm Rear

Clincher
Calliper
1506g
£1099.99
Racing Zero DB
Alloy
30mm
2-Way clincher / tubeless
Disc brake
1590g
Row 4 - Cell 5
Racing Zero
Alloy
27mm Front
30mm Rear

Clincher
Calliper
1518g
£899.99
*Claimed weight
Fulcrum Racing Quattro Wheels
Introduced to the Fulcrum family just five years ago, theRacing Quattro was originally a full aluminium rim, before the introduction of the Racing Quattro Carbon (clincher and disc brake versions) in 2016. On the bases that the Quattro works on a three year project cycle, 2019 will see new developments or something superseding the Quattro, so watch this space.
The Racing Quattro Carbons and Carbon DB (Disc Brake) use a different carbon lay up (uni-directional as apposed to twill) to the Speed and Racing Zero Carbon clincher wheels which, combined with the aluminium hubs, makes the 40mm wheels slightly heavier at 1555g and 1605g respectively.
As well as the obvious differences in braking system, Carbon DB also has a greater number of front spokes, to take account of the braking forces on the disc, but interestingly a narrower rim width at 23.5mm - although it still seems happy enough to take up to 28mm tyres. You'll also be pleased to know that it also gets the same swop out options as theRacing Zero DB.
The LG on theRacing Quattro LG stands for 'large' and refers back to the size gain in it's internal rim by 4mm to now being in line with the rest of the Fulcrum wheel range at 17mm.
With it's 35mm alloy rim the Racing Quattro LG is badge as medium in terms of aero capacity. This alloy rim depth, and the alloy hub, does make it the heaviest in the Quattro branch of wheels at 1725g, but also significantly the cheapest at just under £400.
Swipe to scroll horizontally
Version
Rim material and depth
Rim type
Braking system
Weight* (Pair)
Price
Racing Quattro Carbon
Carbon
40mm
Clincher
Calliper
1555g
£1099.99
Racing Quattro Carbon DB
Carbon
40mm
Clincher
Disc brake
1605g
£1099.99
Racing Quattro LG
Alloy
35mm
Clincher
Calliper
1725g
£339.99
Fulcrum Red Wind Wheels
There are two wheels in the Red Wind range, both from the outset looking exactly the same.
Both have 50mm of alloy/ carbon rim, an aluminium brake track with carbon giving the depth. Both support 23 to 32mm clincher tyres and both even have alloy hubs, but the hubs are also where the difference between the wheels lays, with the Red Wind XLR50 gaining the Fulcrum 'CULT' ceramic bearings that some of the the Speed and Racing ZeroCombetizione use. This makes them 165g lighter than the standard Red Wind, but also around £100 more.
Swipe to scroll horizontally
| | | | | | |
| --- | --- | --- | --- | --- | --- |
| Version | Rim material and depth | Rim type | Braking system | Weight* (Pair) | Price |
| Red Wind XLR50 | Alloy/Carbon 50mm | Clincher | Calliper | 1590g | £1099.99 |
| Red Wind | Alloy/Carbon 50mm | Clincher | Calliper | 1755g | £999.99 |
Fulcrum Racing 3 Wheels
In terms of the rest of the Fulcrum wheel line up, the lower the Racing number, the higher up the Fulcrum hierarchy it sits, with Racing 3 being the first after Racing 1 and Racing 2 were superseded a few years ago.
The Racing 3 wheel is badged as good all-rounder and ideal training level wheel. At 25mm at the front, it has a slightly shallower rim than the Racing Zero range, which Fulcrum say helps in handling and the same wide internal rim width of 17mm, allowing tyre size of up to 50mm be shod, giving a fair amount of versatility for this clincher rim brake wheelset.
Again for the UK market, there is also a chance to still purchase the 2-Way rim version of the Fulcrum Racing 3 wheel, which allows tubeless tyres to be used too.
Fulcrum Racing 4 DB Wheels
A one wheel range that as the name alludes is disc brake only. The 2-way rim is both clincher and tubeless compatible, and at 35mm in depth, the alloy rim is considered the entry in to mid point aero, where the benefits of deeper rims at certain speeds are beneficial to the rider.
Although there is a front axle compatibility choice of either 12mm or 15mm, there's only Fulcrums AFS (Centre Lock) disc option.
Fulcrum Racing 5Wheels
Racing 5 gets two wheels, a rim or disc brake option. The Racing 5 DB is really similar to the Racing 4 DB, but just gets a shallow rim at 26mm so isn't considered aero.
The standard Racing 5 LG also benefits from the wider internal rim measurement allowing wider tyres to be used, but this time is clincher only, and has a mixed rim depth of 24.5 at the front and 27.5 at the rear.
Fulcrum Racing 6Wheels
Another one wheel range and disc brake only.
Carrying many similar attributes to the Racing 5 DB and Racing 4 DB the Racing 6 DB has 26mm of rim depth and j-pull rounded spokes, as opposed to the straight pull that both the others have, although that's not always a bad thing in our experience with spares being easier to come by as well as possible tuning ease.
Fulcrum Racing 7 Wheels
The two wheel range fits in to it's own category thanks to it's even larger internal rim measurement of 19mm, allowing for tyre sizes of 28mm and upwards to be fitted.
The Racing 7 DB is, as you've hopefully guessed a disc brake wheel and as well as having the 2-way tubeless ready rim, also benefits from the same axle compatibility choice that other disc brake wheels higher up the pecking order have, although it's centre lock only.
At 22mm deep front and rear, the Racing 7 is Fulcrum's shallowest rim on the market.
The Racing 7 LG uses the same rim depth as the racing 5 wheel and again is clincher only.
Swipe to scroll horizontally
Version
Rim material and depth
Rim type
Braking system
Weight* (Pair)
Price
Racing 3 2-Way-Fit
Alloy
26mm front
30mm rear
2-Way clincher / tubeless
Calliper
1595g
£599.99
Racing 3
Alloy
25mm front
30mm rear
Clincher
Calliper
1560g
£549.99
Racing 4 DB
Alloy
40mm
2-Way clincher / tubeless
Disc Brake
1690g
TBC
Racing 5 DB
Alloy
26mm
2-Way clincher / tubeless
Disc Brake
1610g
TBC
Racing 5 LG
Alloy
24.5mm front
27.5mm rear
Clincher
Calliper
1658g
£289.99
Racing 6 DB
Alloy
26mm
2-Way clincher / tubeless
Disc Brake
1690g
TBC
Racing 7 DB
Alloy
22mm

2-Way clincher / tubeless
Disc Brake
1740g
TBC
Racing 7 LG
Alloy
24.5mm front
27.5mm rear
Clincher
Calliper
1763g
189.99
Thank you for reading 20 articles this month* Join now for unlimited access
Enjoy your first month for just £1 / $1 / €1
*Read 5 free articles per month without a subscription
Join now for unlimited access
Try first month for just £1 / $1 / €1