Best disc brake wheel sets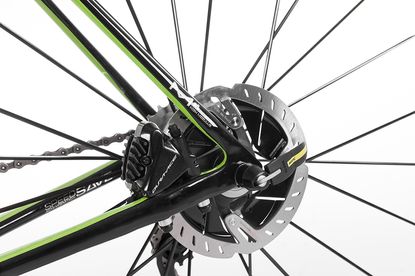 (Image credit: Cycling Studio)
A disc brake wheel set is specifically designed to be slowed via rotors mounted to dedicated hubs. Since the rotor is braked by a caliper close to the hub, disc wheels often have a higher spoke count than rim-braked wheels because of the additional and one-sided twisting forces the system generates.
>>> Best rim brake road bike wheel sets reviewed 2018
However, disc brake wheels have no need of a braking surface at the rim, so less material can be used in that area, making a disc wheel potentially faster to accelerate.
>>> Disc brake road bikes: all you need to know
Current disc brake rims can be – and are – often wider, designed for bigger tyres since they are freed from the constraints of the rim caliper. Proponents of disc brakes claim that they offer better modulation at the lever for less input from the fingers.
Why go for disc brakes?
It has been argued that before carbon clinchers arrived, there was no need for disc brakes in road cycling since rim braking on aluminium was safe, predictable and progressive in all weather conditions and heat was dissipated reliably enough. Whether you're a disc-brakes fan or not, it's indisputable that disc brakes have solved that particular problem for the now-ubiquitous carbon clincher.
How we chose the wheels
We've tested six wheel sets that you're likely to come across in any Google search, and aimed to keep the price at around £1,000. We've got disc wheel sets from the big brands such as Mavic, Specialized and Giant but have also taken a look at a UK-built (with the rim obviously Far East made) wheel from Borg.
Watch: How to bleed your disc brakes
Disc brake wheel sets reviewed
You can trust Cycling Weekly. Our team of experts put in hard miles testing cycling tech and will always share honest, unbiased advice to help you choose. Find out more about how we test.
Miche Revox Carbon 38 RC disc brake wheel set £1,099.99
The Revox has a unidirectional carbon rim laced to an aluminium axle and freehub body via J-bend, double butted Sapim spokes. It's Shimano, SRAM and Campagnolo compatible but not tubeless ready since it has a pierced rim bed.
At 24mm wide externally and 17mm internally, there's nothing particularly standout-ish about the measurements of the rim: it's more about what they don't have – a deep enough central channel to assist tyre fitting. After an almighty struggle in the garage that we didn't want to repeat by the roadside we opted for robust 25mm Conti Grand Sport Extras that we hoped would withstand more road detritus than a faster, lighter tyre and swapped tyre levers for a phone and credit card.
Adding a set of 38mm deep-section carbons to any bike is always going improve its looks and the Miches didn't disappoint. The grey decals are nicely subtle, but being stuck on, they will eventually scuff and start to peel.
Out on the road it took a while to find the Miches' sweetspot, which happens to be on flat roads or downhills. They are quite slow to pick up, but as we said in our review of the rim brake version, they do have punch there, and once you get up to speed, they roll reasonably fast.
But climbers they are not. That's not to say might fare better with some lighter rubber, and in their favour they hardly suffered from any form of wind buffeting of the type that deep-section wheels with flat bladed spokes are often known for.
There were no braking issues to report when paired with the Shimano Ultegra hydraulic set up and they seemed happy under load.
The Miche Revox RC DX wheels will instantly give an upgraded look to any bike, and they hold their own on the flat and descending. However, overall they felt slightly underwhelming. Without a real USP in an overcrowded wheel market, the Miches are somewhat overshadowed by competitors.
Score 7
Weight 1,625g
Spokes 24/24
Rear more: Miche Revox Carbon 38 RC DX wheel set review
Mavic Cosmic Pro Carbon disc brake wheel set £1,049.00
The Cosmic Pro Carbon Disc wheels have a lot of Mavic's best tech but aren't tubeless ready since they're one of Mavic's older designs.
Having seen failures of other brands' carbon clincher rims, which didn't cope with the heat produced by sustained braking, Mavic included an alloy insert in the rim to help with heat dissipation and durability when it launched the Cosmic Pro Carbon range. Of course, heat build-up is not an issue for disc brake wheel rims, but the design is still carried over from the original design.
The 45mm deep carbon section is essentially a fairing and is non-structural. Its profile is a bit pointier than that of many newer mid-section carbon rims.
The 17mm internal rim width is also a little narrower than newer rims, although it still provides good support and plenty of air volume for the 25mm wide Mavic Yksion Pro Griplink/Powerlink front and rear wheel specific tyres that it supplies as part of the package. These are effective and grippy, rolling well in wet and dry conditions.
Mavic's 24 patented steel spokes front and rear are noticeably wider and flatter than other makers' spokes and so are likely to be more aero. They are straight pull, laced two-cross front and with Mavic's Isopulse crossed/radial pattern at the rear.
Hubs have the gamut of quick release and thru-axle compatibility you'd expect and the freehub uses Mavic's Instant Drive 360 ratchet with 9o engagement and easily swappable hub bodies. Pickup is very fast indeed. You get quality sealed cartridge bearings.
Ride quality is all you'd expect from Mavic, with a fast, direct feel. Although more rounded sections might be more fashionable, the pointy 45mm deep rims felt just as fast and were relatively untroubled by cross-winds.
With no brake tracks to wear down and Mavic's quality build, the Cosmic Pro Carbon Disc wheels are likely to be durable too.
But the narrow, pointy carbon-alloy hybrid rim and inability to run tubeless mark the Cosmic Pro Carbon Disc as an older design.
Score: 7
Weight: 1770g
Spokes 24/24
Borg 45 Disc brake wheel set £870.00 BEST VALUE
The Borg 45 Disc wheel set is hand built in the UK by Malcolm Borg using Far East-made carbon rims on Italian-made Miche hubs. As you'd guess, the rim depth is 45mm. Internal width is 18.5mm and external width 26.6mm, so it supports wider tyres well.
Borg says that the Borg 45 Disc is good for cyclo-cross and gravel as well as road racing, with tyres from 23mm up to 45mm mountable. The wheels come pre-taped for tubeless running and are supplied with valves.
Borg will supply and fit IRC tubeless tyres too, offering a range of models and tread patterns and widths from 25mm up to 32mm. Our test wheels came with IRC Formula Pro 25mm tyres with a fine file tread.
The rims are laced to the hubs with 24 two-crossed J-bend Sapim CX-Ray black spokes front and rear. With high spoke tension, this leads to a responsive feel and minimal lateral flex under out-of-saddle efforts.
At the heart of the Borgs are good-quality Miche SWR DX hubs, which Miche uses in its own wheel sets.
The test wheel set is made up with 6-bolt rotor mounts, but you can also specify the centre-lock mounts that are more prevalent on roadgoing disc brake wheels. There's also the option to choose Campagnolo or SRAM XD cassette bodies as well as the usual Shimano/SRAM version.
As with most disc brake wheelsets, there's compatibility with a wide range of axle standards, to cater for the variety used on different bikes. The supplied kit lets you adopt 12mm or 15mm front thru-axles and 142x12mm rear. There's also a set of quick release adaptors and skewers supplied. It's easy to push out the end caps and swap between standards.
It all adds up to a nice package that, out on the road, feels fast and responsive. There's enough depth to give you an aero advantage and stable handing on fast descents, without feeling edgy in crosswinds. At just under 1,700g, they're on the money for weight for a wheel set of this depth too.
It's also nice to have out-of-the-box tubeless readiness and all the bits and bobs to set them up for tubeless and for different axle standards too.
Score: 8
Weight: 1698g
Spokes 24/24
Roval CL 50 Disc wheel set £1,200
When we reviewed the Roval Rapide CLX 50 last year, we gave it a resounding 10 out of 10. In our opinion Specialized had come up with a wheel set that was perfect for real-world riding with the mid-section rim giving a perfect balance of aerodynamics and light weight.
The CL 50 Disc is a more affordable version of the CLX 50 Disc that keeps the same rim but has DT Swiss Competition round spokes instead of DT Aerolites, uses Specialized's Aero Flange Disc hubs with DT Swiss 350 internals and has steel bearings instead of the CLX's CeramicSpeeds. That saves a good £600 while adding about 100g onto the wheelset.
With its external width of 29.4mm the Roval rim is one of the widest currently on the market, and of course the disc version isn't hampered by any of the difficulties often encountered when trying using a modern wide rim with caliper brakes which are frequently do not operate optimally when they are wide open.
Specialized says it tested the Roval rim – and its competitors' – with a 24c tyre that actually measured 26mm on the wide rim – and says it actually designed the rim around a modern tyre width that offers less rolling resistance and more comfort as well as sound aerodynamics – and they do indeed feel fast.
The Roval rims are, as you'd expect tubeless ready.
The disc version of both the CL and CLX 50 has 21 spokes at the front and 24 out back compared to the 16/21 of the rim-braking model, which adds rigidity. There are other variables to be taken into account – including the tyres – so it's not possible to make an accurate like-for-like comparison, but the disc CLs didn't feel quite as nimble as the rim-braking CLXs and that could be down to the higher spoke count as well as the higher overall system weight. However, compared to other disc wheel sets they're not harsh.
Although they're clearly an superb wheel set, they are well over the £1K mark and we wonder whether it wouldn't be worth going the whole hog, paying the extra and getting the aero spokes, superior ceramic bearings and lighter weight of the CLXs.
Score 9
Weight 1,515g
Spokes 21/24
Zipp 302 disc brake wheel set £1,299
Like the Roval CLX 50s, the rim-braking Zipp 302s got a perfect 10 when we reviewed them a few months back and won our deep-section carbon wheels groupset in the March 29 issue.
This new carbon clincher is available in both rim and disc-braking configurations and is surprisingly cheap. The 302 is built in Indianapolis like its much more expensive stablemates but it has a stripped-back design that lacks some of Zipp's trademark features such as dimples or humpback whale-inspired rim profiles. Instead the 302 has smooth carbon and user-friendly Sapim CX-Sprint J-bend aero bladed spokes with brass nipples laced to Zipp's new utilitarian-looking but very modern 76D/176D hubs. These have removable end caps for thru-axle or QR compatibility and are compatible with the SRAM XDR driver body (obviously sold separately) so that a 10t sprocket can be used in a versatile 1x set-up.
The rim depth is 45mm and, as is the current trend, the external rim width is pretty wide at 26.4mm.
The disc version gets a higher spoke count – 24 both front and rear instead of 21/24 in rim-brake configuration, and this adds a little bit of weight to the front and more spokes means more aerodynamic drag. However, the rear wheel, which is slightly lighter than the rim-brake equivalent thanks to its lack of braking surface, makes acceleration super snappy and once up to 40kph holds onto its speed in a seriously impressive way.
In some ways it's a pity the new Zipps aren't tubeless ready – other wheels in this test have that particular advantage over them – and for the latest generation of riders who are already willing to break with tradition and ride disc brakes that could be a sticking point.
However, standard 25mm clinchers were easy enough to fit – unlike with the Miches – and if you're using these mainly on the road it won't be an issue.
Score 9
Weight: 1,695g
Spokes 24/24
Giant SLR 1 Disc Full Carbon 42 disc brake wheel set £1,000 TEST WINNER
Giant is now producing wheels that are as good as any currently on the market, with the Sunweb pro team riding the top-level ones as proof. What's more, as one of the earliest champions of disc brakes, it's a pretty safe bet that a set of disc-specific Giant wheels will be more than fit for purpose.
Since Giant is able to bring to bear its commanding position as the world's largest bicycle manufacturer, it's not surprising that its own-brand wheels are characterised by a high level of technology paired with a competitively low price.
The SLR 0 wheels are at the top of Giant's range, with the SLR 1 considerably cheaper but still offering very good performance.
The SLR 1 Disc Full Carbon 42s we tested have a deep-section carbon tubeless-ready rim that has a depth of 42mm. There are 21 aero spokes at the front and 24 in the rear, Giant using Sapim CX-Sprints, like Zipp in this test and many big other big OEM wheel manufacturers.
Giant uses hubs from DT, though it doesn't specify what model, with sealed cartridge bearings. They come with tool-free removable end caps that are thru-axle or QR compatible. We set them up for a Pinnacle Dolomite 4 that had a QR rear and thru-axle front and it was a cinch.The Shimano Centre-Lock rotors were their usual breeze to fit.
Giant normally sets them up with its tubeless Gavia tyres but we wanted to run clinchers – and it did take a bit of wrestling and a lot of air to get a set of Conti Grandsport 28s on. Giant told us fitting clinchers using the tubeless method of installation with a tyre solution or soap solution around the bead helps, but pointed out that they're designed for optimum performance with a tubeless system.
The Pinnacle looked immediately more appealing once its Alex rims and unbranded hubs had been replaced with the Giants, and it didn't stop there. When we originally reviewed the Pinnacle, we criticised it for lacking crispness. With the Giant wheels in, not only was it a little bit lighter but the responsiveness we had been missing was restored – and the SLRs also supplied some much needed aerodynamics.
In fact, it was hard to find fault with the SLRs. It's nice to be certain of the provenance of these wheels – something not always possible with companies that buy in rims and rebrand them – although we liked that the Giant branding is discreet, clearly mindful of those who don't like to mix and match brands, and you can de-sticker them if you wish.
This is a good a wheelset as you'll find at this price, but follow Giant's advice if you want to run them with clinchers.
Score 9
Weight 1,580g
Spokes 21/24
Thank you for reading 20 articles this month* Join now for unlimited access
Enjoy your first month for just £1 / $1 / €1
*Read 5 free articles per month without a subscription
Join now for unlimited access
Try first month for just £1 / $1 / €1