The best front lights for time trialling
Everything you need to consider when you're buying a front light for your TT bike including what type to choose, how to mount the various designs in the most aerodynamic way and how much they will cost - both in cash and in watts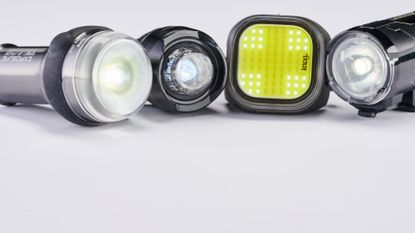 (Image credit: Philip Sowels/Future)
As of 2022, a front light is compulsory for all time trials run under the rules and regs of Cycling Time Trials, the UK's governing body - that goes for both open and club TTs.
A rear light has been mandatory since 2020, with most testers now having settled on their favourite unit that does the job of both making them visible and not losing them too many watts in aerodynamic drag.
But how to solve the problem of fixing a front light to the streamlined, wind tunnel-tested cockpit of a TT rig? The regulation reads: "No competitor shall be permitted to start either a Type A [open] or Type B [club] event unless such competitor has affixed to the front of their machine a working front white light, either flashing or constant, that is illuminated and in a position that is clearly visible to other road users."
As with the rear, the reg doesn't specify a minimum size, lumen count or any other measure of brightness, which means there are a lot of options and solutions out there, ranging from the tiny blinky to the high-powered, high-end aluminium unit with a bespoke TT extension mount, depending on whether you plan to obey the letter or the spirit of the rule.
We've rounded up a selection of lights from the most popular brands including Cateye, Exposure, Knog, Lezyne and Moon and grouped them by type to give you an idea of what you can expect.
Micro lights under 50 lumens
Cateye Orb Black Front Bike Light
Best micro-sized inline light for time trialling
Specifications
Lumens: 10
Run time: 100 hours max
Modes: 3
Rechargeability: No, 2 x CR2032 coin cell batteries
Dimensions: 27x27mm
Weight: 25g
Reasons to buy
+
Light weight
+
Bright for size
+
Streamlined design
+
Aluminium casing
+
Well priced
At a tiny 25g and with streamlined styling that recalls a 1950s Cadillac, the Cateye Orb could be the ultimate TT front light.
We tested the non-rechargeable version that runs off two CR2032 batteries (included) but there is a USB rechargeable version that has a RRP of £16.99. However, with a claimed runtime of 100 hours on its two flashing modes, or 50 hours on constant, the batteries should last the average time triallist a whole season.
Operation is really simple - the lens works as the button. This has the added advantage of keeping the casing smooth and hopefully saves a fraction of a watt over a light with a raised button such as the Lezyne Femto.
Said casing is made from aluminium and the two halves unscrew to access the batteries (or the charging port in the rechargeable version.
There's no waterproofing rating but according to the spec it can be used in rain, and we've shower tested it to back this up.
Attachment is via a silicone band that's joined to the casing and it fastens around the back with a single hook which, again, makes for a clean look and maybe a miniscule aero saving since there are no hooks in the airflow.
For attaching it to a tri-bar extension you'll need to use a separate mount such as AeroCoach's (pictured) since the light only faces in one direction.
The Cateye Orb is surprisingly bright for such a small light with such a low lumen count - and not just from directly in front. The cutouts at the sides of the casing won't be visible if you're using it on a a tri-bar extension with a mount, but the lens is well shrouded at the top and bottom so that it doesn't blind you if it's positioned below your face.
If aerodynamics and low weight are your priorities, they don't come much more aero or lighter than the Catye Orb. It's really cheap too.
Lezyne Femto USB Drive Front Light
User-friendly and neat-looking TT light
Specifications
Lumens: 15
Max run time : 20 hours
Modes: 5
Dimensions : 37x29mm
Weight: 26g
Reasons to buy
+
Lightweight
+
Tough
+
Easy to use
+
USB rechargeable
Reasons to avoid
-
Could be brighter
-
Lens not shrouded
The Lezyne Femto is a small inline light with a neat, unfussy design and five modes.
In its lumen count, power and price it's one up from the Cateye Orb, and is USB rechargeable, coming with a short micro-USB cable for plugging into a computer.
It also comes with a stretchy silicone band that works with 31.8mm or older 25.4/26.0 bars - but you'll need to use it on a tri-bar extension mount such as AeroCoach's (pictured) since it won't fit an aero base bar.
The band is attached via two hooks that protrude from the Femto's rubberised moulded plastic casing. These stick up into the airflow giving it not such a streamlined profile as the Cateye Orb, but we're talking fractions of a watt.
The switch also protrudes from the top of the casing - again, not such a clean solution as the Cateye which has its lens doubling up as a button.
Lezyne says the Femto is IPX7 waterproof (can be submerged in 1m of water for 30 minutes, and it has a secure-fitting cap at the rear to stop water from getting into the USB charging port.
As for the light itself, it emits a slightly yellower beam than the very blue Cateye Orb, and despite the 15 lumens compared to the Cateye's 10, isn't quite as piercingly bright.
Lezyne says the 'wide angle optics' lens provides 270 degrees of visibility, and it's true that you can see light from directly above and slightly behind. For a time trial light that might be close to your face this could be a little distracting in its flash modes. In constant - and it's generally going to be daytime when this light is used for this particular application - it's not such an issue, but we preferred the shrouded lens of the Cateye that shines directly forward and can't be seen from above.
Knog Blinder Mini USB Rechargeable Front Light
Lightest and brightest micro TT light
Specifications
Lumens: 50
Run time: 1.8-30 hours
Modes: 8
Dimensions : 30x23mm
Weight: 17g
Reasons to buy
+
Incredibly bright
+
Super light
+
Quirky design
+
Low profile shape
For its miniscule 17g weight the Knog Blinder mini packs a huge 50-lumen punch. The entire surface of the front-facing square lights up with multiple tiny but super-bright LEDs. There are eight modes to choose from, including an eyecatching accelerating flash.
The 'Cross' in the name refers to the light's graphics - it also comes in 'Love' and 'Skull' themes for personalisation (or to broadcast your view of time trialling).
For charging it plugs directly into a USB port with no cable required.
The Blinder Mini comes with a choice of three silicone bands that are swapped into its mounting system, which is designed to protect the USB plug from water. Knog says these bands allow it to fit bars, posts and tubes from 22-32mm. If you're riding a retro steel TT bike with a 1in steerer you could mount it to the head tube, but for more modern bikes you'll need an extension mount.
The switch is set into the rubberised plastic casing and doesn't protrude in case you're thinking about fractions of watts saved or lost.
As for the light itself, it is truly blinding, as you'd expect from 50 lumens in a 30mm square. Of the three lights in this category it is the brightest by far. There's clearly no shrouding around the lens but it doesn't dazzle if your face is directly above it, a downside of the Lezyne Femto.
The Knog is considerably more expensive than the Cateye Orb and the Lezyne Femto, but if visibility is something you actually want from your TT light then it could be worth paying the extra.
It's also the lightest of the three in this category, and aerodynamics look pretty good with the TT extension mount, which it requires if you don't have a round-profile base bar.
Overall, a hugely impressive little light.
Mini lights over 50 lumens
Exposure Trace Mk2 Daybright
Best build quality and iconic design
Specifications
Run time: 3-24 hours
Lumens : 125
Modes : 6
Dimensions : 57x28x19mm
Weight : 40g with mount
Reasons to buy
+
Bright for small size
+
Lightweight
+
Great build quality
+
Aerodynamic shape
+
Mounts very neatly
Reasons to avoid
-
TT mount sold separately
The Exposure TraceR is the rear light to beat for most UK riding, and you can say the same for the Exposure Trace Mk2 Daybright front, which is the latest version.
With its standard handlebar mount the Trace can be attached using a separate tri-bar extension mount, such as the ones we used for the smaller micro-lights above, but since it would be sitting on top of it rather than in line with it, a better solution is to buy Exposure's own aero bracket for it, available separately for £15.
Charging is by micro USB, with the port concealed under a silicone band that is pulled back with fingertips. Waterproofing is IP6, meaning it can be exposed to water but not submerged.
The Trace has three programs, each with a constant and a pulsing mode: in Daybright mode you get six hours of super-bright pulsing, which is almost as long as the Lezyne KTV mode's equivalent setting, but the Exposure does look even brighter despite the 125 lumens to the Lezyne's 200.
If you're tough/crazy enough to do a '24', you're in luck because in low pulse, the runtime is exactly that. There's a fuel gauge that flashes green, orange or red when you switch the light off.
Exposure has gone for maximum all-round visibility, which is good for being seen but bad for dazzling yourself. However, with the aero bracket you can mount it underneath an extension where it's mostly out of sight. Also, if you want to run it on constant at low power to avoid the flashing in your peripheral vision, there's nothing in the CTT rules that says you can't.
The Exposure Trace is ideally suited for time trialling with an unbeatable ratio of size, shape and weight to power and brightness and is probably the most aero of the three lights in this category thanks to the clean mount. It's more expensive but the price is fair for such a high quality light.
Lezyne KTV Drive 200 front light
Tough and easy to use with a super powerful daytime flash
Specifications
Lumens : 200
Max run time : 20 hours
Modes : 5
Dimensions : 71x33x27mm
Weight : 50g
Reasons to buy
+
No need for separate mount
+
Bright on all modes
+
Super powerful daytime flash
+
Tough
+
Easy to use
Reasons to avoid
-
Doesn't adjust in the vertical plane
The Lezyne KTV Drive is a scaled-down version of Lezyne's larger lights. However, it's a step up in size and power from the inline blinky-type lights. It also weighs a bit more at 50g, but it doesn't need a separate mount since its own can swivel, meaning it can be attached to the underside of a tri-bar extension, and this is the best position for it. Obviously if you're using a standard round-profiled handlebar you could turn it through 90 degrees and fix it to that.
The only issue with the tri-bar position is that the extension needs to be horizontal in order for the KTV Drive to be pointing directly ahead rather than upwards, since it's not adjustable in the vertical plane.
For charging, you pull the rubber cap off the rear to reveal a USB connector that plugs directly into a USB port. The cap is close fitting and secure and Lezyne is confident enough in it that it claims IPX7 waterproofing (can be submerged in 1m of water for 30 minutes).
All five modes, even 'flash 2', which has a 20-hour run time, emit a lot of light. The daytime flash (6h 30min run time) is incredibly bright.
The edge of the lens on the underside (it would be upside-down attached to an extension) is not shrouded by the casing but the light that escapes is not dazzling, plus if you're mounting it under a tri-bar extension it would be mostly hidden.
Is it aerodynamic? As ever it's hard to say, and it would be pretty difficult to get consistent real world data on it, but it's almost a teardrop shape and shouldn't be any less aerodynamic than the blinky type, especially as it doesn't require a separate mount.
Moon Aerolite front/rear light
Best for versatility
Specifications
Lumens : 60
Run time : 5:50-38:20 hours
Modes: 6
Dimensions: 65mm x 23.5mm x 27mm
Weight: 55g with mount
Reasons to buy
+
Two lights in one
+
Works as a helmet light
+
Aerodynamic shape
+
Relatively low price
Reasons to avoid
-
Could be brighter for the lumens
-
Mount is slightly clunky looking
The Moon Aerolite is both a front and rear light, meaning it's very versatile if you also plan to use it outside of the TT setting. It works well as a helmet light for commuting and comes with two mounts in the box to give you the choice.
Of course you can use it as a front only, which is how you'd have it on a TT bike.
Like the Exposure Trace and the Lezyne KTV it's best slung underneath one of the extensions and, like them, it uses its own mount for this. Like the Exposure (but unlike the Lezyne) the mount can be angled up or down so that the light is horizontal even if the extension isn't.
Charging is by micro USB with the port under a rubber cover on the casing. Moon claims IPX4 waterproofing, which is really just splash proofing but there's no need to worry if it's raining.
Battery life is comparable with the other two mini lights here - though the claimed 38 hours on the flash setting is pretty good.
The beam itself isn't particularly bright compared to the others in this test including the micro silicone band types.
There are three front light-only modes including one flashing, which don't do much more than comply with the letter of the rule, but if that's the way you're playing it, brightness is irrelevant.
If aero is your only concern, the cigar shape should do well, but the mount is a square chunk that might offset some of the watt saving, and the hooks for the silicone O-ring stick out into the airflow. As ever, we're only talking tiny fractions of a watt.
The price is reasonable since you're effectively getting two lights and actually getting two mounts, but the light lacks brightness and the mounts could be a bit neater.
Strip lights over 300 lumens
Knog Cobber Mid Lights
Best for multi-directional brightness
Specifications
Lumens 320 :
Run time: 2.5-120 hours
Modes: 8 (plus programmable)
Dimensions: 28mm x 43mm x 62mm
Weight: 67g with mount
Reasons to buy
+
Very bright
+
Long run time
+
Lightweight
+
Smooth shape
Reasons to avoid
-
Can dazzle the user
-
Expensive
The Knog Cobber Mid is made up of a curving bank of LEDs - a sort of mini Piccadilly Circus for bikes - rather than a regular strip.
The only place to mount it - or any strip light - on a TT bike is on the front of the base bar, much as you would a light on a standard handlebar. It might end up not pointing directly ahead if your base bar has raked wing sections but that doesn't matter so much because the Knog is incredibly powerful, with the light from all the LEDs making it into a brilliantly bright object rather than a focused beam.
In fact, the multidirectional light is likely to dazzle the rider unless you can attach it to the base bar underneath an armrest so that it's hidden. Assuming you can do that - most TT bikes should allow this - it's a great option.
It comes with two mounts: one for a round bar and one for an aero bar top, so it fits a TT base bar securely with the longest silicone band it comes with.
Like the Knog Blinder Mini, it has an integrated USB connector and plugs straight into a USB port.
The Cobber Mid is super simple to use. You just cycle through its eight modes with single button presses. Or you can reprogram it using Knog's ModeMaker app.
It's lightweight at 45g including the mount.
Is it aero? Again, according to AeroCoach's testing the strip light type is no less aero than the other options. The Cobber looks pretty efficient with its curving leading edge although it doesn't sit quite as flush as the Lezyne Strip Drive 400.
Assuming you can fix it somewhere so that it doesn't dazzle you, the main drawback is the price - it's the most expensive light in this test by a big margin.
Lezyne Strip Drive 400 front light
Best base bar-mounted light
Specifications
Lumens : 400
Run time : 2.5-21.5 hours
Modes: 10
Dimensions: 85mm x 25mm x 30mm
Weight: 55g
Reasons to buy
+
Sits flush with the base bar
+
Huge lumen count
+
Lots of modes to choose from
+
Powerful daytime flash
Reasons to avoid
-
Needs a longer silicone band
With its 400 lumens the Strip Drive is the most powerful light in this test, with a row of five LEDs and 10 modes.
As with the Knog, it mounts to the front of the base bar, and the Lezyne is well suited to this with a slot in its rubberised rear that flexes to conform to the flattened or bladed shape.
However, the Lezyne actually mounts better than the Knog: thanks to a cutout designed to allow the end of the light to sit over a standard stem faceplate, you can turn it the other way round to angle it so that it more or less points forwards on a base bar with raked wings, whereas with the Knog you're stuck with the angle of your base bar.
It also sits slightly more flush with the bar than the Knog, looking slightly cleaner both in aesthetics and airflow.
This is just as well because the Lezyne's bigger LEDs are more focused than the Knog's array of multiple tiny ones. However, you'll probably need a longer silicone band than the strap that comes in the pack: we had to borrow the Knog's longest band to make the Lezyne fit around the base bar.
Like the Lezyne KTV Drive, the Strip Drive has a rubber cap that pulls off to access the integrated USB connector so that no cable is necessary. It's IPX7 waterproof.
As for the light itself, if you can mount it so that it's out of your peripheral vision, the day flash is absolutely blinding - the brightest in this test - and has a run time of five hours, so perfect for all TTs up to 100 miles.
It's longer, thinner and only slightly heavier than the Knog Cobber Mid. It's half the price, packs more lumens and with its focused LEDs is arguably slightly better suited to time trialling.
How to mount a front time trial light
You can trust Cycling Weekly. Our team of experts put in hard miles testing cycling tech and will always share honest, unbiased advice to help you choose. Find out more about how we test.
For the 'Micro-lights 50 lumens and under' category, which are inline lights that are designed to attach to a round handlebar using a silicone band, we used AeroCoach's standalone mount for a 22.2mm round tri-bar pole. It is basically a slice of 31.8mm round bar that zip-ties to the pole wherever you want to locate it and costs £18.50.
Making your own standalone light mount out of an empty Berocca tube (other effervescent vitamin tablets are available) is also very easy: simply hacksaw the bottom off the tube (remembering to measure twice and cut once), use a round file to mitre the open end to fit your extension pole and drill holes for the zip-tie. Wrap with electrical tape to cover up the logos on the tube end (optional).
If you're after an integrated computer and light mount, we used the AeroCoach one pictured above that costs £39.50 and comes in Garmin or Wahoo fittings and and can recommend it as a neat solution. Here we've got the Cateye Orb mounted to it. You've got to mount your computer somewhere; if you mount the light inline with it using this one, you don't lose any watts at all according to AeroCoach's data.
How aero is my front light? AeroCoach wind tunnel tests them...
Aerodynamics experts AeroCoach wind tunnel tested a variety of different-shaped lights with different mounts and in different locations on a time trial bike both with a rider and without a rider at 45kph. Xavier Disley and his team tested all three of the categories in our guide plus the very small silicone Knog Frog-type with an integrated silicone band that sits above or below a bar or mount.
The type mounted on a 31.8mm round section that sits off to the side of a pole - as used in our 'micro-lights under 50 lumens' category - was 1w slower than no light at all (or mounting a light in front of the computer using AeroCoach's own integrated light TT mount).
The long light mounted under the computer (similar to our mini-lights over 50 lumens category) was 1-1.5w slower than no light.
The rectangular light on the base bar (our 'strip lights') category was also around 1w worse than no light.
At time trial speeds for most riders a single watt saving equates into a handful of seconds over 25 miles. Disley' concluded: "There is only a small penalty from mounting lights of different shapes and sizes in various locations on aerobars, and in some cases [namely mounting an inline light in front of a computer using an integrated mount] no penalty at all."