New Trek Domane is more aero, integrated and ready for gravel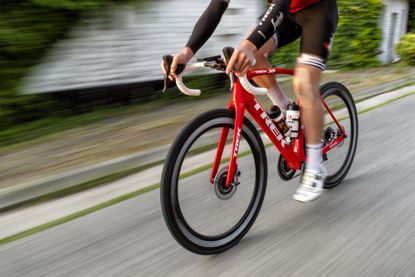 The new Trek Domane
Trek has announced an update to its popular endurance range, revealing new Domane SLR and SL models that boast greater versatility, integration and improved aerodynamics.
Wind tunnel-tested tubing will, according to Trek, save riders a minute per hour. The sculpted front end of the bike certainly looks lifted straight from the Madone and the new straight fork is said to help the bike cut through the air more efficiently. New integrated cable routing should also help save more watts. Oh, and yes it's disc brake only.
Trek Domane: adjustable IsoSpeed
As you might expect, Trek's front and rear IsoSpeed makes a return on the new SLR and SL models, but the former is also endowed with the adjustable top-tube IsoSpeed technology that was launched with the Madone last summer.
The slider now sits underneath the top tube and the gives a claimed 27 per cent increase in compliance as well as allowing riders to fine-tune compliance to match the terrain.
Trek Domane: the most versatile Domane yet
While the Trek Domane of yesteryear was content to exist as a performance road and cobble bike, the new model sets its sights on an even rougher terrain – gravel. The takeaway message from the updated range is that Trek has prioritised versatility, continuing the push towards 'one bike to rule them all': the Domane is now a bike capable of ripping on the road and flying off-road at just a change of the tyres.
While the new Domane will come equipped with already sizeable 32mm Bontrager R-series tyre, the bike now has the space to swallow a whopping 38mm tyre as standard, or a 35mm when fenders are fitted. The guards can be attached to the new hidden rack mounts on both the front and rear of the bike and there's also an integrated light mount on the underside of the saddle.
However, in what I'm going to term next-step versatility, the new Domane also has a hidden down tube compartment beneath the bottle cage. It's almost a direct copy of Specialized's SWAT box on the brand's mountain bike range, but it's the first time I've ever seen a road frame using such technology. It might be as simple as just having a hole in the frame to store your tools but in my opinion anything that removes weight from your jersey is a great idea. A BITS tool roll will also be available to keep the inside of your frame protected.
Following hot on the heels of the gender-neutral Specialized Roubaix, it's interesting to see Trek become another brand to eschew female-specific geometry with its new bike. The Domane now exists as a unisex platform available from a size 44 with a greater number of colours available.Trek's 'Endurance Fit' is used across the models as standard but a H1.5 fit option is available from Project One, Trek's high-end customisation tool.
Trek Domane: first ride
With a decent mix of climbs and descents – both on and off road – Trek's test loop in the wooded hills of Galzignano Terme in Padua was sure to provide a decent shakedown for the new bike.
As I've found with previous Trek models, I felt quite stretched out on the bike, like the top tube is long or the seat quite laid back – but it was nothing a bit of fiddling couldn't fix.
The first 10km of the loop covered close to 400m of climbing and the Domane handled it without missing a beat. Despite the IsoSpeed flexing away there's no discernible loss of forward momentum and the bike responded very well to rider input.
On the fast and steep gravel roads the bike felt comfortable, although there were several punctures among the group and a rattling down-tube storage unit needed tightening (I used the multitool hidden in there).
For a long-term test I'd swap out the Bontrager R3 tyres for something a bit wider and more substantial, but off the back of the initial rides I will be excited to stuff that down tube full of Jelly Babies and see where this bike can take me.
As with a lot of recent 'endurance' bikes, it's interesting to see how far they bite into 'adventure' bike territory. Take the new Specialized Roubaix as an example, there's no doubt that'll chomp into the Diverges remit and I suspect the Domane might well do the same to the Trek Checkpoint.
Trek Domane: range overview, specs and prices
Domane SLR 9 Red eTap £9,650
Celebrated as "our lightest, fastest Domane ever", this bike is "built for conquering the Classics and that's exactly what it's done."Such a big statement matches big numbers on its RRP.
£9,650 gives you a lightweight 700 Series OCLV Carbon frame and fork with Trek's road-smoothing Front and Adjustable Rear IsoSpeed. Coupled with SRAM Red eTap AXS groupset, the smoothest and smartest wireless electronic shifting you can add to your weapon of choice, which makes this bike formidable.
Race proven in winning Paris-Roubaix and the Tour of Flanders, by isolating you from the road buzz, IsoSpeed gives you the confidence to ride faster and the comfort to ride longer. For those long rides, Trek has included an internal storage compartment to keep your tools and nutrition, not only out of your pockets, but out of the wind.
Precision gear selection is made easy with its 12 speed, 10-28 cassette and 48/35 crankset. This machine is fitted with disc brakes, a carbon seatmast cap, Aeolus XXX 2 Disc tubeless ready wheels, a Bontrager XXX stem, and a Bontrager IsoCore handlebar that reduces vibrations from the road by 20% over a standard carbon bar.
What's more, it is available in a variety of finishes: purple phaze, viper red or white with blue font, although it is customisable in Trek's Project One.
Coming in at a featherlight 8.17kg for size 56 frame.
Domane SLR 9 £9,000
This model is built up with Shimano's Dura-Ace Di2 electronic groupset, giving you slick, reliable shifting every time.
Naturally, the SLR 9 comes with the Bontrager Aeolus XXX 4, tubeless ready, 47mm deep, carbon rims, balancing speed with practicality. Smoothing out the road just that little bit more is the IsoCore carbon handlebar, reducing road vibrations dramatically.
This SLR 9 model is customisable via Project One or available in four different colours.
Domane SLR 7 Force eTap £6,650
This ultralight endurance road bike frame comes with high end components to give you a performance to exceed your expectations. Bontrager's Pro IsoCoreVR-C handlebars reduce vibrations and smooth out your ride, making the long miles easier to bare. Equiped with SRAM Force eTap AXS, and in line with the SLR 9, it has a 12 speed 10-28 cassette and 48/35 crankset, giving precision to your rhymic cadence.
It comes with Bontrager's Aeolus Pro 3V OCLV tubeless ready carbon wheels with Bontrager's R3 Hard-Case Lite tubeless 32c tyres fitted.
At 8.61kg for size 56, when compared to the SLR 9 it remains light for a significant price difference.
It is fully customizable with Trek's Project One. Although its standard purple phaze, viper red and white with blue font options will please many.
Domane SLR 7, from £6,000
This time the SLR 7 runs a full Shimano Ultegra Di2 electronic drivechain for an equally top end feeling performance.
This edition comes in the same three colours of the SL7 Force eTap, but with the inclusion of a black and faded silver option. As with the other options, you can also customise this is Trek's Project One.
See more: Domane SLR 7 at Evans Cycles for £6,000
Domane SLR 6 £5,400
Comprised of Trek's 600 Series OCLV carbon frame which includes internal storage, mudguard mounts and is disc brake compatible, the SLR 6 has a Shimano Ultega R8000 groupset.
It is fitted with a 11-34 11 speed cassette and compact 50/34 crankset.
The bike is fully customisable through Project One, where you can choose your model, choose your paint and choose your parts.
Domane SLR frameset (disc and non-disc) £3,000
You can purchase the featherlight 700 Series OCLV carbon frameset with its both front and adjustable rear Isospeed, alone so you can build it up with components of your choosing.
The disc edition comes in black and viper red, whereas the non-disc edition is charcoal coated.
There are five Domane SL models, all of which feature Trek's OCLV 500 carbon fibre:
Trek Domane SL 7 Force eTap £5,000
Equipped with SRAM Force eTap and an 10-33, 12 speed cassette, the SL7 gives you smoother gear progression plus the precision and reliability of a fully wireless set up.
The frame is built up with Bontrager's fatigue-reducing Elite IsoZone handlebars and tubeless ready Aeolus Pro 3V OCLV Carbon wheels. There are also mudguard mounts and significant tyre clearance, able to fit up to 38c tyres.
Available in matt charcoal and nine sizes. The 56 size frame weighs in at a claimed 8.80 kg.
See more: Trek Domane SL 7 Force eTap at Evans Cycles for £5,000
Trek Domane SL 7 Shimano Ultegra Di2 £4,900
Precision shifting in any condition is delivered through Shimano's reliable Ultegra Di2 electronic drivechain.
Similarly, equipped with tubeless ready Bontrager's Aeolus Pro 3V, OCLV Carbon wheels, Elite IsoZone handlebars and Arvada Comp saddle, the only difference is the Shimano groupset over the SRAM. This sees a slight difference in weight, coming in at a claimed 8.71kg for the same size 56 frame.
Coated in a matt black finish , there is some choice when it comes to the colour of the font, either lilac or white.
See more: Trek Domane SL 7 Shimano Ultegra Di2 at Evans Cycles for £4,900.oo
Trek Domane SL 6 Shimano Ultegra £3,200
Equipped with Shimano Ultegra derailleurs and a compact 50/34 crankset, with an 11-speed, 11-34 cassette, this lightweight OCLV Carbon frame performance bike sneaks in under £3,500.
There's plenty of choice when it comes to the frame colour, will you select for the matt/gloss black, radioactive red and black or crystal white? All look stylish when matched with Bontrager's Paradigm Comp Tubeless Ready wheels, with 700 x 32 tyres to provide comfort on long and fast rides.
It's hydraulic disc brakes will give you added confidence with its impressive stopping power.
As expected, it comes in at a fairly heavier 9.22 kg for the 56 size frame.
See more: Trek Domane SL 6 Shimano Ultegra at Evans Cycles for £3,200.oo
Trek Domane SL 5 Shimano 105 £2,450
The SL5 combines Trek's lightweight OCLV Carbon frame with their unique IsoSpeed Carbon fork to absorb vibrations from the road, but equiped with Bontrager's more affordable range of components. These are Bontrager's tubeless ready Affinity disc wheels and alloy Comp VR-S handlebars.
It's Shimano 105 groupset provides affordable realibilty. It is fitted with an 11 speed 11-34 cassette and 50/34 compact crankset.
Diverse choice of either shiny purple, agressive red or matt/gloss navy for the paint job on the frame.
See more: Trek Domane SL 5 Shimano 105 at Rutland Cycling for £2,349.99
Trek Domane SL 4 Shimano Tiagra £2,100
Advertised as the "introductory carbon model in our road-smoothing family", this bike offers outstanding performance at a comparatively small price stamp.
Choose between smart black with snazzy "voodoo" coloured font or the sleek slate and red finish.
Equipped with Shimano Tiagra and Bontrager Affinity wheels, the SL4 can be your gateway into unmatched ride quality, with dependable components that you can upgrade at a later date.
Shimano's Tiagra 12-28, 10 speed cassette is paired with a Praxis Alba M30 50/34 compact crankset.
Weighing in at 9.78kg, you are still getting a lightweight bike.
See more: Trek Domane SL 4 Shimano Tiagra at Rutland Cycling for £2,099.99
Trek Domane SL Disc frameset £1,900
This 2.27kg lightweight disc frameset (size 56) is available in matt or gloss black.
It is fitted with a FSA integrated headset and Domane Disc full carbon fork.
See more: Trek Domane SL Disc at Rutland Cycling for £1,899.99
Thank you for reading 20 articles this month* Join now for unlimited access
Enjoy your first month for just £1 / $1 / €1
*Read 5 free articles per month without a subscription
Join now for unlimited access
Try first month for just £1 / $1 / €1