42 things for cyclists to do in 2013: Part two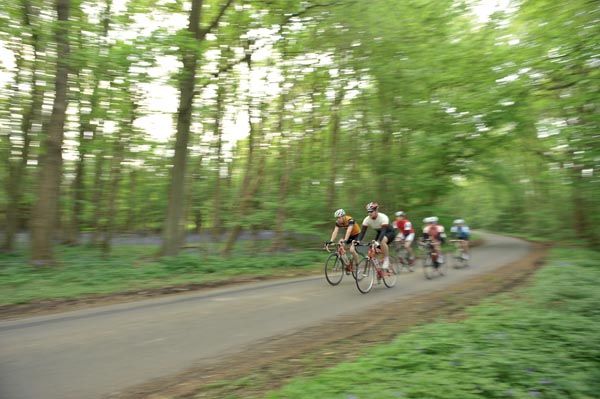 22 Learn to ride on rollers
Nothing smoothes out your pedal action more effectively than riding on a set of rollers.
Smooth pedalling saves energy and it helps you apply as much power as possible though each pedal rev.
It also increases your cycling efficiency, and improved efficiency allows you to ride faster at a lower metabolic cost.
23 Try a kermesse
Years ago the word 'kermesse' could strike fear into hopeful British bike racers' hearts. Amateur kermesses were hard, fast and brutal, and a fair proportion of the field were racing on more than bread and water.
Why was that? Because in the bad old days if a Belgian wasn't a pro by the time he was 24 he had to stop racing. Amateur kermesses were full of ambitious young men after a pro contract.
That's not true any more. There are still big amateur races in Belgium, the inter-clubs and other national and international events, but you have to be in a registered team to do them. They aren't for novice racers, but the average British first or second-cat rider will be fine. BC can advise on eligibility.
The atmosphere isn't quite like it was in the old days, but it's still good. There will probably be a bigger crowd than at all but the top British races, and mostly you'll get some kind of rolling road closure. Find the WAOD's 2013 calendar here: www.blogimages.bloggen.be/waod/attach/178380.pdf
24 Become an all-weather cyclist
'There's no such thing as bad weather, only bad clothing.' It's an old saying but a true one, except cyclists should add 'and not using mudguards'.
Don't let the weather stop you riding in 2013. With the right kit you can stay warm when it's cold, cool when it's hot and dry when it's wet. There are some conditions you shouldn't ride in - fog, ice, snow or very strong wind - but every other day is the right day.
25 Take a trip on the beer bike
Are you getting married this year and fancy an unusual stag or hen weekend? Well look no further than the beer bike: www.fietscafe.nl.
It's a mobile bar that you all sit at and pedal along, while one of you drives and a jolly bar person serves up the beer. We kid you not.
There are 44 of them available to hire in the Netherlands. You can drive where you want, around the streets or along country lanes. Any budding entrepreneurs fancy setting one up in the UK can even buy a beer bike from their website.
26 Go for Go Ride status
Perhaps it's not for new clubs, but once a cycling club is established it should consider going for Go Ride status.
You might decide it's not for you, which is fair enough because it's a fairly big commitment, but Go Ride will become increasingly important in building up a cycle racing infrastructure behind British elite racing success to capitalise on cycling's increased profile with the public.
Go Ride was set up by British Cycling to get young people into cycling. Part of it is a talent spotting process, but talent is the tip of the Go Ride iceberg.
What it's doing -and needs to continue doing - is bringing young people into cycling who will make it part of their lives; people who will become committed club riders who race, coach, organise and keep cycling healthy and growing at grass roots level. Have a look tinyurl.com/aquh8e2 for more information.
27 Watch a Revolution
The Revolution formula is doing for track racing in Britain what six-day races did, and still do in places, in Europe.
The formula works. It's an evening full of quick-fire races, sprints and endurance stuff for top male and female competitors. There are youngsters racing there, too in the full-on way only the young can. It's exciting, something is always happening and the riders enjoy it. So will you.
28 Revamp your wardrobe
We know you like that faded Z top. Greg Lemond or Robert Millar got you into cycling so you bought the shirt, but it's old and faded now. Anyway, Prendas Ciclisimo sell brand new copies, so you can still wear it but in a much newer and smarter form.
Cycling is here to stay but we still need to sell it. That means looking the business, so throw out those old tops, patched shorts and threadbare leg warmers; and never ever use tatty old socks for overshoes.
Other sartorial breaches of the cycling fashion code are tops that don't match shorts. Dirty shoes, white shorts unless you are a skinny pro with very suntanned legs, worn out track mitts. We could go on.
29 Ride the highest roads in Britain
While few and far between, there are metalled roads that break the 2,000ft barrier in the UK if you're willing to look for them.
In England there's Langdon Fell way up in the North Pennines between St John's Chapel in Weardale and Teesdale with a summit of 2,057ft (627 metres). Then there's Killhope Cross on the A689 between Lanehead and Nenthead, which by strange coincidence is also 2,057 feet. It must be some sort of law of nature or something.
Scotland has the highest metalled road in Britain. It's called the Lecht, and it's on the A39 between Cock Bridge and Tomintoul. Its summit is 2,083ft (635 metres). However, there are even higher 'roads' in Britain.
The inverted commas are because you might not classify them as roads, although they were once. Today they are best described as tracks, but they can be ridden on a cyclo-cross bike or on a standard road bike with robust tyres.
The highest is High Street in the eastern Lake District. It's a Roman road connecting Penrith with Ambleside and it reaches a massive 2,674ft (815 metres). There'll be more on this and other high routes in CW later this year. If you know any that are higher, please let us know.
30 Ride a Rollapaluza
Rollapaluza is a party with cycling for entertainment.
Competitors ride a timed 500 metres on rollers with
the fastest making it through to the finals. It's fast, fun, accessible and very inclusive.
Rollapaluza competitors come in all shapes, sizes and ages. You even get the occasional Olympian having a go. Details of an event near you will be on www.rollapaluza.com. If you don't want to race just go along and cheer. We bet you end up having a go, though.
31 Watch a nocturne
City centre cycling has always worked in Britain. Cycling is a national sport now, but it's still new to the public consciousness. Cycling success has exceeded cycling infrastructure in the UK, and there is very little consistent history of races on our roads. That could change, but it's also why circuit races in the centre of towns and cities have always worked and still do.
The televised Tour Series and the Elite Circuit Race series are the biggest street races, but nocturnes, street races held after dark, are catching on. Like most things in cycling they are a European idea. Bike races have been part of village and town fetes and festivals for years in Europe, and a day and a night street race has always been part of that tradition.
Nocturnes are street racing under floodlights, and the sight of Britain's top pros thundering around the streets, their bikes glittering under the lights as they flash by, is incredible. Try it this year if you haven't been already. You can even take part in the non-elite events at the IG Nocturne, which will be held in London's Smithfield on June 8th. See www.londonnocturne.com for details.
32 Refine your training
Get a coach or do it yourself, but take a fitness test so you can work out your training intensity levels. Numbers bring precision to your training.
A coach, or failing that a good training manual, will prescribe sessions where you work at different exercise intensities, then so long as the sessions form a progressive plan, and you stick to the correct intensities, you will get fitter.
33 Visit a museum
The National Cycle Museum is in Llandridnod Wells in Powys, Wales. It's a fantastic place with sections devoted to every aspect of cycling, including racing. It also houses a huge archive - more information at www.cyclemuseum.org.uk.
There are many more places where bikes are part of the collection, and there's a fairly comprehensive list at www.v-cc.org.uk/links.htm. Manchester Velodrome also has some very interesting bikes on display.
34 Spend a winter weekend in Belgium
This isn't any old weekend - it combines two Belgian obsessions, bikes and beer. The Duinenkross Koksijde is a World Cup cyclo-cross event held in a seaside town, usually on the last weekend of November, and it coincides with the last two days of the Ghent Six-Day track race.
The two places are only 30 miles apart, very close to the channel ports and they are both exciting to watch and great experiences. The world's best at what they do will be there, cheered on by the world's best supporters. The Ghent Six's atmosphere in the Ghent Sportspaleis is still a Europop frenzy of sound and colour as riders hurtle around a track that has sides so steep it's called the Kuipke, or 'little bowl'.
But what the Belgians love even more than indoor track racing now is cyclo-cross. Their men are the best in the world, and they are the best by a long way. They dominate cyclo-cross like Kenyan runners do international cross-country. Belgians love celebrating that, but they also just love to celebrate. All races in Belgium are treated like a party, even the Classics, but their cyclo-cross dominance focuses their euphoria.
Koksijde will be packed and incredibly noisy. There'll be beer, hot dogs, and there'll be chips with tangy mayonnaise you could clean metal with but tastes great. The sporting performance will be jaw-dropping good, and you'll even have riders to cheer for because British women are getting very good at cyclo-cross.
35 Take to the trail
Off-road cycle trails are popping up all over the country, and many of them are suitable for road bikes.
The Tarka Trail runs from coast to coast right across Devon, and you can ride a road bike all the way. Much of the Trans Pennine Trail is also road bike friendly, and there are more. These trails are also perfect for family rides, as well as providing traffic-free, long distance challenges.
36 Go off-road
You don't have to buy a mountain bike, as cyclo-cross bikes work well too. But if you aren't doing it already, off-road riding will add another dimension to your cycling.
Riding through woods and along lonely bridleways provides another perspective, adds a fresh challenge, and is just plain fun. It will also make you a better cyclist. Not only a fitter and a stronger one because you have to push extra hard just to keep going in places, but it also makes you more skilful because you have to cope with different surfaces. That's how riding off-road teaches you to make the most of each pedal revolution.
It can also bring back childhood memories, and it doesn't do anyone any harm to get in touch with their inner child.
37 Visit a cyclist's cafe
There are some cafes that have always been there for us, and of equal merit are those that started up to tap into the recent growth in cycling in the UK.
Here are a few to try in mainland UK while on your travels this year; some of them even have little museums of cycling memorabilia for you to browse: Bissoe Bike Hire, West Cornwall; Woodbine Cafe, Hope, Derbyshire; Wilf's, just outside Kendal, Cumbria; Cav Pav, Bolton Abbey, near Skipton, North Yorkshire; Cock Pit Farm, Weston, near Otley, West Yorkshire; Lock Inn, Bradford-on-Avon, Wiltshire; Lock 7, Regent's Canal, Hackney, London; Look Mum No Hands!, Old Street, East London; Cafe St Germain, Crystal Palace, South-East London; National Trust Box Hill Cafe, Dorking, Surrey; Dales Bike Centre, Richmond, North Yorkshire; Impromptu Tea Room, Elsdon, Northumberland; Pumphrey's, Blaydon, Newcastle-upon-Tyne; Eureka Cafe, Neston, Wirral; Pete's Eats, Llanberis, Gwynedd; Bridge Cafe, Brecon, Powys; Ealain's Tea Rooms, Llantwit Major, Glamorgan; Hub Cafe, Glentress, Scottish Borders; Corrieri's, Stirling.
Two brilliant resources for finding them are www.cyclistcafes.co.uk or www.bikehub.co.uk where you can download a cyclist's satnav with cafes marked on it, as well as lots of other useful information, and upload your favourite cafes too.
38 Watch the Rutland-Melton International CiCLE Classic
This is Britain's only true international road race. It has UCI 1.2 status, but more than that it has a classic route. It's been tagged as the British Belgian Classic, or Britain's Paris-Roubaix, and with good cause.
Held on April 21, the race has a fearsome route made up of narrow twisting lanes and rugged off-road sections, punctuated by villages where the locals have really made it 'their' race. It could be a real classic one day and is worth supporting. Go to www.cicleclassic.co.uk for more information.
39 Indulge your inner sadist at the National Hill-Climb Championship
The traditional curtain closer of the British road season, the National Hill-Climb Championship is a massive gathering that keeps growing.
The hill changes depending on which cycling club puts on the event, but the effort remains the same; short, sharp and brutal. Tactics are few. Competitors ride alone, each one slowly creating his or her private acid bath of lactate.
Inability to move at the summit is taken as read because helpers are on hand to push riders to a place of safety where they can throw up in relative comfort (it happens). This year's edition takes place on the 3,800m Stang Lane, Teesside, on October 27.
40 Participate
If you are new to cycling and love it for its solitude and as a convenient way to keep fit, that's great.
Taking part in organised events isn't for everyone, but there's a lot of satisfaction to be had if you do, and you won't know about it until you take part in some sort of cycling event.
There are charity rides all over the country now, plus all sorts of sportive events and plenty of ways to race. For our full sportive calendar, head to tinyurl.com/agaunb7; and www.britishcycling.org has a regularly updated list of almost everything that's happening.
41 Watch the National Road Race Championships
Britain comes into line with other leading cycling nations for the first time ever this year when it holds all its national road titles during the same week.
The events will be in the Glasgow area, with the national men's and women's elite time trial kicking things of on Thursday June 20. The men's and women's road race will be on Sunday June 23.
42 Contribute to women's racing
Marianne Vos is arguably the best all-round bike racer in the world. The women's Olympic road race was far more exciting than the men's. It was an all-out scrap with nuances and plenty of stories, while the men's race had just one.
Yet women's racing continues to play a poor second fiddle to men's. Teams come and go with depressing regularity; talented, dedicated and feisty riders are left without backing, and the media as a whole doesn't support women's racing like they should. But what can you do?
Find out more about women's bike racing for a start. Your first port of call could be this website: www.deessesdelaroute.blogspot.co.uk, or follow its author @cyclopunk on Twitter. Or you could support Stefan Wyman's initiative for a fan-backed cycle team - details can be found on www.onthedrops.cc/fanbackedwomensteam.
But the key to bringing women's racing to some kind of parity with men's is to achieve similar levels of television coverage. The best way to make that happen is to lobby race organisers and the UCI to hold top women's races on the same day and in the same place as the men's.
Back to part one of 42 Things To Do In 2013>>
This article originally appeared in Cycling Weekly magazine January 31 2013 issue