Science in Sport announced Official Nutrition Partner to UK Cycling Events
Rewards offered to riders signing up for 2018 events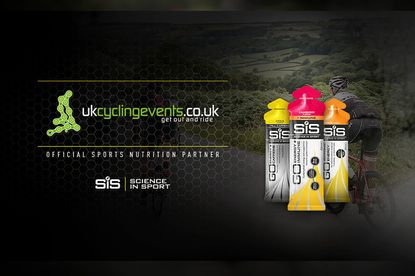 UK Cycling Events (UKCE) has joined forces with Science in Sport (SiS), the sports nutrition pioneers, in a new two year partnership designed to help participants gain an extra edge to their riding.
Science in Sport will supply on-course nutrition to more than 80,000 endurance cyclists, at 80 UK-wide events next year, including the popular Wiggle Super Series, and the further expanded Brewin Dolphin Velo Series.
As well as boosting energy levels with on-course nutrition, riders will benefit from nutritional expertise from Science in Sport and its ambassadors at selected events throughout the season, in addition to a free fuelling guide to help cyclists adopt the right nutrition strategy for their event.
To launch the partnership, every rider booking onto a 2018 ride at UK Cycling Events will be offered the chance to claim a Science in Sport nutrition bundle to help maximise training and recovery.
Stephen Moon and CEO at Science in Sport, said:
"We're delighted to be offering every rider taking part in UK Cycling Events a nutrition bundle with every entry containing our innovative, science-based nutrition products. This fantastic nutrition bundle will give UK Cycling Events riders the opportunity to fuel like Team Sky, British Cycling and our other elite partners"
Riders will be sent an opportunity to claim their Science in Sport nutrition bundle via their online booking confirmation.
A small charge will be required towards postage and packaging, however there will be no charge for the products included in the bundle which includes two Science in Sport REGO Rapid Recovery sachets to support recovery after a long ride, and six Science in Sport GO Isotonic Energy Gels with a flavour of your choice.
Science in Sport has been fuelling the success of dozens of Olympic, Paralympic and World Champions since 1992. It currently fuels Tour de France winners, Team Sky, as well as the Great Britain Cycling Team, providing nutritional expertise ahead of key competitions. Science in Sport ambassadors include one of Great Britain's most decorated Olympians, Sir Chris Hoy.
Bookings can be made at www.ukcyclingevents.co.uk
Natalie Hicks, Head of UK Cycling Events, said:
"It's our aim to help more riders to experience the very best of cycling, so the chance to provide riders with the same nutritional expertise and outstanding products that are being adopted by world class teams, is really exciting.
"Nutrition is the one area that we often find riders can overlook during training and events, but having the right fuel can make a big difference. We're hoping riders with book onto 2018 events and take advantage of the offer available."
Thank you for reading 20 articles this month* Join now for unlimited access
Enjoy your first month for just £1 / $1 / €1
*Read 5 free articles per month without a subscription
Join now for unlimited access
Try first month for just £1 / $1 / €1