87-year-old completes LEJOG on an 18-year-old Brompton
Donald and his son are investigating if the feat can be recognised as a world record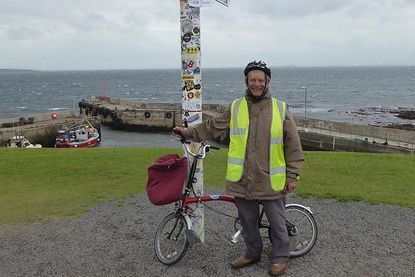 (Image credit: Picasa)
An 87-year-old man has ridden from Lands End to John o'Groats, aboard a Brompton folding bike that's almost two decades old.
Donald Wells completed the 1,000-mile journey in five weeks and two days, enjoying the ride at what he called a "leisurely pace."
In 2014, Tony Rathbone took the Guiness World Record for being the oldest person to complete the ride - aged 81 - so Wells and his son are investigating if his ride can be recognised as the new standard to beat.
Wells - a lifelong cyclist from Emsworth, Hampshire - started embarking on long distance challenges after his wife passed away, more than 23-years ago.
He's toured all over the world, but proclaimed this trip was one of the hardest due to the "sharp, unforgiving hills" the UK roads have to offer.
The Brompton bike Wells used is 18-years-old, though he did splash out on a new saddle before beginning the journey. Along the way, Wells slept in hostels, hotels and on a park bench.
Speaking after his trip, Wells commented: "I'm pleased with what I did but it's just like any normal cycle ride for me, I don't see it as anything particularly daring.
"I felt fine after I finished the ride – no aches and pains. I don't rush and tear around, I take it easy.
"I suppose it's what's I've been doing all my life. I feel at home on a bike."
Wells is a lifetime Cycling UK member. Paul Tuohy, Chief Executive at the national charity for cyclists, congratulated him on his ride and said: "I was delighted to hear about Donald's achievement; he's a true testament to how cycling can enrich your life, whatever your age or pace.
"As a fellow Brompton owner I appreciate this was no small feat. Everyone at the charity is really impressed. Hopefully Donald can officially be recognised as the oldest man to complete the route, and we wish him all the best with his cycling adventures."
Thank you for reading 20 articles this month* Join now for unlimited access
Enjoy your first month for just £1 / $1 / €1
*Read 5 free articles per month without a subscription
Join now for unlimited access
Try first month for just £1 / $1 / €1