Adventure: Five months to Istanbul – part two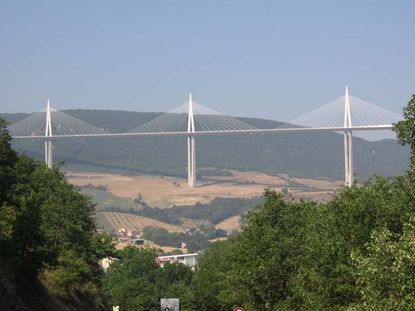 Words: Peter Baker
My plan was to go around the world for two years, starting with a bicycle ride from London to Istanbul. In preparation, I'd given my bosses four months' warning I was leaving and then finished at my job six weeks before setting off.
I used those six weeks to go through every possession I owned, throwing (or giving) things away and leaving the rest with trusted friends. I then visited the important people in my life, tied up my loose ends and threw an enormous going-away party.
I didn't know much about bicycles, so decided to undertake the trip with the hybrid on which I'd been commuting to work (and bought two panniers and a one-man tent to strap to it). As for the practicalities, my assessment was as follows:
1) There's the ground
2) There's a bicycle
3) You've got a general idea what Europe looks like
4) Head south-east and keep an eye on road signs
How hard could it be?
Read part one of Peter's journey>>
6: Out of the West
5 July
2,041 km
Heading down the Atlantic coast it got really hot. By midday on the second day south of La Rochelle, I had to retreat into a village café to escape the mind-bending temperatures. It wasn't until six in the afternoon that a cool breeze blew in from the Atlantic and it became possible to operate once more. By then I was exploding with energy.
Zooming up and down the line of hills that overlook the coastal plain provided a dramatic view of the darkening skies and thousand-foot wall of black cloud heading our way from over the ocean. As the wind picked up and lightning began leaping across the heavens, my excitement levels went nuclear.
Soon, Nelly and I were sweeping along the empty roads like a cackling pair of avenging angels: whooping and yelling as we topped each rise, sucking power from the electrified air and bounding across the hills as though they were mere hummocks.
Only when the violent wall of rain crashed past did I call a halt to the adrenaline-fuelled madness to camp on a village green as the storm's heart descended. The next morning, when I awoke, the tent was smothered in fallen leaves and surrounded by broken branches. Heart-pounding stuff.
I've just spent a week staying beside the ocean near a town called Arcachon, towards the southern end of France's western coast. The campsite is large and well resourced (a pool, a shop and English newspapers) and it's only an afternoon's bicycle ride from Bordeaux, so red wine is cheap and plentiful. We're beside 'Europe's Largest Sand Dune'. At more than a hundred metres high it takes 15 minutes to climb the thing and its summit is a splendid place to watch the sun turn red over the Atlantic.
Tomorrow it will be time to call an end to this lazy beach life, turn away from the wide expanse of the ocean and begin my long journey into the east.
The Massif Central
I didn't have a strong grasp of French geography. I knew the basic shape of the country and where the major cities were located, but that was about it. Crucially, I didn't understand the topography and, when you're travelling by bicycle, hills are a really big deal.
Northern France is quite flat so, after the first month, I had an inflated sense of the distances I could cover. Then I hit the Massif Central.
The Massif Central is an elevated region of mountains and plateaux in south-central France covering one-sixth of the country. The volcanism that created it wound down about 10,000 years ago (and there hasn't been an eruption since 5760 BCE) so now it's all grassy cones, rich volcanic soils and very steep hills.
Before reaching it I was more concerned with exploring than actually getting to Istanbul. But by the time I was through the mountains and onto the French Riviera, it was the end of July and making it across Europe before winter was beginning to look like an issue. After that, I travelled pretty much in a straight line.
7: The Dordogne
16 July
2,741 km
I've just come from the Vézère Valley in the Dordogne, where the famous prehistoric cave paintings at Lascaux are located. The area is dotted with subterranean grottos that have walls covered in images of the bison, rhinos and aurochs which roamed the area in prehistory. There are 147 prehistoric sites, 25 decorated caves and a stunning museum chronicling the cultures which have ebbed and flowed across the region for a score of millennia.
Animal images appear in undeciphered patterns; geometric signs symbolic of who-knows-what are repeated at caves throughout the region; and there's the suggestion of an antler-headed 'sorcerer' figure. High art made by long-passed ancestors. A tantalising window into the physical and emotional world they inhabited.
France is full of amazing cycle paths. However, off a road called the D704, just south of Sarlat-la-Canéda, I found the best one ever: a perfectly straight track through a tunnel of deep green, flanked by steep gullies, sheer cliffs and looming vine-covered rock formations. I freewheeled down it at a tidy 20 kilometres per hour, shouting 'Oh what a beautiful world' to various nameless tunes. I fully expected some mad old druid character to appear from the bushes and begin leaping about.
Awed by the beauty of Mother Nature, I've taken to collecting sprigs of wild flowers and inserting them into the strap of my handlebar bag. This may make me look silly, but I don't care about that and at least people will know I come in peace.
8: Millau
18 July
2,797 km
Apart from Chartres Cathedral, my must-see list for France contained one other item – the Viaduc de Millau, the bridge over the Tarn Gorge above the town of Millau. The bridge was the final link in the A75 autoroute providing a continuous motorway from Paris to the western Mediterranean. I spent half of yesterday staring at the viaduct. Like the great temple, it didn't disappoint.
At 2.6 kilometres long, 342 metres high and supporting a four-lane motorway, the bridge is straight out of some far-out science fiction book. It breaks all sorts of records for height and general impressiveness. Here we have an engineering masterpiece of the highest order, a triumph of industrial art and a solid example of how the hardware of civilisation can complement nature. Welcome, ladies and gentlemen, to the third millennium.
Plan update: Millau is about halfway across the country, in the Massif Central. The scenery is spectacular, but the cycling is really hard. I'm heading east towards Avignon.
Millau is conveniently close to the village of Roquefort, where they make the world's finest blue cheese. I was thrilled to make a visit there a part of my pilgrimage. After being taken on a tour of the natural caves where the smelly blue stuff is matured, I expressed my adoration by purchasing a full half round.
Back at the Millau campsite last night, I wrestled with the cheese for hours, bringing to bear the additional firepower of two baguettes and some very acceptable Côtes du Rhône. But, in the end, the Roquefort got the better of me. That's why they call it the King of Cheeses.
On the 27-kilometre climb through the valleys to Roquefort I stopped beside a VW van, and its owners – Daniel and Simone – fed me fruit and cold drinks. They were cruising around with their dog, Pauline, and their three tortoises: Coco, Cocette and Jean-Philippe. Daniel and Simone were friendly and unpretentious with a natural, understated style. Jean-Philippe, however, was rather grumpy and extremely fussy about his lettuce.
9: The Mediterranean
27 July
3,212 km
Tuesday, 19 July, the day I left Millau, was a perfect day. It began with an hour-long climb out of the valley, getting me fully in the mood to expend energy. After that I flew like a phoenix through 130 kilometres of tree-thronged valleys in the Massif Central, my muscles burning with fire. That evening I camped beside a clear river which I threw myself into twice. Then I ate a picnic of bread, cheese and olives, lit a fire on the bank and considered the stars.
Twenty-four hours later I rolled into Avignon following a gruelling day in furnace-like temperatures. It turned out I'd inadvertently arrived during the city's annual month-long arts festival. The streets were filled with clowns, South American pipe bands and fat men dressed as nuns. The city's campsite was chock-a-block with beautiful olive-skinned art-house types armed with hammocks, guitars and dreadlocks.
I left Avignon on the 23rd and had been travelling through the heart-stoppingly beautiful hills of Provence for four days when, yesterday afternoon, with my entire body beaded with sweat, I topped a rise and felt cool, salty air wash over me. Below – stretching to the horizons like a huge turquoise adventure playground – lay the Mediterranean.
Through some nifty planning I'm here at the same time as my friends Jane and Richard. Richard is a successful businessman and entrepreneur (massive house, drives a Porsche etc.). His wife, Jane, is elegant and gregarious, with something to say about everything and holding court wherever she goes.
They're staying at a villa on the edge of Cannes with their mate Kate and a cluster of amusing children. Last night I slept using a real pillow (instead of a rolled up pair of jeans) for the first time in two months. The French Riviera is in its summer swing with full beaches and a buzzing nightlife. I'm hanging out to rest up, sort out my administration and buy some new maps. Then, in two days, Nelly and I head east towards Italy.
It's been a great couple of months. Vive la France.
10: Italian Riviera
1 August
3,474 km
After three days of love and recharging from Jane and Richard, I said my farewells and continued east. Cannes, Nice and Monte Carlo all lived up to expectations: exotic-looking women, designer shades and Ferraris.
In Nice, I slept on concrete next to another long-range cyclist: Frederick, from Sweden. Frederick has been following the Tour de France and going hard through the Alps and Pyrenees. He was covering as much distance in a day as I cover in two. He'd found it necessary to get rid of his cycling computer because it stressed him out when he wasn't covering enough ground. For me, stress isn't proving to be a problem.
On crossing the Italian border, the locals wasted no time in living up to the stereotypes about their chaotic driving. The traffic laws are clearly regarded as little more than vague guidelines and, when you're on a bicycle, it's up close and personal.
Going over my first roundabout was a particularly involving experience of furiously beeping horns and aggressive gridlocked insanity, although everyone – myself included – seemed to be enjoying themselves. I would periodically throw up my hands and shout 'mamma mia!' so they knew I was in the gang.
Heading along the gorgeous and sun-baked Italian Riviera, I stopped at the town of Cogoleto to have a swim in the sea. There I was immediately set upon by a super-friendly bunch of older Italians, who, within minutes, had got my entire plan and itinerary out of me, proving that with enough enthusiasm and hand-waving a shared language isn't necessary.
One elderly gentleman, brow appropriately furrowed, decided to give Nelly an inspection. He paid particular attention to her front forks and computer before sagely tapping the latter and pronouncing 'bene' (good). I was most relieved.
Five cardinal rules
Here are the five cardinal rules for pan-continental bicycle adventures.
1) Drink water all the time. You don't really understand this until you've spent four hours cycling up an extinct volcano with a dehydration-related headache. During the hottest periods I was drinking four and a half litres of water a day.
2) Eat lots of food. Bananas are a winner. It's not like you're going to get fat.
3) Never cycle in the dark.
4) Don't be shy about where you camp. People who've never cycled across a continent love to fling around fourth-hand warnings about angry farmers. Ignore them. Farmers tend to be nice. Anyway, if you find a forest and camp 20 metres from the nearest footpath, you're in more danger of being taken out by a stray meteorite than harassed by an uncivil landowner.
5) Stay clean. This makes the difference between feeling stupendous and feeling rough as hell. I talked to other long-distance cyclists who, when away from campsites (and their showers), didn't wash. Big mistake.
Five months living in the wilderness is absolutely no reason to practise poor personal hygiene. The side effects of not washing involve irritation and redness around one's 'bits' that rapidly stop one enjoying life. I learned that lesson the hard way early on, then washed my whole body – showers or no showers – every evening, for the rest of the trip.
No shower? No problem. Simply strip naked, pour 1/4 litre of water (slowly) over your head, lather up (be methodical), pour the remaining water (slowly) over your head, ensuring all relevant areas thoroughly rinsed then dry off. Job done.
As the weather grew colder at the end of the bicycle ride, this became an increasingly demanding feat of physical endurance. The most bracing occasion was when the only water available was from the fridge of a dwarf-like Bulgarian lady. Standing naked in a cold dark Bulgarian forest while slowly pouring icy water over one's head is a genuine test of one's mettle; but infinitely preferable to being dirty.
Peter Baker's book, The Jolly Pilgrim, is available from Amazon. For more information on the author and the book, go to the Jolly Pilgrim website.
Thank you for reading 10 articles this month* Join now for unlimited access
Enjoy your first month for just £1 / $1 / €1
*Read 5 free articles per month without a subscription
Join now for unlimited access
Try first month for just £1 / $1 / €1
Nigel Wynn worked as associate editor on CyclingWeekly.com, he worked almost single-handedly on the Cycling Weekly website in its early days. His passion for cycling, his writing and his creativity, as well as his hard work and dedication, were the original driving force behind the website's success. Without him, CyclingWeekly.com would certainly not exist on the size and scale that it enjoys today. Nigel sadly passed away, following a brave battle with a cancer-related illness, in 2018. He was a highly valued colleague, and more importantly, n exceptional person to work with - his presence is sorely missed.