After 16 years, America's most successful cyclocross team calls it quits
Cannondale-Cyclocrossworld.com will not return come autumn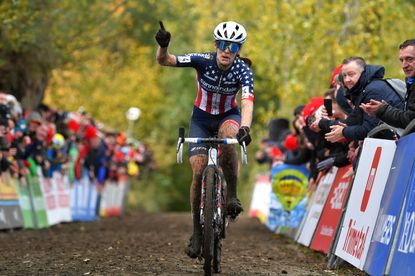 (Image credit: Getty Images)
In a social media post, the Cannondale-Cyclocrossworld.com team announced today that it will not be returning this autumn.
Over the past 16 years, the program has produced and supported America's most successful cyclocrossers, including Stephen Hyde, Tim Johnson, Clara Honsinger, Ryan Trebon, Jamey Driscoll, Kaitlin Antonneau, and siblings Emma and Curtis White. Under the careful management of Stu Thorne, Cannondale-Cyclocrossworld.com has at least 20 national championships and two Pan-Am championships, stood on UCI World Cup podiums, and vied for the rainbow jersey as world championships.
The team was also Cannondale's longest-running sponsored program, as Thorne's outfit never changed its bike sponsor.
"Unfortunately, all journeys must come to an end. Today, we're sharing the difficult news that the Cannondale-Cyclocrossworld.com team will not return next season. While it's a hard decision, we know the time is right," the statement reads.
Sponsors and fans received a worthy thanks in the statement but while a 'next chapter' is alluded to, no mention is made behind the reasoning of the discontinuation or what the future will hold for current rostered riders like national champion Clara Honsinger, Curtis White and Katie Clouse.
Thank you for reading 10 articles this month* Join now for unlimited access
Enjoy your first month for just £1 / $1 / €1
*Read 5 free articles per month without a subscription
Join now for unlimited access
Try first month for just £1 / $1 / €1
Cycling Weekly's North American Editor, Anne-Marije Rook is old school. She holds a degree in journalism and started out as a newspaper reporter — in print! She can even be seen bringing a pen and notepad to the press conference.
Originally from The Netherlands, she grew up a bike commuter and didn't find bike racing until her early twenties when living in Seattle, Washington. Strengthened by the many miles spent darting around Seattle's hilly streets on a steel single speed, Rook's progression in the sport was a quick one. As she competed at the elite level, her journalism career followed, and soon she became a full-time cycling journalist. She's now been a cycling journalist for 11 years.