Armstrong unconcerned about doping investigation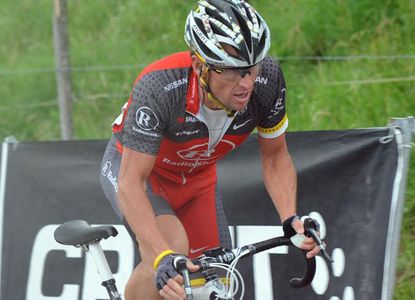 Lance Armstrong starts the Tour Down Under this month unconcerned about a doping investigation reportedly focused on him.
"I don't let it affect me. I have five kids to raise. I have a foundation to help run and lead. I still have, theoretically, a job - I ride my bike and train every day," Armstrong told the Sydney Morning Herald. "It has no effect in what I do on a daily basis."
The United States' FDA (Food and Drug Administration) is investing allegations made by Armstrong's former team-mate Floyd Landis. Landis alleged in April that Armstrong doped during his seven Tour de France victories.
The FDA's Jeff Novitzky reportedly began his investigation based on drugs found in the apartment of US cyclist Kayle Leogrande. The investigation, however, is seemingly focused on the 39-year-old Texan, Lance Armstrong.
Novitzky travelled to Lyon, France, in November to meet with his counterparts from France, Spain and Italy, countries where Armstrong lived or trained. In the US, several of his team-mates have testified in front of a grand jury in Los Angeles. Former and current helpers Yaroslav Popovych, Kevin Livingston and Tyler Hamilton have reportedly been called, though, others have likely also testified.
Armstrong's long-time sponsors, Nike, Oakley and Trek, have also supplied Novitzky information.
He said in the Sydney Morning Herald interview that some of cycling's problems would be better dealt with internally.
"Other sports have a done a good job ignoring whatever issue they may or may not have; or dealing with it internally," he said. ''Our [issues] most of the time play out in the public eye, [with] people popping off in the press."
Since Landis leaked his e-mails the press on May 19, Armstrong's credibly has been further under fire than before he initially retired in July 2005. He maintains his innocence. A spokesman for Armstrong's legal team, Mark Fabiani, has said that Landis is trying to profit from his allegations.
Landis won the 2006 Tour de France racing, but days later, the title was taken from him when a test revealed he used testosterone. He later admitted to doping.
Armstrong's last race overseas is at the Tour Down Under from January 16 to 23 in Adelaide, Australia. He abandoned plans to race a triathlon on January 26 in New Zealand due to sore left knee. Some people have claimed the decision was taken so he can prepare a defence if called to testify.
Related links
Armstrong case heads into New Year: Wires and European trips
Armstrong investigation arrives in Europe
Armstrong's team mate Popovych testifies he did not witness doping
Armstrong's team-mate Popovych summonsed in doping investigation
Landis unlikely to stand trial for hacking says manager
Landis admits he doped and implicates others
Thank you for reading 20 articles this month* Join now for unlimited access
Enjoy your first month for just £1 / $1 / €1
*Read 5 free articles per month without a subscription
Join now for unlimited access
Try first month for just £1 / $1 / €1