Armstrong's problems have only just begun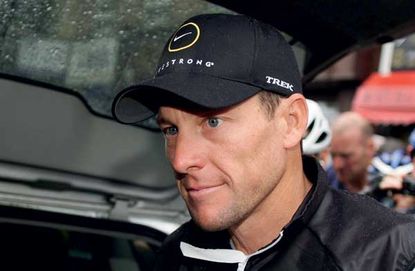 Lance Armstrong is staring in to the abyss. After the Union Cycliste International (UCI) officially stripped him of his seven Tour wins that made him rich and famous, and banned him from the sport for life, his downfall is far from over.
The Texan reached out to the UCI's president, Pat McQuaid in the final hours as he wanted to know just how far he was going to fall.
McQuaid explained how Armstrong had been in contact the previous Friday. "He heard we were having a press conference [and] sent me an SMS." McQuaid explained. "I rang him and told him, 'Yes. I'm having a press conference on Monday and we are announcing our result.' He said, 'What is that?' And I said, 'I can't say. We are still working on it this weekend.'"
Armstrong has yet to comment officially, but hours after McQuaid read out the UCI's decision, he changed his Twitter bio. His 3.7m followers now see, "Raising my 5 kids. Fighting Cancer. Swim, bike, run and golf whenever I can," instead of, "Father of 5 amazing kids, 7-time Tour de France winner, full time cancer fighter, part time triathlete."
Armstrong's legacy went into freefall on August 24 when the US Anti-Doping Agency (USADA) charged him with various doping offences. Knowing of the riders who had testified against him, Armstrong opted not to fight the charges in front of the public arbitration panel, calling the case a 'one-sided witch hunt'. The agency revealed the full scale of his doped reign on October 10 when it published its 202-page Reasoned Decision on the internet after it sent an expanded version to the UCI.
Long-time sponsors who had stood by him through all previous allegations were shocked ,and quickly began to abandon the 41-year-old, retired since the 2011 Tour Down Under but still competing in triathlons. The Tour mountain stages of old were played in reverse, as one by one, big-money companies dropped Armstrong as the case's momentum picked up speed. From Nike to (brewer) Anheuser-Busch, SRAM to Trek, to the last big one, Oakley, which made its decision after the UCI's verdict.
Although the loss of sponsorship reduces Armstrong's earnings (his net worth is currently estimated at $120 million), at the time of the UCI's press conference, the USADA case was yet to cost him any money outside of legal fees.
With Armstrong's reputation in tatters it was Tour de France organisers ASO who struck the first financial blow. "When a rider is disqualified, he must pay the prize money back," said Tour director Christian Prudhomme. The amount is estimated at $3 million. Although a Tour winner traditionally shares all their winnings out among their team mates, it would be their responsibility to pay the money back.
Later in the day the £8.5-million-blow came when SCA Promotions announced it was demanding the return of bonus payments. During his Tour run, US Postal management company Tailwind Sports took out a policy with SCA, where it paid a premium that saw bonuses paid for each Tour win. SCA held out payments after Armstrong's sixth win in 2004 after hearing of doping allegations. Armstrong took legal action and won, partly because the policy did not include any doping clauses.
After the hearing, SCA paid Armstrong $7.5m million, which included a $5m bonus, legal fees and interest. Its total pay-out over the years, however, is reported to be around $12m (£8.5m). "We will make a formal demand for return of funds," SCA's lawyer, Jeffrey M. Tillotson told BBC Sport. "If this is not successful, we will initiate formal legal proceedings against Mr Armstrong in five business days [Monday, October 29]."
The Sunday Times is on Armstrong's case, too, to recoup the reported £1m it paid in an out-of-court settlement. Armstrong sued the newspaper when for publishing extracts from LA confidential, written by David Walsh and Pierre Ballester.
Armstrong has yet to admit to any wrongdoing, saying at a Livestrong fundraising dinner last weekend that he'd had a 'difficult week', but things could get much tougher. His former manager Johan Bruyneel has chosen to fight the USADA charges in a public arbitration hearing in which Armstrong could be called as a witness to testify under oath.
Armstrong's costs could continue to mount up. The Wall Street Journal reported in 2010 that Landis used the False Claims Act, which allows citizens to file a lawsuit on behalf of the government. In this case he would have pointed out that Armstrong and Tailwind Sports defrauded the US Postal Service by agreeing to sponsorship contracts that stated doping would not be tolerated.
The case would recuperate the money for the US government and deliver a penalty up to three-times the amount. According to ESPN, US Postal Service gave $31.9m to the team from 2001 to 2004, which could see Armstrong and Tailwind paying up to $90m. According to the False Claims Act, Landis would be entitled to 15 to 30 per cent of the pie.
What will be Armstrong's next move? "I don't know, it's up to him to decide, not me," McQuaid explained. "It is a fair question, but I don't want to give the answer because then I'm putting words in his mouth. ... He knows the situation he is in, he knows the situation he put our sport in, it's up to him to make any decisions he thinks that are relevant."
Thank you for reading 20 articles this month* Join now for unlimited access
Enjoy your first month for just £1 / $1 / €1
*Read 5 free articles per month without a subscription
Join now for unlimited access
Try first month for just £1 / $1 / €1