Back to school - Ryan Owens on training for the Olympics while studying for a masters in business
The 27-year-old plans on returning to the track after completing an MBA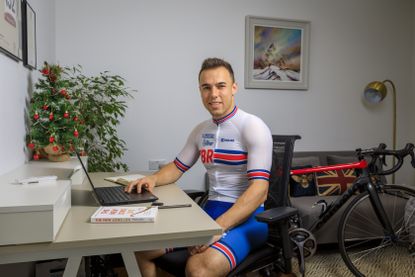 (Image credit: Andrew Sydenham)
Get The Leadout Newsletter
The latest race content, interviews, features, reviews and expert buying guides, direct to your inbox!
Thank you for signing up to The Pick. You will receive a verification email shortly.
There was a problem. Please refresh the page and try again.
This feature originally appeared in Cycling Weekly magazine on 5 January 2023. Subscribe now(opens in new tab) and never miss an issue.
If you see a student with quads like Arnold Schwarzenegger tearing round Hyde Park on a Brompton, don't feel bad if you can't follow him – he's got an Olympic track cycling medal and besides, he's probably in a rush for his next exam. After all, the sooner he completes his degree, the sooner he can go for more international silverware.
Ryan Owens has put his sporting career on hold to do a Master of Business Administration (MBA) qualification at London Business School (LBS). Owens was man one in the team sprint at Tokyo 2020, leading off Great Britain's silver medal-winning effort with Jack Carlin and Jason Kenny in his wake. "It was everything I ever hoped it would be as an athlete," he says. Little over a year later, he joins our video call from a classroom with a whiteboard filled with numbers behind him. Owens is making time for this interview in between studying for an exam in microeconomics.
The unorthodox move has been a couple of years in the making. After the Olympics were postponed in March 2020 due to Covid, Owens talked over his future options with the performance lifestyle team at British Cycling. "I didn't want to be in a position where I retire and am sat around thinking, 'What do I want to apply myself to now?' As an athlete, your entire identity is all wrapped up in what you do," he says. "Everyone knew me as a cyclist and if you lost that and didn't have a plan in place to fill that void, you could find yourself in a tricky position."
Of course, an Olympic medal is not a free ticket onto a master's course. With no undergraduate degree – Owens pulled out of one to pursue his cycling dreams – the Bedfordshire native studied and took entrance exams during the build-up to Tokyo 2020. "In a weird way, it provided a bit of balance, taking my mind off a very intense 18-month build-up," he says.
Having started the course in August 2022, Owens will learn a vast range of business topics, hoping to go into the consulting industry with his acumen. "It's going from being incredibly specific on a very simple task – doing one lap as fast as I could – to, after I do retire from cycling, going as wide as possible and seeing what else is out there in the world," he says.
As a dry run for the expected effects, he took a break ahead of this summer's Commonwealth Games. While a shoulder injury affected his build-up, a silver medal there for England gave him confidence that by re-hitting the right numbers in the gym and power on the bike he could still compete at the highest level.
Though Owens is still part of the GB Cycling Team, he won't compete during his study as he aims to complete his course within 15 months, the earliest possible end date. "There are going to be clashes and stresses and, as a team sprint specialist, I'm not able to spend the time gelling with the team," Owens says.
However, the pause may lengthen his career. "My body was starting to break down a bit in the year before Tokyo. So taking a step back, I can do a lot of rehab and strengthening up in the gym to make sure I don't repeat my injuries," he says.
On top of his time-efficient training, getting around the capital on his electric Brompton gives him some impromptu efforts. "It's the best thing ever, you pull off ahead of all the cars. To be honest, I end up racing everywhere. The electric motor gets me up to 25kpm and then I try to press it on from there," he says. "Someone will overtake me on a £15,000 bike, I'll hop on the slipstream and try to chase them down through the park. I've been on the opposite end of that, so it's time to get my payback."
Alongside his body, Owens is keeping his head in good nick too. He has continued with the online men's mental health community that he created at the onset of the pandemic with former coach Lee Povey. "Everyone in the group is going through something different, but there's an overlap for everything. It helped me through the Olympics, applications for business school, some pretty intense interviews and tests, which brought up new nerves and things I wasn't used to," he says.
"I logged in once from Tokyo," he adds. "They were all watching and cheered me on. Some of the guys there were some of the first people I called after my family and my partner [following the silver medal]."
On the track, there's a stalwart missing from the medal-winning Olympic sprint trio, as his garlanded team-mate Jason Kenny became the team coach in February 2022. "He's taken to it really well," Owens says. "With the last couple of coaches we've had, it's a very collaborative approach. As riders, you know to an extent what works for you, but he has the confidence and the drive to push you out of your comfort zone. The days of someone barking orders and telling you to push through the pain are gone. Jason fits the mould of a modern coach really well on that front."
At 27, Owens now finds himself as the team's elder statesman, with a fight on his hands to make the line-up when he returns from academia. He was watching from back home as Ali Fielding, Jack Carlin and Hamish Turnbull rode to 42.747 in qualifying at the Worlds on the way to the bronze medal. "Ali did a fantastic job at the World Championships. They didn't miss me there," Owens says of his man one rival, with a smile.
Looking ahead to the 2024 Olympics, Owens believes the ingredients are there for Great Britain to challenge world champions Netherlands and runners-up Australia: "There's a gap, but we're kind of used to having that target in the distance over the last few years. You're always in search of new ways to get quicker and you never rest on your laurels."
While he will be racing through books rather than the global cycling opposition this year, standing on the podium in Paris with a medal round his neck and an MBA on his resumé would be quite an achievement.
"I'm going to do my best to make the plan work. There's not been a roadmap to follow or many people who take this route," Owens says. "I don't set myself easy targets, but at the moment I'm really enjoying it. I thought I would be really stressed about trying to balance cycling with it. But the longer I've gone on in my career, the more having things to balance has actually benefited each thing, rather than disregarding everything else in your life for one thing. To be sustainable and increase your longevity, I think that balance is the most vital thing."
Thank you for reading 20 articles this month* Join now for unlimited access
Enjoy your first month for just £1 / $1 / €1
*Read 5 free articles per month without a subscription
Join now for unlimited access
Try first month for just £1 / $1 / €1
Get The Leadout Newsletter
The latest race content, interviews, features, reviews and expert buying guides, direct to your inbox!
Having worked at both Cycling Weekly and Cycle Sport early in his career Andy went on to become the editor of Rouleur. He is the author of God is Dead: The Rise and fall of Frank Vandenbroucke, and Tom Simpson: Bird on the Wire, which won the William Hill Sports Book of the Year Award 2017.