Barclays bikes to be available to all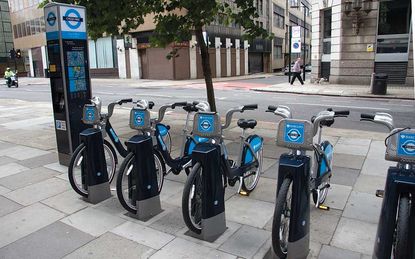 From Friday December 3, London's Boris bikes will be available for everyone to ride. The scheme, that has until now required pre-registration, will be open to anyone with a Visa or Mastercard credit or debit card.
The new casual users will be able to purchase either a 24 hour (£1) or seven day (£5) access period, of which the first 30 minutes is free.
The cost is the same for casual users as it is for registered members, and although it will take a little longer to release a bike with a card - about two to three minutes - than it does with a key, it does open up the bikes to tourists and visitors to London.
Mayor of London Boris Johnson said: "It is fantastic that the Barclays Cycle Hire scheme has not only proved incredibly popular but the system has shown itself to be rigorous and robust. Now it has been thoroughly tried and tested by more than a hundred thousand members we are ready for the next stage where anyone who fancies taking to two wheels can do so in an instant with a simple swipe of their card."
More than 100,00 people have already joined the scheme, and over 1.7 million journeys have been made on the bikes. According to a Transport for London spokesperson, the initial problems that saw hundreds of people over charged have all been ironed out.
Related links
Barclays bikes put to the test
London Cycle Hire to extend to the east for 21012
London Cycle Hire should inlcude helmets says charity
Cycle Hire users get refund after technical glitch
Mayor Boris launches London Cycle Hire Scheme
Barclays to sponsor London Cycle Hire
Subscribe to Cycling Weekly: The perfect Christmas gift
Thank you for reading 20 articles this month* Join now for unlimited access
Enjoy your first month for just £1 / $1 / €1
*Read 5 free articles per month without a subscription
Join now for unlimited access
Try first month for just £1 / $1 / €1