Bellis: Back to racing in 2011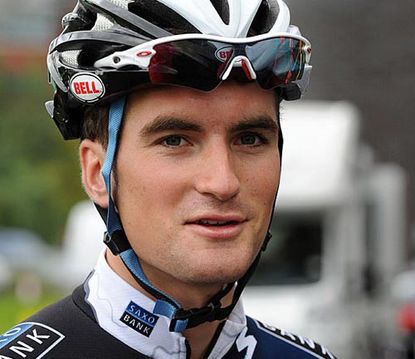 Jonny Bellis's road to recovery continues apace as the Manxman eases back into the professional peloton after last year's near-fatal scooter accident.
"My goal is simply to allow my body to get used to the pressure during the races," said Bellis when asked of his goas for the 2011 season.
"In time, I hope to get back to the level I was before and then to get even better."
Bellis was involved in a scooter accident near his home in Quarrata, Italy on September 19 2009. Placed into a coma in the Florence Careggi hospital, he then contracted peritonitis when a feeding tube was fitted incorrectly. As a result of the infection, his weight plummeted to 46kg causing extensive muscle loss and leaving him unable to walk unaided.
Family, friends, staff from British Cycling and the Saxo Bank team, including team boss Bjarne Riis, visited and supported Bellis throughout his ordeal.
Bellis had recovered and recouperated sufficiently by June to take part in the Isle of Man road race, the British national road race championships and start the Tour of Britain in September.
"I see life differently now," said Bellis via his Saxo Bank-SunGard team. "Minor, everyday problems don't get too big. Compared to what I've been through this past year, I'm just happy to be alive.
"I actually did a stage in Tour of Britain this autumn which was a victory for me. To feel the butterflies in my stomach the night and the morning before the race and to put the race numbers on my back was an excellent experience."
The 22-year-old has just completed Saxo Bank-SunGard's off-season team-building camp on Fuerteventura where he met new team-mates as well as reaquainting himself with old ones.
"It was great being away with the entire team. I have never tried windsurfing before so that was a bit of a challenge... it was great fun and not least a very good way of getting to know one another. It forced us to break the shells and just let go."
Related links
June 2010: Bellis makes racing return
Bellis set to return to Britain after accident
Bellis out of coma
Bellis in critical condition after scooter accident
Jonny Bellis: Rider Profile
Subscribe to Cycling Weekly: The perfect Christmas gift>> (opens in new tab)
Thank you for reading 5 articles this month* Join now for unlimited access
Enjoy your first month for just £1 / $1 / €1
*Read 5 free articles per month without a subscription
Join now for unlimited access
Try first month for just £1 / $1 / €1