Big Interview: Dan Martin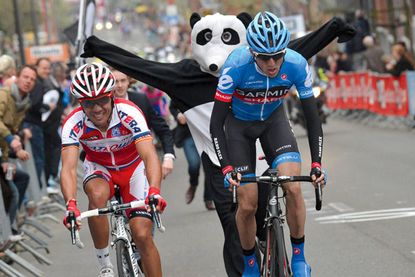 Garmin-Sharp pro Dan Martin will disarm you on a number of fronts. He's not the man you think he is. He's an Irish-licensed rider with no trace of an Irish accent.



He's a young man who'll admit he's now earning decent money yet he still doesn't like seeing his team ripped off in hotels. He's a man with plans, and he's a rider who doesn't see his 2013 season as being particularly special.
In the year he won the queen stage and overall classification of the Volta Catalunya, took fourth in the Flèche Wallonne, won Liège-Bastogne-Liège and then, in July, won a classic Pyrenean stage of the Tour de France, Martin still isn't ready to bask in glory.
True, a crash in the Vuelta blunted his end-of-season plans, but a fighting fourth in the Tour of Lombardy and second overall in the Tour of Beijing isn't a bad haul for the 27 year old. And he finished the season ranked sixth in the world. Nothing special, you say?
Looking ahead
We sat down with a relaxed and reflective Martin over coffee and cakes to ask him to explain.
"At what point in the year did I think I was on for a good one? You know, I don't think of it like that," says Martin, sampling the first chunk of assorted millionaire shortbreads.
"I don't think of this year [2013] in those terms. Obviously, it's been a good year, but I always take it race by race - always - because you can't rest on your laurels. It's always about the next race, the next race and the next race; I completely forget about the past, I don't look at it as a whole year, although it's been a good one. The thing is, I haven't changed, and nothing I've done in terms of training has changed.
"At the end of the day, results are just notes on paper, and although my results and status have changed, I still did the same as last year. I'm just a year... stronger. Just a little bit."
Talking to Martin, who often veers from one train of thought to another within a sentence, it was as though he hasn't quite come to terms with his 2013 results or has had enough time to reflect on them. The night before, he'd been up until 3am as a guest of honour at the Braveheart Fund dinner.
Obviously, he'll be faced with questions and praise for his season, but it's as though he hasn't quite worked out how it happened and, in any case, he's not too bothered. Such is his nature.
Remember, this is a rider whose guiding principle is 'It's only a bike race' and, riding with that philosophy, his freewheeling attitude makes sense. It also suggests he won't be riding for Team Sky any time soon.
Quizzed further about his shift from being 'there or thereabouts' (a regular top-10 finisher in races that suit his physiology and style) to actually winning big; Martin finally settled on a theory that a gritty 2012 Tour de France performance and a 'proper' winter were key elements - the foundations for his success in 2013.
"I think I started to feel, last winter, that I had come on a level and I think getting through the [2012] Tour de France after crashing hard in the Dauphiné, getting through the Tour in quite poor condition really, it changed my psychology more than anything.
It made me realise that, even with a very average Tour, when my preparation and run-up to it was horrible, where my condition was nowhere as good as what it could have been, it kind of made me sit up and think 'Maybe I could be really good at this'.
"In hindsight, I wasn't that professional last year, but in the run-up to this season, I was 100 per cent serious. I don't know what changed my attitude, but I said to myself: 'OK, let's just do one year, let's just do it all-out for a few months and see what happens.'"
It's frightening to think that in the first four years of his more-than-decent pro career, Martin has lacked the right attitude; that in some areas he's been coasting, slacking, even.
"It wasn't like I did a proper winter for the first time. I just did what I always did. It was just that on the bike, I dunno, I had more power. I had endurance that I never had before. It was... weird, like I felt strong all the time. I felt there was more physical consistency and it stayed with me all year."
Stage nine, Tour 2013: Martin makes the winning move...
Levelling out
Martin has never shied away from doping issues, though he has no desire to be a spokesman for a generation either. It's perhaps no coincidence that his rise up the rankings runs in tandem with a levelling out of performance across the board.
"I think you'll see more consistency from a lot of riders, if you look at it. The way that cycling has moved on in recent seasons, with less doping, means that riders' form isn't fluctuating wildly through the season. It's more like you see the same guys at more or less the same level; their form is maybe five per cent better or worse from race to race.
"You don't see so much of guys coming dead last in one stage race and then, four months later, they win big. Obviously, you can still use races for training, where you are not trying 100 per cent or you sit up or take a stage off if you're not riding for GC, but physically I'd say there was a lot more consistency across the board."
As an illustration of Martin's point, you could cast your mind back to the Tour of Oman in February 2013, where, in this anodyne, early season 'training race', the key stage saw a sort-out between Chris Froome, Joaquim Rodriguez, Alberto Contador and Vincenzo Nibali.
The podium featured Froome, Contador and Cadel Evans, with Rodriguez fourth. Other stage-winners included Marcel Kittel and Peter Sagan. A month later, Nibali won Tirreno-Adriatico, Martin won in Catalunya, Nairo Quintana won in the Pays Basque and Martin's point looks well made - these are riders who were consistently in the results.
... before outsprinting Jakob Fuglsang in Bagneres de Bigorre
In the end, there shouldn't be much mystery attached to a healthy rider moving through the pro ranks.
Whether he's capable of winning races or just doing the job required of him, the more he rides and the more he races the big events, the stronger he gets.
"I think my worst result in a WorldTour race this year was eighth overall in the Tour of Switzerland, where I was meant to be working for Ryder [Hesjedal] but he crashed out. I think my form or strength is partly down to year-on-year fitness and the fact that I've got 30,000 more kilometres in my legs than I did the year before, and every year you race, you get another 30,000 kilometres under your belt.
"In fact, that's one of the reasons that I raced so long into the year, to the end of the season. This year, I've done 13,500 kilometres of racing, about 80 days in total and 65 of those days were WorldTour races and I'm sure there's a benefit from riding those high-level races."
So is that the secret?
"I think what I do that's different from a lot of guys is that I have a lot of time off the bike in the winter - around five weeks - and this gives my body a chance to rebuild, to recover, and when I get back on my bike, I don't seem to have lost too much.
"It's like you reset and start fresh again, but I also think there's a benefit from me having a shorter off-season. So I race till the end of the season and start fairly early, but I have proper time off in-between, to really relax, let my body rebuild and when I get back on the bike I still feel pretty good."
It's understanding what works best for him that takes any bike rider time to work out, and Martin certainly reaped the rewards in 2013. But there's a psychological element to training too; the body may be able, but the mind isn't always willing.
Riding at the front of WorldTour races takes a certain psychological toll, because a WorldTour peloton comprising of fit, focused and determined riders isn't a stress-free environment.
"Psychologically, the fact that I really like racing, I like to race, helps. And one of the things that makes Garmin-Sharp special is also one of the things that kept me going all the way through to Beijing and the Japan Cup in mid-October - it was the guys on the team that kept me going.
"I knew that all of my good friends on the team were going to Beijing and Japan, and, at times, it felt like we were just hanging out and having a good time; plus it was the last chance I'd get to see them before they went back to Australia for the winter, and we had so much fun.
"But it's still a race, even if we were hanging around the back of the bunch a lot. One day, where I had to get my ass in gear, up the mountain, I did it for them, you know, because they had so much belief in me. Everybody in the team was tired and nobody had much fitness, but they all gave it everything they had, all week, and although there was no pressure from them, I felt, personally, that I had to do something, to give something back."
Moving on up
Martin's rise up the ranks, commanding his platoon within Garmin's band of brothers, is something that he's got used to since winning the 2010 Tour of Poland. He went to Beijing as one of the favourites, too.
"I've had to deal with it for a couple of years now, like in Poland when I went there as a 23-year-old and everyone telling me I was going to win. I was like, 'Hmm, really?' All I can do is my best, and as long as I do that and my team-mates realise that's the way I ride, that's OK.
"I can't just sit up and let a move go, I can't, it's not in my nature. I have to get it all out, empty myself - and that's what Beijing was about. With five kilometres to go on that mountain stage, I was sitting there thinking, 'You know what, my legs are really starting to hurt now and I could really do with just sitting up!' But you have that dialogue with yourself, saying 'Come on, no, let's just do this; it's just one more race, this is it,' and as long as everyone else on the team knows that, then it's OK.
"I think I've developed a reputation in the team so that when I say: 'Guys I'm feeling pretty good today, can you help me out?' Then they know I'll perform. In the past there were times when I would feel guilty about making other guys lose their opportunity to ride and maybe do something, but I've been honest with the team and I think I'm getting the benefit of that now."
Martin's results and consistency means that there are other fringe benefits. He has more allies in the bunch; he's given more respect and space to ride.
"I think I've got a good relationship with guys like Joaquim Rodriguez and Alejandro Valverde; they're happy to sit behind me now, they know I'm not going to let the wheel go on the descent or wherever. They're not going to try to shove me out of the way. It was like in the Worlds road race, [Vincenzo] Nibali came past me, then he put on the brakes and came back to me, asking how I was after my crash in the Vuelta.
"It's little things like that that make you realise that you have moved up in the hierarchy in the peloton. It's hard to break into it, but it has its benefits when you are looking for a wheel or a gap," notes Martin. "It's a bit sad, I suppose, but it's true that as a young rider you can't just barge in; you still have to earn that, I dunno, respect from your peers."
The Tour of Beijing turned out to be good for Martin, even if he had to cede the win to the talented [Giro-stage-winning] Beñat Intxausti in the overall classification, finally finishing at 10 seconds from the Movistar rider. Martin and his panda-clad fans made a bit of a splash on the road to Mentougou Mianofeng mountain.
Even in buttoned-down China, the organisers saw the benefit of a synergy between their race, Dan Martin, and China's sacred animal and national icon, the giant panda.
Martin may have joined the ranks of big hitters, but he's still up for a bit of a laugh. During a routine pre-race press call in Beijing, he was introduced to the media on stage and asked what his plans for the race were.
"Rather than say what a great race it was, how it was going to be tough, but I was going to try hard, when I was asked what my hopes and ambitions for the race were, it just came into my head to say, totally seriously, that 'I want to meet a Panda'."
And it all went a bit crazy after that, the Chinese loved it - all the way to 'Panda corner' and the first-ever appearance of a bike rider on the number-one TV chat show in China. A gleeful combination of panda costumes, a bit of a giggle, playing up to the crowd and a gutsy effort on the climb for his mates - that sums up Martin's 2013 quite well. How will he top that?
Given that we spoke to Martin before the first Garmin-Sharp winter get-together, he did not yet have any fixed ideas about what he would be racing in 2014. The Giro, starting in Belfast lingering in the Emerald Isle for three days, is a near-certainty; beyond that, who knows? But we sure as hell haven't seen the last of Dan and the Panda Clan.
This article was first published in the December 5 issue of Cycling Weekly. Read Cycling Weekly magazine on the day of release where ever you are in the world International digital edition, UK digital edition. And if you like us, rate us!
Thank you for reading 20 articles this month* Join now for unlimited access
Enjoy your first month for just £1 / $1 / €1
*Read 5 free articles per month without a subscription
Join now for unlimited access
Try first month for just £1 / $1 / €1