Book extract: The Race Against Time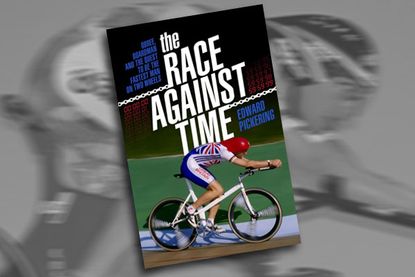 Obree, Boardman and the quest to be the fastest man on two wheels
Prologue
The Clash of Champions
Newtownards, Northern Ireland, Sunday, 22 April 1990
A nagging wind whips across Strangford Lough, a narrow finger of the Irish Sea which reaches inland behind the Ards Peninsula east of Belfast. The cold air is making the competitors of the Lee Ards Super 25 time trial shiver as they line up one by one to set off, a chilly minute's wait separating each one.
Ahead of them: a 12.5-mile ride down the A20, a winding road which hugs the shore of the lough, the grey tarmac separated only in places from the colourless waters lapping at the verge by a foot-high wall. A dead turn in the road at Kircubbin, then retrace route back to Newtownards. The course record for the 25 miles, set by British time-trialling legend Dave Lloyd five years previously, is well under the hour mark at 54.17, but most of the riders today aren't in Lloyd's class.
A handful of decent racers and local amateurs are recording times of around an hour for the 25 miles - a good time in the blustery conditions, but no different from the hundreds of riders taking part in dozens of similar events the length of the United Kingdom.
However, there is a reason this race has been billed by the organizers as the 'Clash of Champions'. The field is mainly pack fodder - it comprises sixty-eight middle-markers, hobbyists, weekend warriors and also-rans - but also includes the British 25-mile champion Chris Boardman and the Scottish 25-mile champion Graeme Obree, the two best time triallists in Britain (a quirk of geographical bureaucracy means that though Boardman holds the 'British' title, in real terms it's actually the English and Welsh title). Today is the first time trial head-to-head between the two riders.
A clash of champions.
Obree is the sixtieth rider to take to the start line. He's a freak. You can't help but stare at the weird position he's adopted on the bike: he's turned the handlebars up, like a 1970s schoolkid, and he lies flat on them, his arms tucked in beside his body. When he races, his mouth gapes open, gulping in air like a whale eating plankton. He rolls a large gear slowly, in contra diction of coaching wisdom handed down over the generations, which advises turning a higher gear at a faster cadence. It almost looks like he doesn't really know how to ride a bike. You'd laugh, except for one thing - he's fast.
Ten minutes after Obree, Boardman's off. He's a freak, too. The twenty-one-year-old already has five years of international racing experience, but the fragmented rivalry between the competing disciplines of road racing and time trialling means that he's respected but not universally popular. To the time-trialling fraternity, he is a once-in-a-generation talent; to road racers, he is a time triallist who occasionally wins road races through brute force and ignorance.
Boardman's position on the bike is also unusual; he's an early adopter of the triathlon handlebars introduced into mainstream cycling culture by Greg LeMond in the Tour de France just nine months previously. Boardman is fast, too. The general consensus is that it's only a matter of time before he achieves time trialling's holy grail - beating the British record for 25 miles, which stands at 49.24, set twelve years previously by Alf Engers.
Just 100 yards into the race, Boardman stops and is off his bike. His starting effort, an aggressive sprint up to race speed, is so strong that his rear wheel has been pulled off-centre. It takes him a good half a minute to locate the problem, loosen the nuts either side of the wheel, centre it, tighten the nuts again, get back on and restart his race. Normally this would not be a problem - after all, Boardman had won the national title by over a minute the previous June. There's plenty of time to take the 30 seconds back.
At Kircubbin, where a few dozen metres of dark pebbly shingle form what passes for a beach on the edge of the lough, Boardman reaches the turn 16 seconds down on his Scottish rival. There are a dozen miles left and he needs to ride each one a fraction over a second faster than Obree.
A neutral watching the race would probably have predicted a win for the Englishman. Boardman looks the part: his geared Cougar bike is sleek and aerodynamic-looking, with a rear disc wheel; he wears an aero helmet with a tinted visor, and on his wrist there's a large digital watch (Boardman's been experimenting with new-fangled scientific training methods involving pulse measurement). He's not right at the cutting edge, however - he's still using old-fashioned toe clips and straps on his pedals. He might be using 1990s training methods, but he's still got one foot - or two, actually - in the 1980s.
Obree, on the other hand, looks like a bloke who has turned up on the off chance to give time trialling a go. His concessions to aero clothing are a cycling cap stretched over an old-style leather-banded crash hat and a pair of sports socks worn over his shoes. His bike, built from a Jim Docherty frame, has a single fixed gear, and that tucked position on the upturned handlebars looks ungainly and awkward.
But Obree, incredibly, is matching Boardman's speed back north towards the finish in Newtownards. When the Scot thunders through the finish line, he stops the clock at 53.41 - a time 36 seconds better than Dave Lloyd's old course record. Ten minutes and 17 seconds later, Boardman crosses the line. He's actually lost a second since Kircubbin.
It's Boardman's first significant defeat in a time trial for over a year. For two seasons he has had his boot on the throat of domestic competition, taking his first national title - the hill climb - at the end of 1988, then three more the following year: the track pursuit, 25-mile and hill climb. Nobody has been close to him, until today.
One could not exist without the other.
This rivalry pitted the establishment man Boardman against the outsider Obree. Boardman was born into the sport. The son of a champion time triallist father and keen cycle-touring mother, he took up cycling at thirteen, and within three years was representing the national men's team on the track. He grew up with an extended surrogate family of clubmates and international cyclists, the golden boy of British track racing, time trialling and, later, road racing. Obree, on the other hand, discovered that cycling was an excellent method of escaping as fast as possible from a brutal and unhappy childhood in Ayrshire.
He spent his life on the periphery. For a start, he'd chosen a different sport from his peers, and even within Scottish cycling, which itself was out on a limb, Ayrshire was outside the mainstream. He was never one of us, always one of them. Boardman versus Obree was not quite Toff versus Tough, but Boardman's middle-class background was certainly more comfortable than the rough matrix of small-town workingclass Ayrshire.
This rivalry was the team player against the individualist. Boardman surrounded himself with a tight-knit circle of confidants, and spent almost his entire racing career working with the same physiologist, Peter Keen, an avant-garde thinker whose experimental approach to new training methods had the perfect guinea pig in the analytical, empirical Boardman.
Boardman's support team was so integral to his success that when talking about his achievements he invariably uses the personal pronoun 'we' rather than 'I'. We won the world champion ship. We took the hour record. Obree was a loner, albeit one capable of being very sociable. He trained alone, built his own bikes alone, and bounced between different advisers, teams, agents and managers without hanging on to any of them for very long. The cliché is that cycling is a team sport for individuals.
For Obree, it was an individual sport for individuals. This rivalry was a collision of contrasting characters. Boardman is a calm, unflappable, stoic, laconic, unemotional man who seems to go through life experiencing neither dizzying highs nor terrifying lows. He describes disappointments and triumphs in broadly similar and unexpressive terms. For most people, sport is a gladiatorial arena of ecstasy or despair, but Boardman would pronounce himself no more than
'satisfied' to have been crowned world champion, or to have taken the yellow jersey in the Tour de France.
Obree is excitable, engaging, amusing, prone to mood swings and depression, with a mind that seems to be in a permanent state of superficial activity. While Boardman stuck to a careful, controlled and balanced path down the middle of the road, Obree swung wildly across both lanes. He was capable of enjoying the great triumphs of sporting success, but just as capable of pitching into a bleak, dark, incomprehensible slough of despondency.
'The Race Against Time' by Edward Pickering is available now from all good booksellers
Published in hardback by Bantam Press, priced £16.99

ISBN: 9780593070260
Thank you for reading 20 articles this month* Join now for unlimited access
Enjoy your first month for just £1 / $1 / €1
*Read 5 free articles per month without a subscription
Join now for unlimited access
Try first month for just £1 / $1 / €1