Breschel to refocus on Classics after surgery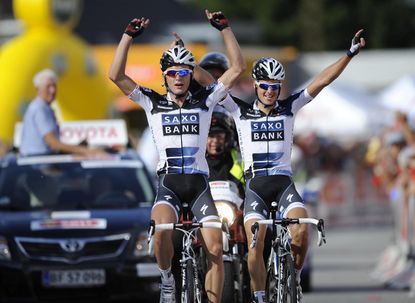 Dane Matti Breschel plans to recover in time from knee surgery to race the spring classics. The surgery on Tuesday in Denmark went better than Breschel feared and expected.
The doctors "were pleasantly surprised," Breschel told Denmark's DR newspaper. "They could see there was a lot of goop in there that should be removed, but he [the doctor] doubted that it would take me more than six weeks [to recover]. And, as I am athlete, I hope it heals a little faster and that I will soon be back again."
Specialist Eilif Larsen operated on Breschel's right knee. The problem stemmed from April's Paris-Roubaix race in France, where Breschel was unable to support team-mate Fabian Cancellara to his eventual win. Breschel had helped Cancellara win the Tour of Flanders a week before, but at the Scheldeprijs mid-week he began to feel pain.
Breschel dealt with the pain most of the year. The initial diagnosis was tendonitis, an inflammation of the tendons around the knees. But an MRI scan showed that Breschel's injury had worsened, with scar tissue growth outside of the tendon.
Larsen removed some of the liquid around the tendon and a piece of bone. Instead of the initial break of up to 12 weeks, Breschel should only be off his bike for four to six weeks.
"It was damn good news, and I'm glad it's over now," Breschel said. "If we're talking four to six weeks, there is time enough."
Breschel's goal is to win the Tour of Flanders on April 3 with his new team Rabobank. Breschel signed an annual contract reportedly worth €540,000 with Dutch team in August.
Belgian classics star and team Quick Step rider, Tom Boonen is improving daily from his knee surgery. The surgery in July forced him to miss the Tour de France and the World Championships.
"It's going very well now," Boonen told Belgium's Sporza TV. "When I ride it does not bother me. In everyday life it hurts now and then, but people have that after surgery."
He took a two-week holiday earlier than normal and has already begun his pre-season training. He aims to be back on top next year to add to his three Paris-Roubaix wins, two Tour of Flanders wins and one World Championship title.
Related links
Breschel's Classics campaign over due to knee surgery
April 2010: Breschel quits Paris-Roubaix with serious knee problem
Thank you for reading 20 articles this month* Join now for unlimited access
Enjoy your first month for just £1 / $1 / €1
*Read 5 free articles per month without a subscription
Join now for unlimited access
Try first month for just £1 / $1 / €1