Brian Cookson brands McQuaid's UCI election procedure change a 'sign of desperation'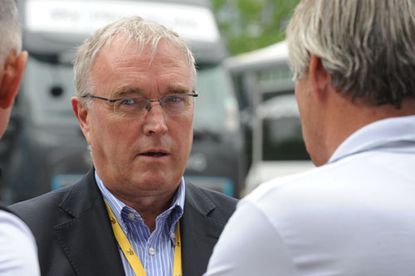 Union Cycliste Internationale (UCI) presidential candidate Brian Cookson has reacted to a proposed amendment to the nomination process announced yesterday, branding it "a clear sign of desperation from the incumbent president, Pat McQuaid".
The UCI issues a press release on Monday evening outlining a proposal received from the Malaysian Federation and supported by the Asian Cycling Confederation (ACC) to make a permanent change to the way in which candidates can be nominated for the position.
The rule change would pave the way for McQuaid to be nominated by the Malaysian Federation and ACC rather than a 'home' federation. McQuaid's original nomination by the Irish cycling federation was declared void, and the current nomination by the Swiss Federation is currently being disputed in court. It would be his final chance to receive a clear nomination.
Cookson was nominated for the post by British Cycling, for which he is currently president.
"The efforts to change the nomination and electoral process announced last night on behalf of the UCI Director General are a clear sign of desperation from the incumbent President, Pat McQuaid," said Cookson.
"This latest twist appears to be nothing more than a fraught attempt to undemocratically and unconstitutionally impact on the process while it is underway.
"It is no wonder that many in the cycling family as well as fans and sponsors have lost faith in the UCI to govern ethically when the man at the top of the organisation is prepared to embarrass an entire sport in an attempt to try and cling onto power."
If the proposal is passed by the UCI Congress, the changes would allow new candidates to be nominated up to August 30. Previously the nominations had closed on June 30 - with just McQuaid and Cookson nominated.
"What sort of organisation attempts to rewrite the rules once an election has actually begun - it smacks of attempted dictatorship," said Cookson.
Cookson has written to the UCI's Director General to object to the proposed change in the nomination process.
The presidential election will take place in Florence, Italy, on September 27.
Thank you for reading 5 articles this month* Join now for unlimited access
Enjoy your first month for just £1 / $1 / €1
*Read 5 free articles per month without a subscription
Join now for unlimited access
Try first month for just £1 / $1 / €1