Briggs' Colchester win not enough to stop Endura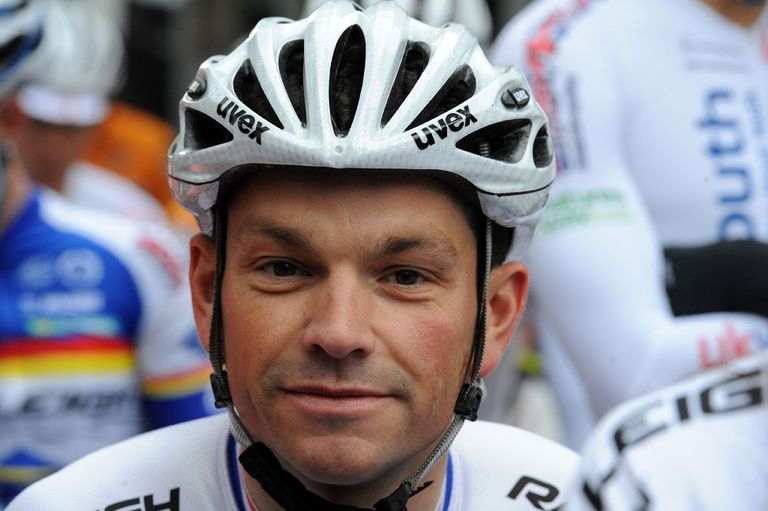 National Circuit Race Champion Graham Briggs (Raleigh-GAC) won the ninth round of the Halfords Tour Series in Colchester, sprinting to the line ahead of Niklas Gustavsson (UK Youth) and Marcel Six (Metaltek-Scott).
Despite only having one rider in the six-strong lead group at the finish, Ian Bibby, Endura Racing claimed the all-important team competition on the night to extend their lead in the overall series.
UK Youth, second on the night, were the other big winners. Nigel Mansell's team leapfrogged Raleigh-GAC to move to third in the series behind Rapha-Condor-Sharp in second.
The round stuttered into life as the rain soaked streets of Colchester dried out. A large crash in the opening laps split the field and caused the race to be neutralised and re-started once the bunch had come back together.
Will Bjergfelt (UK Youth), Tom Murray and Wouter Sybrandy (IG-Sigma) were the only riders not to continue in the race, although none are understood to be badly injured.
With 45 minutes left to race, it was Ian Bibby's attack which was able to draw out five more riders and stay away to contest the win.
Earlier in the evening, Eileen Roe (Team Ibis Cycles) won the third round of the Johnson Health Tech GP Series ahead of Ruth Winder (Vanderkitten) and Alice Barnes (Twenty3c-Orbea).
Matrix Fitness-Prendas rider Annie Simpson finished sixth on the night to maintain her overall lead in the standings.
Results

Team result, Halfords Tour Series 2012, round nine: Colchester

1. Endura Racing
2. Team UK Youth
3. Rapha Condor Sharp
4. Team Raleigh - GAC
5. Node4 - Giordana Racing
6. Metaltek Scott
7. Cycle Premier - Kovert
8. Herbalife LeisureLakesBikes
9. Team Hope Factory Racing
10. Team IG Sigma Sport
Individual result

1. Graham Briggs, Team Raleigh - GAC
2. Niklas Gustavsson, Team UK Youth
3. Marcel Six, Metaltek Scott
4. Andy Tennant, Rapha Condor Sharp
5. Matt Cronshaw, Node4 - Giordana Racing
6. Ian Bibby, Endura Racing
7. Scott Thwaites, Endura Racing
8. Chris Opie, Team UK Youth
9. Johnny McEvoy, Endura Racing
10. Ed Clancy, Rapha Condor Sharp
Overall team standings after round nine

1. Endura Racing, 84pts
2. Rapha Condor Sharp, 70pts
3. Team UK Youth, 68pts
4. Team Raleigh - GAC, 67pts
5. Node4 - Giordana Racing, 65pts
6. Cycle Premier - Kovert, 41pts
7. Team IG Sigma Sport, 33pts
8. Metaltek Scott, 28pts
9. Herbalife LeisureLakesBikes, 21pts
10. Team Hope Factory Racing, 17pts
Boardman Bikes Sprints winner

Bernard Sulzberger (Team Raleigh - GAC)
Boardman Bikes Sprints standings after round nine

1. Bernard Sulzberger, Team Raleigh - GAC, 85pts
2. Marcel Six, Metaltek Scott, 55pts
3. Kristian House, Rapha Condor Sharp, 38pts
4. Dean Windsor, Endura Racing, 25pts
5. Graham Briggs, Team Raleigh - GAC, 19pts
Individual results, Johnson Health Tech Grand Prix Series, round three: Colchester

1. Eileen Roe, Team Ibis Cycles
2. Ruth Winder, Vanderkitten
3. Alice Barnes, Twenty3c.co.uk - Orbea
4. Laura Massey, Vivelo Bikes / Inverse / Cyclaim RT
5. Corrine Hall, Node4 - Giordana Racing
6. Annie Simpson, Matrix Fitness - Prendas
7. Hannah Walker, Matrix Fitness - Prendas
8. Helen Wyman, Kona Factory Racing
9. Jo Tindley, VC St Raphael
10. Natalie Creswick, Mule Bar Girls
Team Winners: Matrix Fitness - Prendas
Overall individual standings after round three

1. Annie Simpson, Matrix Fitness - Prendas, 54pts
2. Corrine Hall, Node4 - Giordana Racing, 44pts
3. Helen Wyman, Kona Factory Racing, 39pts
4. Hannah Barnes, Team Ibis Cycles, 37pts
5. Harriet Owen, Node4 - Giordana Racing, 32pts
6. Jo Tindley, VC St Raphel, 30pts
7. Laura Massey, Vivelo Bikes / Inverse / Cyclaim, 28pts
8. Lydia Boylan, Look Mum No Hands!, 28pts
9. Louise Mahe, Mule Bar Girls, 27pts
10. Penny Rowson, Matrix Fitness - Prendas, 27pts
Overall team standings after round three

1. Matrix Fitness - Prendas, 108pts
2. Node4 - Giordana Racing, 108pts
3. VC St Raphael, 58pts
4. Mule Bar Girls, 50pts
5. Look Mum No Hands!, 45pts
6. WyndyMilla UK Youth, 6pts
Sprints winner Colchester: Annie Simpson (Matrix Fitness - Prendas)
Sprints standings after round three

1. Annie Simpson, Matrix Fitness - Prendas, 24pts
2. Jo Tindley, VC Raphael, 13pts
3. Hannah Barnes, Team Ibis Cycles, 12pts
4. Harriet Owen, Node4 - Giordana Racing, 8pts
5. Lucy Garner, Node4 - Giordana Racing, 5pts