Britain's bike trade keeps on booming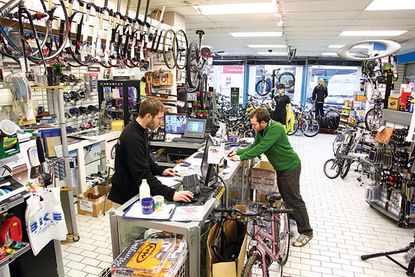 23rd January 2011 Words: Matt Lamy
Latest survey shows cycling popularity is stronger than ever in the United Kingdom.
Earlier this year Project Vélo surveyed people's spending habits when it came to cycling equipment. Now the results are in, and they're very encouraging. The headline figure is that the UK bike trade is currently worth £2.15 billion, but some of the smaller details are just as impressive.
One thing we often hear from cycle trade insiders is that Continental bike buyers know about quality and will spend the equivalent of £400 or £500 on an average new machine. Brits, though, tend to buy super cheap. According to Allegra Strategies, which undertook Project Vélo, that situation is on the turn and the average new bike purchased here last year cost more than £350.
That's good news, as is the report's finding that a staggering four million bikes were sold in the UK in 2010. Reinforcing the idea of a cycling boom, retail sales have grown by more than 15 per cent in the last year.
In addition, the cycle to work programme has helped bring new people into cycling, with more than half of the people who cashed in their vouchers being novices. Meanwhile, the promotion of cycling as a fitness tool has encouraged more women onto saddles.
And even Project Vélo itself marks something of a high point for bikes in this country. More than 18,500 people responded to Allegra Strategies' questions, making it the biggest cycling survey ever conducted in the UK.
Contact: Allegra Project Vélo (opens in new tab)
Thank you for reading 10 articles this month* Join now for unlimited access
Enjoy your first month for just £1 / $1 / €1
*Read 5 free articles per month without a subscription
Join now for unlimited access
Try first month for just £1 / $1 / €1