British junior success continues in Nations Cup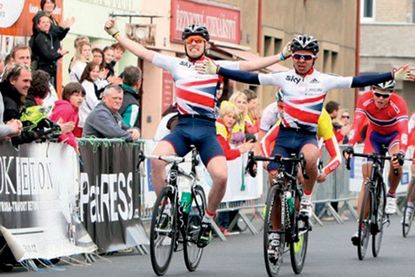 >>>Continued success for ODP boys as Lawless wins stage two of the Trofeo Karlsberg in Germany>>>



Britain's next generation of world-class cyclists are celebrating a remarkably successful early season as they turn their attention to the track in preparation for the Junior World Track Championships in Glasgow between August 7-11.
Tao Geoghegan Hart proved he is a big name rider in more ways than one by backing up his third place in the junior Paris-Roubaix in April with a stage win and the overall at the Tour of Itsria, a three-day stage race in Croatia, and fifth overall at the Junior Peace Race in early May, where Germain Burton took a stage win. Amy Hill also took overall victory at the junior women's Energiewacht Tour at the beginning of April.
Their success is spread across the whole junior squad. Great Britain currently sits second in the junior mens' Nations Cup team rankings behind cycling behemoth France, although there is no Nations Cup for the women. Ironically, the success on the road today is the by-product of a system, the Olympic Development Programme (ODP), which aims to prepare riders for glory on the track tomorrow.
"Everything we do is to develop riders for a track programme," explained ODP head coach Matt Winston. "We won't go trekking around to all sorts of little stage races; we'll ride four Nations Cups to qualify points for the Worlds."
"The aim of ODP is to make us all-round bike riders; it's not just about results," added Geoghegan Hart. "At the end of the day and if Matt [Winston] says the process was good, or if we find there was something we didn't do right, then that's more important than the result. It's a clichéd thing but I really believe that."
The philosophy that permeates the ODP is that there is much more to come. Winston is responsible for tracking and coordinating each rider's training, supported by no more than two other staff during races and training camps. Riders are responsible for their own bike and for looking after their one set of kit, and won't receive massages after sessions on the bike.
"If we turned up and gave them everything and did everything for them, then they wouldn't appreciate the learning and what they need to go through," Winston explained. "We'll help them, but they need to do stuff on their own."
It can be a steep learning curve for youngsters but that rapid development is crucial to the success of some of the ODP's graduates. Most recently Elinor Barker became team pursuit world champion a matter of weeks after leaving the ODP and the junior ranks.
"These are only junior races and it doesn't matter," added Geoghegan Hart, "but in ten years' time if you can use something that you learnt today then that matters."
This article was first published in the May 23 issue of Cycling Weekly. Read Cycling Weekly magazine on the day of release where ever you are in the world International digital edition, UK digital edition. And if you like us, rate us!




Related links:
Lawless continues GB junior success
Training v racing: British and Danish juniors' divergent paths
Thank you for reading 20 articles this month* Join now for unlimited access
Enjoy your first month for just £1 / $1 / €1
*Read 5 free articles per month without a subscription
Join now for unlimited access
Try first month for just £1 / $1 / €1