CAS to make Contador decision before Tour de France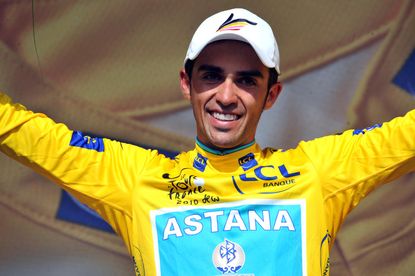 The Court of Arbitration for Sport (CAS) has said that it will come to a verdict on Alberto Contador's clenbuterol case before the Tour de France in July.
In a statement issued on Wednesday, CAS said that it will settle the Union Cycliste Internationale (UCI) and World Anti-Doping Agency's (WADA) appeals against Alberto Contador's acquittal before the end of June.
The two appeals will be consolidated - if both the UCI and WADA agree - and be dealt with as one case by CAS.
"The parties will now have the opportunity to file written submissions including all their arguments and evidence," read the CAS statement. "The CAS Secretary General has informed the parties that the CAS would be ready to establish a procedural calendar allowing for the settlement of the dispute before the end of June 2011."
Contador failed a test for clenbuterol on the Tour's second rest day in Pau on July 21. He claimed that the banned substance was ingested via a tainted steak brought to France from Spain by a friend.
Contador was subsequently suspended from competition by the UCI pending investigation by RFEC, who cleared Contador in mid-February allowing him to return to racing.
The Spaniard won the Volta a Catalunya stage race - a UCI World Tour event - last week.
If CAS rule in favour of WADA and the UCI, Contador may face a two-year suspension and have the 2010 Tour title and any subsequent wins stripped from him .
Related links
WADA appeals against Contador acquittal
UCI to appeal to CAS in Contador case
Contador now cleared of clenbuterol charges
Spanish media claims Contador could avoid ban
Contador could use 'Gasquet's Kiss' theory to back case
Contador says he will fight on despite provisional ban
UCI awaits final Spanish decision in Contador case
Contador tests positive for clenbuterol
Thank you for reading 5 articles this month* Join now for unlimited access
Enjoy your first month for just £1 / $1 / €1
*Read 5 free articles per month without a subscription
Join now for unlimited access
Try first month for just £1 / $1 / €1