Charlie Burton obituary: Husband and crucial partner to cycling great Beryl
The Yorkshireman died on Friday, aged 93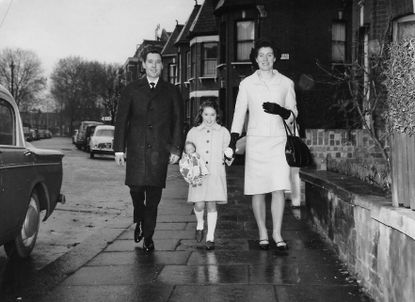 (Image credit: Burton family)
Charlie Burton, Beryl's husband and one of the great characters of British and Yorkshire cycling, has died at the age of 93.
A member of the Morley Cycling Club for more than 70 years, including its heyday in the sixties and seventies, Charlie was integral to Beryl's historic achievements, which included seven world titles and an incomparable 122 national titles.
"Without Charlie at hand I could rarely bring out my best – I feel as if half of me has been left behind," Beryl once said. "All I get is lots of encouragement and the occasional comment. That is all I need or want."
Charlie and Beryl first met in 1952 when they both worked in the same factory in the centre of Leeds. He invited her out on a Sunday club run through the Yorkshire Dales and Charlie had to push her up the hills to begin with.
That soon changed and, upon realising that his girlfriend was becoming stronger and faster than him, Charlie defied social conventions by dedicating his life to a support role. His judgment proved inspired and Beryl would become the world's greatest women's cyclist, winning her first world title in 1959 before breaking a men's and women's record in 1967 for the distance cycled in 12 hours and winning the British Best All-Rounder 25 years in a row between 1959 and 1983.
They lived in a council flat in Morley following their marriage in 1955 before moving to a house in 1964 when Beryl was already a five-times world champion. "He lived in the corridor and then the garage when he was not at work maintaining all the bikes," says their daughter Denise Burton-Cole. "He was a master mechanic and she trusted him totally."
Malcolm Cowgill, the secretary of the Morley Cycling Club since 1959, said that "Beryl could have ridden through a swamp but her bike would still be immaculate the next day".
Stories of Charlie's self-funded travel all over the world in support of Beryl and the other British women - usually with little more than a tent, a Primus stove and his three-wheeled car - became the stuff of legend in cycling. He thought nothing of literally sleeping under a hedge so that he could be at his wife's side on the morning of a race.
When Beryl collected her OBE in 1968, Charlie drove down to Buckingham Palace and let her be accompanied for her audience with the Queen by Denise and her best friend Ann Pallister while he took a nap in the car.
Beryl won her first national title in 1958 and never stopped racing until her death aged 58 due to heart failure while out riding her bike in 1996. Charlie, just as he did for more than 40 years, was still preparing all of Beryl's bikes, transporting her to races and providing crucial moral support. "He is now with the love of his life, my mum," said Denise.
Jeremy Wilson is the author of Beryl: In Search of Britain's Greatest Athlete, Beryl Burton, which won the William Hill Sports Book of the Year 2022
Thank you for reading 10 articles this month* Join now for unlimited access
Enjoy your first month for just £1 / $1 / €1
*Read 5 free articles per month without a subscription
Join now for unlimited access
Try first month for just £1 / $1 / €1