Chris Froome ends season in Tour of Lombardy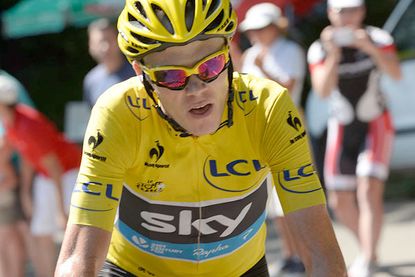 Chris Froome (Sky) closes his best season to date with a one-day race, something he is still trying to figure out. He won the Tour de France and other stage races, but a win in a classic, like the Tour of Lombardy this Sunday is missing. As with the World Championship in Florence, it is a difficult task.
"One day races will always be an extra for me if ever I do get it right, or if I do come off with a result," Froome told journalists including Cycling Weekly standing in Sunday's rain. "I know my focus is stage racing."
Froome repeated Bradley Wiggins' feat and became the second British Tour winner in July. He won other stage races: Tour of Oman, Critérium International, Tour of Romandy and Critérium du Dauphiné. A 28th was his place in a one-day race this year in the GP de Montreal. He placed 36th in Liège-Bastogne-Liège. He has yet to line up for Lombardy.
As he said, stage racing is his goal. He confirmed that his schedule for 2014 will be nearly the same as 2013, more stage races leading up to the biggest of them all, the Tour de France. "Hopefully nothing will change for next year," he explained in a conference call last week. "I still want to go back and target the Tour again next year."
He added, "One day racing is something I haven't perfected by any means. I haven't had any big results in one day racing. I know my niche is going to be Tour racing and stage racing in the future but on a personal level, I'd love to try to do well in a race like Liège-Bastogne-Liège and another interesting one for next year could even be Milan-San Remo with an extra climb towards the finish. I certainly wouldn't be opposed to at least trying to be up there in those races."
Froome may have a shot in the Tour of Lombardy following Great Britain's Florence flop last week. For one year he lived in Nesso, which sits on Lake Como and the course. After the Muro di Sormano, the race shoots down to Nesso, travels north to Bellagio and up Ghisallo.
"I didn't have good signals at the Worlds but it's normal. It was a very intense season," he told Italian daily, La Gazzetta dello Sport today. "I know the Tour of Lombardy well. I lived in Nesso and I trained on Ghisallo many times."
He is squeezing in training this week in a stage race of various sponsors: Sidi shoes on Monday and Pinarello yesterday. After a few more stops: Lombardy. The 242-kilometre course starts in Bergamo. After Ghisallo, the riders face a long descent and flat before the final kick to Villa Vergano and 9.4 kilometres to the finish line in Lecco.
New world champion, Rui Costa (Movistar) will race. Last year's Lombardy winner, Joaquím Rodríguez (Katusha) and Vincenzo Nibali (Astana) will be there too. Among the all-star cast, Froome will have his chance to save face after the Worlds and to better his one-day race record.
Related links
Froome disappointed with World Champs performance
Chris Froome: Rider profile
Thank you for reading 20 articles this month* Join now for unlimited access
Enjoy your first month for just £1 / $1 / €1
*Read 5 free articles per month without a subscription
Join now for unlimited access
Try first month for just £1 / $1 / €1