Climbs of the World Championships road race route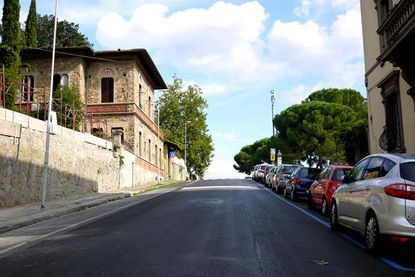 The undulating countryside and the ramps leading to Florence's centre will tear apart this year's World Championships road races. After a leg from Lucca, the circuit takes in three climbs: Fiesole, Salviati and Trento.
The road to the Fiesole, with its Roman amphitheatre and views of Florence, is gentle but 4.37 kilometres long. Its grade reaches nine per cent before crossing the town. After squeezing through its centre, the descent is smooth but twisty.
If the climb to Fiesole was a cappuccino, Via Salviati and Via Trento are caffè ristrettos - short but strong. Instead of heading directly into Florence on the SR302, the course turns a sharp right, killing any momentum, onto Via Salviati.
The road kicks upwards in two sections, both equally steep, and levels off at the top after 600 metres. Once in town, Via Trento shoots up 200 metres to cross a train line and start the final 2.68 kilometres.
Strava details:
Fiesole: http://www.strava.com/segments/781109
Salviati: Does not exist (yet!)
Trento: http://www.strava.com/segments/2450837
A gentle start
Turns towards San Domenico
San Domenico and Fiesole above
The gradient begins to increase
Franco Ballerini watches the road kick to 9%
The gradient at its worst
Rounds up through the corner, steep section over
Through the hairpin to Fiesole
Church in city centre of Fiesol
Fiesole
View of Florence
Salviati's first ramp after a sharp right turn
Second ramp with rider walking
Eases off at top
The Trento wall starts after a left turn
It launches into space
The final 300 metres
Related links
Road World Championships 2013: Coverage index
Thank you for reading 5 articles this month* Join now for unlimited access
Enjoy your first month for just £1 / $1 / €1
*Read 5 free articles per month without a subscription
Join now for unlimited access
Try first month for just £1 / $1 / €1