Brian Cookson: 'Cycling is in a far better place since 2013'
Three weeks after he was ousted as UCI president, Britain's Brian Cookson writes about his record, the sport and his future - Words by Brian Cookson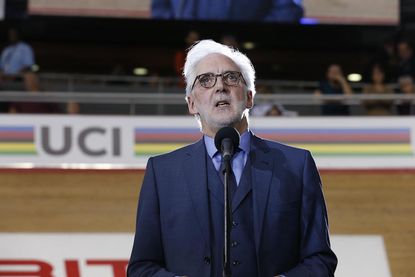 (Image credit: Yuzuru SUNADA)
Well, my friends, it's some 35 years ago that I first wrote race reports for Cycling Weekly, phoning them in to
a copytaker on a Sunday evening, usually after riding the race myself.
It's 21 years since I became president of British Cycling, and four years since I became president of the UCI
in September 2013. And it's just two weeks since I was defeated in the election at the UCI Congress in Bergen.
Perhaps it's too early for a full historical assessment, but now that the dust has settled a little, I'd like to ask CW readers to think back to 2013 and ask themselves: "Is the UCI, is the sport, in a better place now than then?" I'd submit that it is in a far, far better place.
For a start, the UCI is no longer at war with WADA and other anti-doping agencies, who should have been, and now are, among the closest allies of our sport's international federation.
Plus, four years ago, senior figures within the IOC were calling for cycling to be removed from the Olympic Games altogether. Now our sport has four new medal events, making cycling the third biggest sport at the Games.
The men's UCI WorldTour is now a genuinely worldwide affair, which respects the sport's heritage and heartlands while bringing in new territories where there is interest in, and potential for, our sport — that includes Great Britain.
Meanwhile, the Women's WorldTour is vastly more successful than the World Cup series that it replaced. As in all sports, achieving true equality of opportunity for women will take time, but great foundations have been laid and a strong, sustainable future lies ahead.
The UCI's own flagship event, the Road World Championships, has been allocated under my tenure to three fantastic venues; Bergen has already set new standards, and Innsbruck (2018) and Yorkshire (2019) will undoubtedly provide superb Championships too.
Away from the road, track, mountain bike, BMX and cyclo-cross disciplines have all been revitalised and are stronger and better supported than ever before.
And taking a broader perspective, governments around the world are starting to see the health and environmental benefits of cycling, and the UCI is at long last contributing to this movement, mobilising the inspirational power of elite racing to motivate people to ride bikes for fitness, health and fun.
So with all that in mind, I'm proud of the legacy I leave behind after four years that have passed like a whirlwind.
Political motivation
Could more have been achieved? Yes, of course. But, despite what some people seem to think, running a complex international federation of several disciplines, covering 190 national federations on five continents, with thousands of events, and millions of fans, is not a job that can be carried out by the whims of one man. The age of the sporting oligarch has passed.
What I always tried to achieve was progress through consensus. That's never easy. And if you compare the role of an international federation to that of a regulator of an industry, that's where difficulties increase.
My colleagues and I always took the best decisions that we could, based on the available information, and tried to do so with integrity and transparency, bearing in mind the legal restrictions in certain circumstances.
Despite what has been said, I always ensured that I gave my vice presidents and management committee ample opportunity to participate in important decisions, tried to make sure that they were supportive of what was agreed, and that they understood the principle of collective responsibility.
The margin of the vote was certainly a surprise to me. It did not reflect the discussions I had with voting delegates and National Federations in the days and weeks before the Congress.
Clearly some delegates changed their minds at the last minute. I think my team and I ran a good campaign, we made bold but achievable commitments in my manifesto, and on the day I think my speech to the Congress, which contained a number of new commitments, was fair and honest.
I genuinely believed I was ahead by a reasonable margin. Clearly not enough delegates felt the same way.
But for all the coverage that there has been, I haven't read a single accurate analysis. The result was nothing to do with any of the British Cycling or Team Sky controversies, nothing to do with my style of leadership, nothing to do with technological fraud allegations, and nothing to do with my perceived personality strengths or weaknesses.
In fact, I have excellent personal relationships with all of the delegates, all of the National Federations, and with the members of the UCI's committees, commissions, and stakeholders. The result was pure politics. In simple terms, I think we got the campaign right, but the politics disastrously wrong.
My quality of life will be much better over the next four years — less stress, less pressure, less travel (the novelty of airports, hotels, and conference centres soon wears off — I know, First World problems), and less conflict to deal with.
I'll be able to ride my bike more often, spend more time with my family, write my book about my lifetime experiences in cycling, and pursue a few new projects. The cycling world hasn't heard the last of me.
I believe we laid solid foundations over the last four years and that the UCI made great progress over that period. It's important to keep taking the sport forwards. I hope David Lappartient will resist any pressure that he will face from the power brokers of the past, who took cycling into such a dark place.
I believe he will. I think he will be a good president, and I wish him every success. Cycling and the UCI cannot afford another period of conflict and I will support him in any way I can.
Thank you for reading 20 articles this month* Join now for unlimited access
Enjoy your first month for just £1 / $1 / €1
*Read 5 free articles per month without a subscription
Join now for unlimited access
Try first month for just £1 / $1 / €1