Even now Lance Armstrong is still working miracles
Comment: "In the courts, as it was in his professional career, Armstrong has found himself protected, inadvertently perhaps, by the fact that his success served to benefit many people"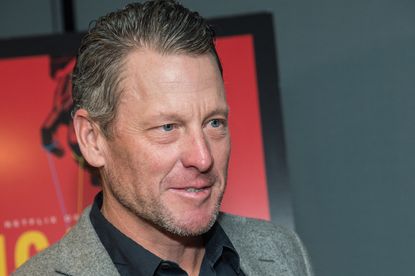 (Image credit: Getty Images)
"I'm sorry you don't believe in miracles," was the ever-combative Lance Armstrong's riposte to his critics from the top step of the Tour de France podium in 2005. And since the US Anti-Doping Authority's reasoned decision finding him guilty of one of sport's biggest doping conspiracies in 2012 and Armstrong's subsequent confession to Oprah Winfrey in January 2013, it has been easy to poke fun at that statement as the "miracles" of his seven Tour wins have been exposed as mere smoke, mirrors and blood bags.
But in the light of yesterday's settlement of the final legal case against him for $5m it bears re-examining.
Armstrong had stood to lose up to $100m in the lawsuit started by former team-mate and long-time adversary Floyd Landis in 2010 and joined by the US government in 2013. They sought damages for the sponsorship money from the US Postal Service for the team between 2000 and 2004 and under a quirk of US law that could have been three times the $32.3m that it gave the team.
Reading the court documents it's not difficult to see why the US government decided to settle for what seems like fairly paltry sum.
That side was finding it difficult to prove US Postal had actually been harmed by its association with Armstrong, not helped by its own marketing report that said "the total value of the earned media derived from the sponsorship was approximately $103.5 million from 2001 to 2004". A fact that prompted even the judge in the case Cristopher Cooper to note in a summary judgment last year: "Armstrong makes a persuasive case that USPS received substantial value from the positive media coverage of the team"
According to the court documents Armstrong was paid $13.4m from the US Postal sponsorship contract, and yesterday's settlement combined with other undisclosed ones he has made to insurance companies and The Times comes to around $20m.
Given that prior to his confession he was estimated to have a net worth of $125m, its difficult to argue he has not profited, massively, from his drug enhanced sporting achievements, that is perhaps the miracle he was referring to.
Has he been punished enough? Probably not as the fortune he amassed is still substantial and considerably more than he would have made as an average rider in the peloton at the time. Most importantly that sends a bad message to younger riders. But that is not Armstrong's fault as much as it is the weakness of the legal and anti-doping systems in place.
That said, in the courts, as it was in his professional career, Armstrong has found himself protected, inadvertently perhaps, by the fact that his success served to benefit many people. The conclusion to his saga is not terribly satisfying but on the plus side there remain some miracles that we can still believe in.
Thank you for reading 5 articles this month* Join now for unlimited access
Enjoy your first month for just £1 / $1 / €1
*Read 5 free articles per month without a subscription
Join now for unlimited access
Try first month for just £1 / $1 / €1
Having trained as a journalist at Cardiff University I spent eight years working as a business journalist covering everything from social care, to construction to the legal profession and riding my bike at the weekends and evenings. When a friend told me Cycling Weekly was looking for a news editor, I didn't give myself much chance of landing the role, but I did and joined the publication in 2016. Since then I've covered Tours de France, World Championships, hour records, spring classics and races in the Middle East. On top of that, since becoming features editor in 2017 I've also been lucky enough to get myself sent to ride my bike for magazine pieces in Portugal and across the UK. They've all been fun but I have an enduring passion for covering the national track championships. It might not be the most glamorous but it's got a real community feeling to it.