Katie Archibald column: Suffering from a training camp cold, despite Team Sky's posters
"I can only assume someone licked me in my sleep because I honestly feel woozy from all the hand foaming I've done"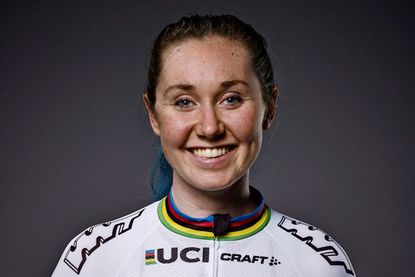 (Image credit: Nick Hill)
Olympic and world champion, Katie Archibald got into cycling after winning handicap races on a Highland Games grass track. She writes a column for Cycling Weekly each week
I'm on camp with Team GB again. This time, we're in Majorca and staying in the hotel Team Sky use. The hotel walls are cluttered with "ZERO DAYS" posters, in reference (I've learned) to the fact that Team Sky lost no rider to illness in any 2017 Grand Tour.
Each poster has a little tip on how to continue this trend like "use anti-bacterial hand foam" or "avoiding shaking hands". I received a fist pump from someone I hadn't seen in a while recently: it was their first day working for Sky.
Somehow, though, I've got a cold. I'm mortified. The posters read to me now as: "Well I guess you didn't listen to a word we said, did you?" It's humiliating. I can only assume someone licked me in my sleep because I honestly feel woozy from all the hand foaming I've done.
It's scunnered the camp for me a little bit. It's only a cold, of course, but camp life offers the chance to commit to training in a way that allows for little else but eating (from a buffet) and sleeping (in a bed someone else makes).
http://www.youtube.com/watch?v=oOBnH0xqEUw
Trying to ride with that intensity doesn't really work when the sniffles are keeping you at 80 per cent. I've had a few days compromised, but in a winter full of flu threats I'm doing pretty well.
When we return from this camp it'll be just over a week until the track Nationals start (January 26-28). If you're interested after last week's column, I can confirm that I've entered the sprint.
>>> Katie Archibald column: My reasons for considering the sprint at the national championships
It runs sandwiched with the individual pursuit on the first day of competition so I'm expecting it to be as hectic as an omnium day. Interestingly, omnium nationals are held as a separate event to general 'track nationals', as are Madison nationals and derny race nationals.
As a consequence you get the odd year of poor attendance for these separate events, much like criterium nationals being held separately to the road race and time trial. No relation: I have been both criterium (2017) and derny race (2013) national champion...
You won't win the lottery if you don't buy a ticket.
Thank you for reading 20 articles this month* Join now for unlimited access
Enjoy your first month for just £1 / $1 / €1
*Read 5 free articles per month without a subscription
Join now for unlimited access
Try first month for just £1 / $1 / €1