Daily live TV coverage for Tour of Britain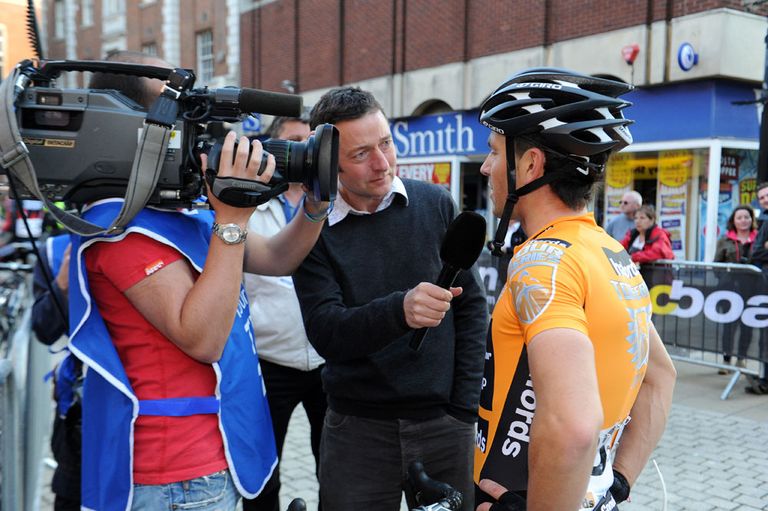 ITV will show daily live coverage of this year's Tour of Britain, it was confirmed today.
Two hours of every stage will be broadcast on free-to-air station ITV4, and also streamed online.
Similar to previous years, a nightly 60-minute highlights show will also be aired as planned.
Screens relaying the live feed will also be positioned at stage finishes to enchance the spectator experience.
Popular presenter Ned Boulting will present the coverage, and will be joined by Hugh Porter and Rob Hayles.
In response to the announcement, Boulting told Cycling Weekly this afternoon: "The advantages are two-fold. For those cycling junkies who want to watch their sport live, they get their fix.
"Second, those spectators at the finish will get to see the action unfold, instead of seeing a quick glimpse of the peloton when it comes across the line.
"This brings the Tour of Britain into line with all the great races across the world," he added.
Niall Sloane, ITV's Director of Sport, said: "Following our hugely popular coverage of the Tour de France as well as the Vuelta, we're delighted to be able to bring ITV4 viewers a third major cycling event this year with all the key action from The Tour of Britain."
Hugh Roberts, Chief Executive of race organiser SweetSpot added: "This is a great step forward for The Tour of Britain in what has been a fantastic year for cycling in this country, in a sport that continues to grow year-on-year. We look forward to rounding off the year in spectacular style with the best ever Tour of Britain.
"We have worked tirelessly with our stakeholders and partners around the country to make this happen, and are delighted that for the first time ever cycling fans can watch each day of The Tour live, wherever they are in Britain."
Race organiser SweetSpot has previously made clear its intention to improve on the 2.1 ranking from the UCI, and today's news is guaranteed to elevate the stature of the Tour both and home and abroad.
2006 was the last time a stage of the race was shown live, when the BBC broadcast coverage of the final stage of that's year's event.
For the sixth consecutive year, Century TV will continue to produce the coverage.
In addition to ITV, Eurosport's international channels will also be showing the daily coverage, thus greatly expanding the potential worldwide viewing audience.
This year's race begins in Ipswich on Sunday (September 9), and ends in Surrey seven days later.
Tour of Britain 2012: ITV4 schedule
Stage One: Ipswich-Norfolk Showground
Sunday September 9
LIVE: 1.45-3.45pm
HIGHLIGHTS: 8pm-9pm
Stage Two: Nottingham-Knowsley Safari Park
Monday September 10
LIVE: 1.15-3.15pm
HIGHLIGHTS: 7pm-8pm
Stage Three: Jedburgh-Dumfries
Tuesday September 11
LIVE: 1.30-3.30pm
HIGHLIGHTS: 7pm-8pm
Stage Four: Carlisle-Blackpool
Wednesday September 12
LIVE: 1.30-3.30pm
HIGHLIGHTS: 7pm-8pm
Stage Five: Stoke-on-Trent
Thursday September 13
LIVE: 12.45-2.45pm
HIGHLIGHTS: 7pm-8pm
Stage Six: Welshpool-Caerphilly
Friday September 14
LIVE:1.45-3.45pm
HIGHLIGHTS: 7pm-8pm
Stage Seven: Barnstaple-Dartmouth
Saturday September 15
LIVE: 1.15-3.15pm
HIGHLIGHTS: 7pm-8pm
Stage Eight: Reigate-Guildford
Sunday September 16
LIVE: TBC
HIGHLIGHTS: 7pm-8pm
Related links
Tour of Britain 2012: Cycling Weekly's coverage index